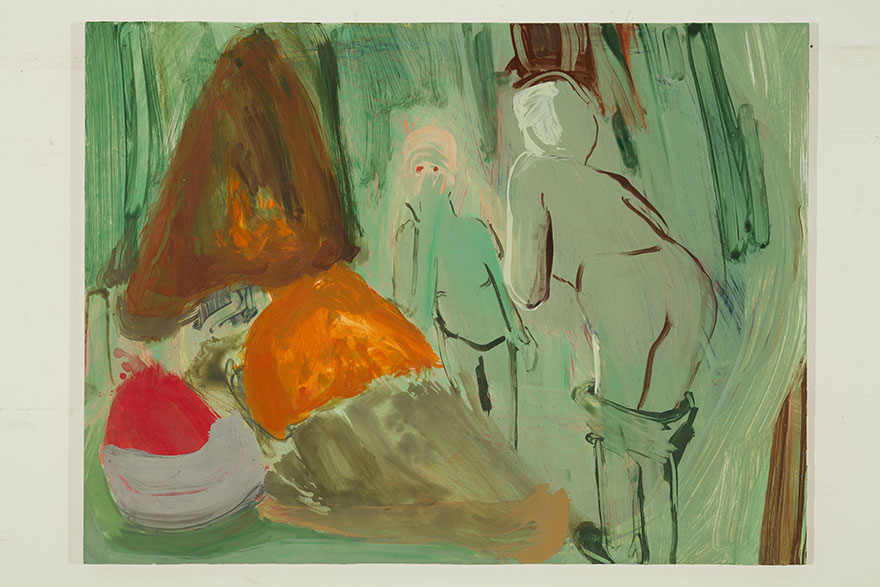 Opening reception: September 7th from 4-6pm
On view: September 7th – October 22nd
Panel Discussion: Friday October 6th at 12:30pm -2pm
 *Two Figures in the Woods with Fire, 2010  Casein on board 40 x 48
---
If we change the way we look at things, do the things we look at change? encompasses works that articulate the path of Bonaventura's artistic life. It encapsulates her journey before and after her diagnosis of a rare form of dementia known as frontotemporal dementia, the behavioral variant, which led to her early retirement. Works from her highly experimental early collage work and altered postcards to the remarkably creative phase in the early stage with bvFTD. Throughout, willowy figures struggle with their entanglement with vibrant backgrounds, obscurely at odds with their wobbly counterparts. All parties seem accepting of the humorous and absurd feedback loop of aspiration and alienation. The exhibition will showcase an extensive collection of work created between 1995 and 2019, totaling over sixty works on wood and paper. 
Elizabeth Bonaventura's pieces show a nuanced understanding of environmental alienation—her figures appearing disassociated from one another and from themselves. The outlines of figures in her later work echo the same compelling questions of her earlier work: How big a component is context? There is longing that merges with searching, a steady need for connection or contact while grappling with an unanchored anxiety. Within each piece, there is an enduring understanding of what lies beyond the canvas, paper, or wood. Materiality serves as a catalyst, propelling the viewer into gleeful, fraught worlds. Bonaventura captures the intricacies of external and internal experiences, accepting the transformative processes of painting as a potent expression of context and self.
A publication with writings by Wells Chandler, Kerry Downey, Angela Dufresne, Jennifer Macdonald, Carrie Moyer and Jeanine Oleson will accompany the exhibition.
---
---
Real Masks
A panel discussion taking place Friday October 6th at 12:30–2pm about the work of Elizabeth Bonaventura on view at the Heimbold Visual Arts Center, Sarah Lawrence College , Sept. 7 through Oct. 22, 2023.
Moderated by Angela Dufresne, with Carrie Moyer, Jennifer Macdonald, Claudia Bitran, Wells Chandler, Chris Willcox, Amy DiGennaro.
About the Artist
Elizabeth Bonaventura is a New York-based artist. She attended Moore College of Art and Design in Philadelphia, receiving a BFA in 1987. Before and after graduate school, she created backdrops and sets for the opera, movies, and television, and has been a member of the Local 829 union. Bonaventura completed her MFA in 1999 at Mason Gross School of the Arts at Rutgers University in New Jersey. She was the recipient of a 2012 NYFA grant for painting and a Macdowell fellowship, among many others. Past shows for the artist include "Vivid" at Schroeder Romero & Shredder, "Maybe I'm Doing It Wrong" at 106 Green Gallery in Brooklyn, NY, and "My Mother," curated by Sheila Pepe at the Educational Alliance in downtown New York, among many others.