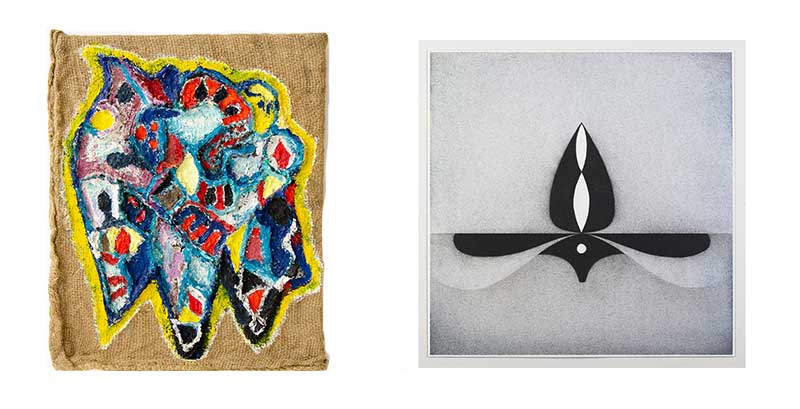 The Gallery at Heimbold Visual Art Center is pleased to present Yevgeniya Baras and Pete Schulte, an exhibition brought to fruition by the artists in conversation.
The exhibition will be open from March 25 - June 5, 2022 at the gallery's location in the Heimbold Visual Arts Center at Sarah Lawrence College in Bronxville, NY
About the Exhibit
Yevgeniya Baras and Pete Schulte is a joint effort between two artists that encapsulates the power of communication through art alone. The works assembled within the exhibition are vastly different, in size and medium, but have the startling power to communicate with each other. All untitled, the assembled works introduce an unspoken dialogue between both the artists and the pieces alike. Schulte's preferred mediums of graphite, pigment, and paper contrast Baras' loud expression of color, allowing for a unique narrative to develop.
The power of communication runs through the entirety of the show, highlighting the ways in which the artists engage with each other while also creating space for the works to do the same.  Never having met in person, but revolving around the same orbit unknowingly for years, Baras and Schulte spoke regularly over Zoom throughout the process of building their exhibition. Together, albeit virtually, they examined each other's works in new and exciting ways which often provided a fresh lens in which to reflect on their own pieces. Through the dialogue that developed, both artists found their budding relationship enlightening as it illuminated the subtle ways their works spoke to each other.
While focusing on their respective works, the artists discovered the similarities that lie between their creative processes. They found that many foundational ideas central to their practice corresponded with each other. The correlations that may have not been readily available at the outset became glaringly obvious. At first glance, Baras and Schulte's works don't appear to have much in common; however, as the artists dug deeper, they encountered the emergence of a myriad of compelling resonances and points of connectivity. Baras and Schulte's methodology for selecting works for the exhibition consisted of  evaluating their pieces based on their potential to engage in conversation as well as on any overt visual parallels that demanded examination. In working together, they also made decisions based on intuition and feel, even creating new works specifically for the exhibition.
The work included in Yevgeniya Baras and Pete Schulte highlights Baras' interest in texture and material, drawing forth forms that subtly refer to the abstraction of language. Baras' pieces allow exciting aspects of Schulte's more subdued expressions to be examined within the context of color, as well as offering a nuanced examination of swiftness versus slowness. Working beyond the binary descriptions that seek to limit or define works as either representational or abstract, Schulte's meditative–and often restrained drawings–reside primarily within a tangible reality that is garnered through his nuanced practice. Where in Baras' work, color plays a central role in defining the piece's intention, Schulte's use of chromatic colors plays a rather understated, though crucial, role in the development of a piece, serving to introduce exciting narratives when both artists' works are viewed together.
Written by Avila Edmonds-Doberenz, '24
About the Artists
Yevgeniya Baras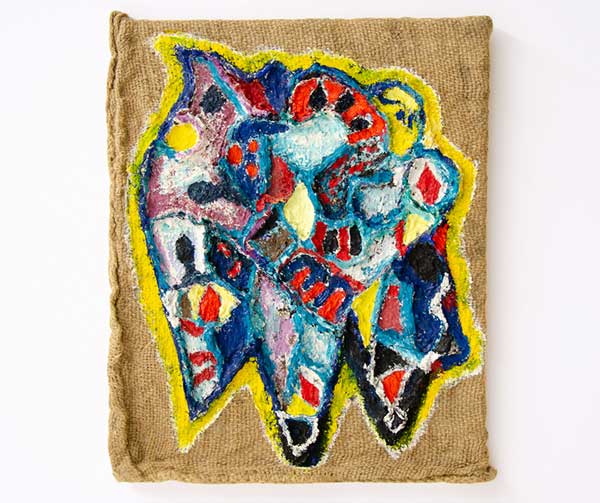 Yevgeniya Baras is an artist living and working in NY. She has exhibited her work in several New York City galleries and internationally. She is represented by  the Landing Gallery in LA.
Yevgeniya was named  Senior Fulbright Scholar in 2022. Yevgeniya was a recipient of the New York Foundation for the Arts Fellowship in 2021, Guggenheim Fellowship in 2019, the Pollock-Krasner grant and the Chinati Foundation Residency in 2018, and the Yaddo Residency in 2017. She received the Artadia Prize and was selected for the Sharpe-Walentas Studio Program and the MacDowell Colony residency in 2015. In 2014 she was named the recipient of the Rema Hort Mann Foundation's Emerging Artist Prize. Her work has been reviewed in the New York Times, LA Times, ArtForum, and Art in America.
In 2022/2023 Yevgeniya will open her fourth solo show in New York, her third in LA, and an exhibition at Station gallery in Melbourne, Australia.
Yevgeniya co-founded and co-curated Regina Rex Gallery on the Lower East Side of NY  (2010-2018). Yevgeniya  has curated and co-curated over twenty exhibitions at Regina Rex and other galleries in NY, Chicago, and Philadelphia.
Yevgeniya has a BA and MS from the University of Pennsylvania (2003) and an MFA in Painting and Drawing from the School of the Art Institute of Chicago (2007).
Yevgeniya teaches at RISD and Sarah Lawrence College.
Artwork: Untitled, 2016-2019, Oil, wood and mixed media on burlap. 20 x 16 inches 
Pete Schulte

Pete Schulte is and artist based in Birmingham, Alabama, He has presented recent solo exhibitions and installations at Mckenzie Fine Art, New York, New York; The Lamar Dodd School of Art at The University of Georgia; The Chinati Foundation, Marfa, Texas; Jeff Bailey Gallery, Hudson New York; Whitespace Gallery, Atlanta, Georgia; and The Woskob Family Gallery at Penn State University. His work has also been included in numerous group exhibitions nationally and internationally. Hyperallergic, Art in America, World Sculpture News, Burnaway, and The New Art Examiner have reviewed his work, among other publications.
In 2017 Schulte was awarded the inaugural Southern Art Prize Fellowship for the state of Alabama. He has been awarded residencies at The Chinati Foundation (2019), Hambidge Center for Creative Arts (2016), Yaddo (2015), Altantic Center for the Arts (2010), Bemis Center for Contemporary Art (2010), and Threewalls (2010).
Pete Schulte received an MFA in painting and drawing from The University of Iowa in 2008. He is Associate Professor of Art at The University of Alabama in Tuscaloosa.  In 2013 Schulte co-founded, with Amy Pleasant, The Fuel and Lumber Company curatorial initiative. He is represented by McKenzie Fine Art in New York.
Artwork: Untitled, 2021, Graphite, ink, pigment, paper, 11 x 11 inches