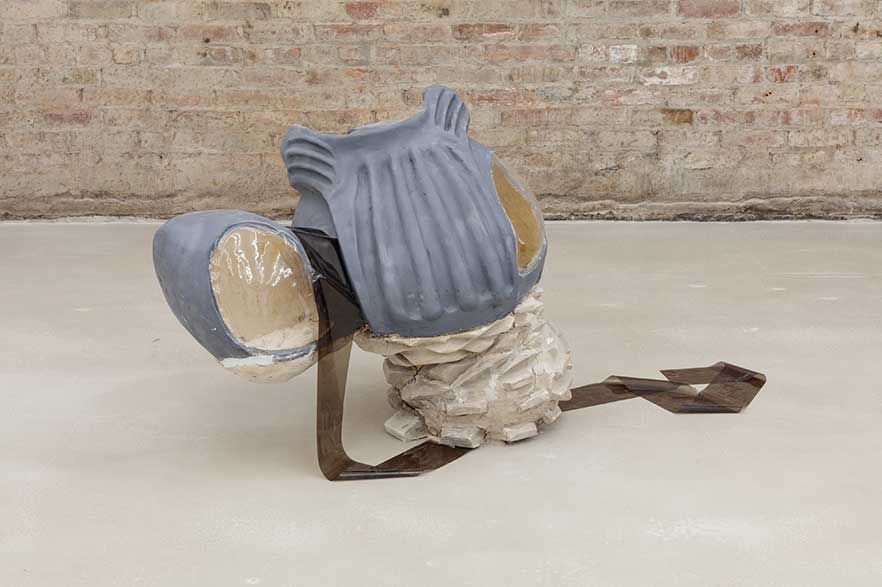 The Gallery at Heimbold Visual Arts Center is delighted to present Buildings on a Mushroom-Shaped Island, a solo exhibition by Andrew Ross.  This exhibition will be open to the Sarah Lawrence community from November 12 – February 14, 2021 at the gallery's location at Sarah Lawrence College in Bronxville, NY.
Andrew Ross is a visual artist who centers his work around failing. signifiers and decontextualized images. His practice questions the steadfastness of caricatures, symbols, and products of mass distribution on a runaway timescale of plastic and other non-biodegradable substrates. Ross makes sculpture, drawings and digital prints in homage to the ingenuity of diaspora communities in reframing and repurposing fragments of the post-colonial landscape. He uses reverse engineering as a framework to drive his studio, clashing technologies associated with specific products with seemingly unrelated imagery or forms. Ross's works are uncanny and familiar although their references are heavily abstracted and deconstructed.

Andrew Ross (b. 1989, Miami, FL) received his BFA from The Cooper Union in 2011, where he was awarded the Gelman Trust Award for Excellence in Sculpture. He attended Skowhegan School of Painting and Sculpture in 2011. He's been a resident and/or fellow of programs including The Triangle Arts Association, The Drawing Center's Open Sessions, LMCC's Swing Space, The Macedonia Institute, and The Bruce High Quality Foundation. Ross has exhibited at The Drawing Center, The Studio Museum in Harlem, Artists Space, Center for the Humanities at CUNY, White Columns, and Greene Naftali. He has staged solo exhibitions at Signal, American Medium, Clima Gallery, and False Flag. Ross' work has been reviewed in Artforum, Art in America, Cultured, Flash Art, Mousse, and the Brooklyn Rail.