Greetings on Behalf of the Alumni Association Board of Directors
On behalf of the alumni community, it's a real pleasure to help welcome Dr. Cristle Collins Judd as the 11th President of Sarah Lawrence College. Having been a member of the Presidential Search Committee, I was also particularly excited to see the theme of the inaugural, Democracy and Education. In fact, I was going to propose that all future presidents, of all kinds, be selected by a committee of two-dozen people with tight connections to Sarah Lawrence. We seem to do a better job of it lately than the populace at large.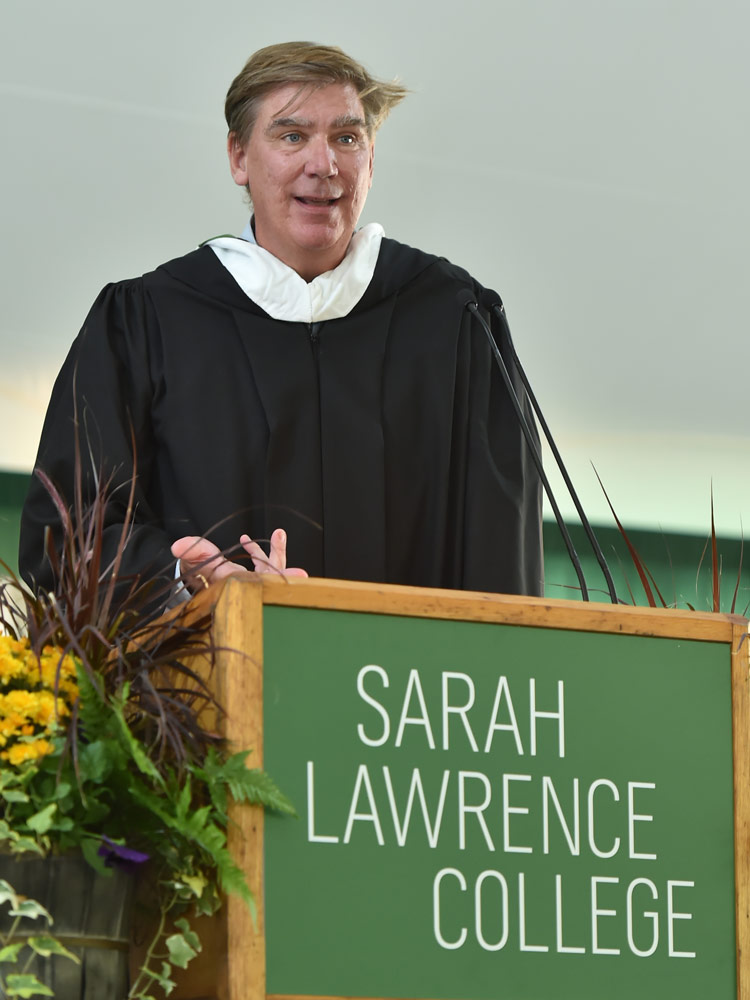 As a result of that process, Madam President, you are now charged with a formidable task. You must protect the great legacy and distinctive character of our college, while ensuring that the institution remains relevant in a rapidly evolving economy and body politic, as well as to the evolving needs and aspirations of a new generation of students. Those entering Sarah Lawrence next year will be our first class of students who were mostly born in the 21st Century. (Those of you among my contemporaries are forgiven for groaning in pain at that realization, just so quietly so as to avoid disrupting the proceedings.)
Of this, I am sure: Sarah Lawrence students will not be shy in expressing their opinions, and more likely their demands, on exactly how the College must change. Right now. My fellow alumni will also not be shy in expressing their opinions, and more likely their demands, on exactly what must never change. Not ever. And while this may at times appear to be a clash between an unstoppable force and an immovable object, I believe that you will find that there is far more that unites the generations of the Sarah Lawrence community than divides us: A lack of shyness, for starters, but also a deep curiosity, a creative flair, a lifelong love of learning, and an abiding affection for our beloved school.
I couldn't be happier to be placing our legacy and our college in your competent hands. Welcome.