Good afternoon, esteemed delegates; faculty, staff, students, and alumni; special guests; and members of the Judd family.
On behalf of the Trustees of Sarah Lawrence College, I welcome you to campus today and thank you for travelling from far and near to celebrate and bear witness to the installation of Cristle Collins Judd, the eleventh president of this great and remarkable institution of higher learning.
We found Cristle—and Cristle found us—through a national search that attracted highly-accomplished leaders with remarkable backgrounds: college presidents, deans and provosts, and senior officers at renowned foundations and NGO's. Over the span of six months, an extraordinary search committee of nine trustees and 11 members of the campus community worked diligently, collaboratively and with good humor to complete its charge: among the most consequential of responsibilities that can be assigned to any team of colleagues.
The Committee represented the best of Sarah Lawrence: its members were deeply engaged; they were both smart and wise; they listened carefully; they respected one another when their views differed; and, most importantly, they were always focused on the interests of the College rather than on narrower interests. It was clearly a labor of love, and I want to thank the members of the search committee again for their service.
I also thank Presidents Emeriti Karen Lawrence and Michele Tolela Myers, both here today, for their stewardship of Sarah Lawrence through times both good and challenging. Because of the strengthening of the College under their guidance and leadership, we were better able to recruit a person of Cristle's considerable abilities and experience to serve as our new president.
Momentarily, Cristle will receive greetings and felicitations from communities that support and embrace our cause and our mission. You will hear distinguished speakers and colleagues reflect on Cristle's qualities and abilities, the qualities and abilities that the search committee came to understand and value. Cristle brings an intuitive understanding of the value of the liberal arts and why the Sarah Lawrence approach is essential in a world characterized by rapid change, continuous demands for interdisciplinary knowledge-formation, and growing challenges to democracy. To this comprehension of the Sarah Lawrence mission and promise, Cristle lends a strategic perspective and enthusiasm about innovation and progress in higher education: the outcome of a journey that has taken her from the University of Melbourne to the University of Exeter, the University of Pennsylvania, Bowdoin College, the Andrew W. Mellon Foundation and now SLC.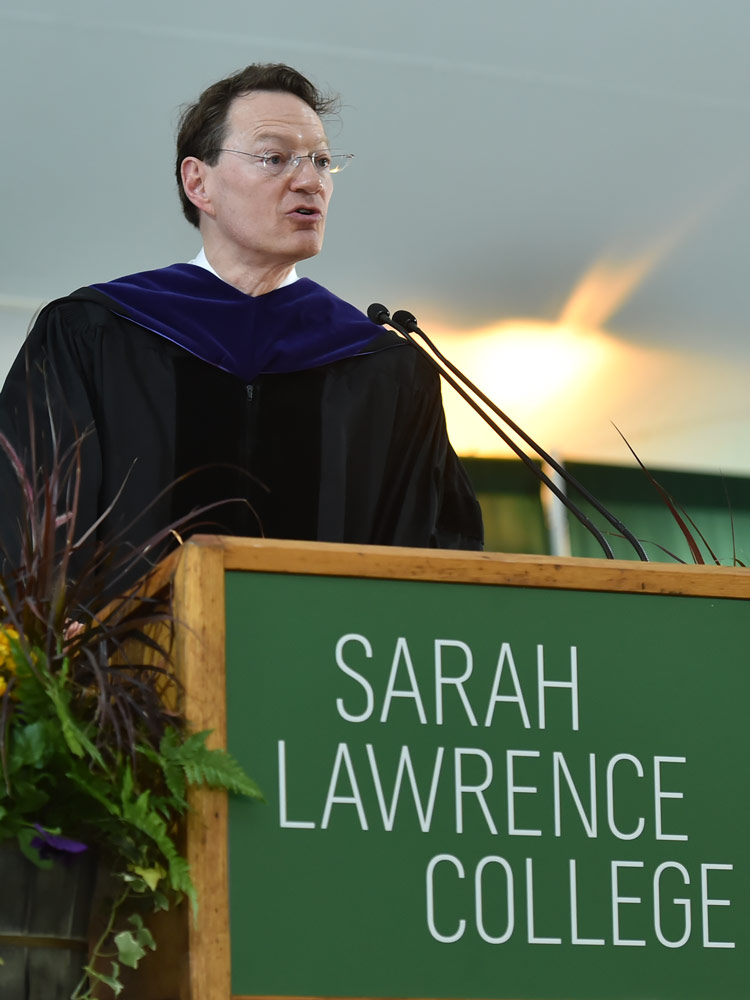 In turn, Cristle will speak today of some of the opportunities and calls-to-action that Sarah Lawrence can embrace in this moment and in the years to come. First, though, please indulge me as I share an anecdote that speaks to the enduring promise and strength of the college that will be home to Cristle and her family—and that is a perfect fit for her energy and vision.
Ninety years ago, in 1927, William van Duzer Lawrence was completing conceptual and physical plans for a new liberal arts college in Westchester County, New York. The Regents of New York State had signaled their approval of these plans. All that remained was to build the campus, hire the faculty and staff, and recruit students—all to be accomplished, quite ambitiously, in one year: by the fall of 1928.
On April 30th of 1927, William Lawrence wrote down the resources in hand, and the work to be completed, before the college could open its doors. The work to be done, citing his list directly, included:
Blasting rock
Hauling stone and sand
Building classrooms and student residences
Running water and sewer lines
and constructing a Power House and Heating Plant
According to William's list, the resources in hand to start this work were as follows:
One foreman
3 Helpers
2 Horses
2 Carts & harnesses
and Tools of all kinds
That was it. That was all there was.
It is that handwritten phrase, "Tools of all kinds," that seems so appropriate to this particular day. It presaged the educational philosophy that this College came to embrace: cultivating in its students intellectual, creative, and expressive tools of all kinds so that they may enjoy productive and engaging lives. The phrase conjures up images of the resilience of this institution and its faculty, staff, students, and alumni—resources of all kinds who collectively sustain the College's mission in a world of real constraints.
It bears noting that on May 16 of 1927, sixteen days after listing the resources and challenges ahead, William Lawrence passed away. Now, consider this: despite the sudden absence of its founder, the vision endured. The college was ready to enroll its first class in 1928.
What bold idea, vision, and endeavor survives such a fundamental challenge at such a nascent stage?
This idea, this vision, this College.
Cristle, today, we may not be able to provide you with two horses and a cart. We can, however, guarantee you so much more: resources of all kinds—most important of these being devoted faculty, staff, alumni, and Trustees. Collectively, we will continue to build and elevate the college first realized in 1928. A college that has used—and created—tools of all kinds to define new models of education and expand its reach to students across the nation and the world.
We welcome your leadership and fortitude as Sarah Lawrence College continues to reach toward the future.
I now invite Sarah Gund, alumna, trustee, presidential search committee member, and Chair of the Inaugural Advisory Committee, to offer official greetings to our new president.