Greetings on Behalf of the Academy
It is my special honor to be here to bring greetings from the academy—both from Bowdoin College, a small liberal arts college in Maine, and from the large urban public research university of UMASS Boston. I am thrilled to be here to celebrate with you the inauguration of my good friend and colleague, Cristle Collins Judd.
I attribute Sarah Lawrence as a stop in my own path to leadership in the academic world. Over 20 years ago I visited this campus with my law partner, George Adams—a devoted Sarah Lawrence parent and trustee—to visit Michele Myers. George was convinced long before I ever dreamed of becoming a college president that I was destined to lead an academic institution. My conversation with President Myers is memorable and inspiring, in no small part because of the distinction of Sarah Lawrence. I am delighted to return to celebrate with you all.
It is a very small world. So I also bring you greetings from the T in Boston (our subway). I was on the platform at the JFK/UMASS T stop just last Thursday. I began a conversation with a woman I didn't know who turns out to be an important member of the UMASS Boston faculty and editor of an important journal on African American women—Legacy. As we were on the train, she said to me, "you know Cristle Collins Judd, and I am thrilled that she is the new president as I am a Sarah Lawrence alum."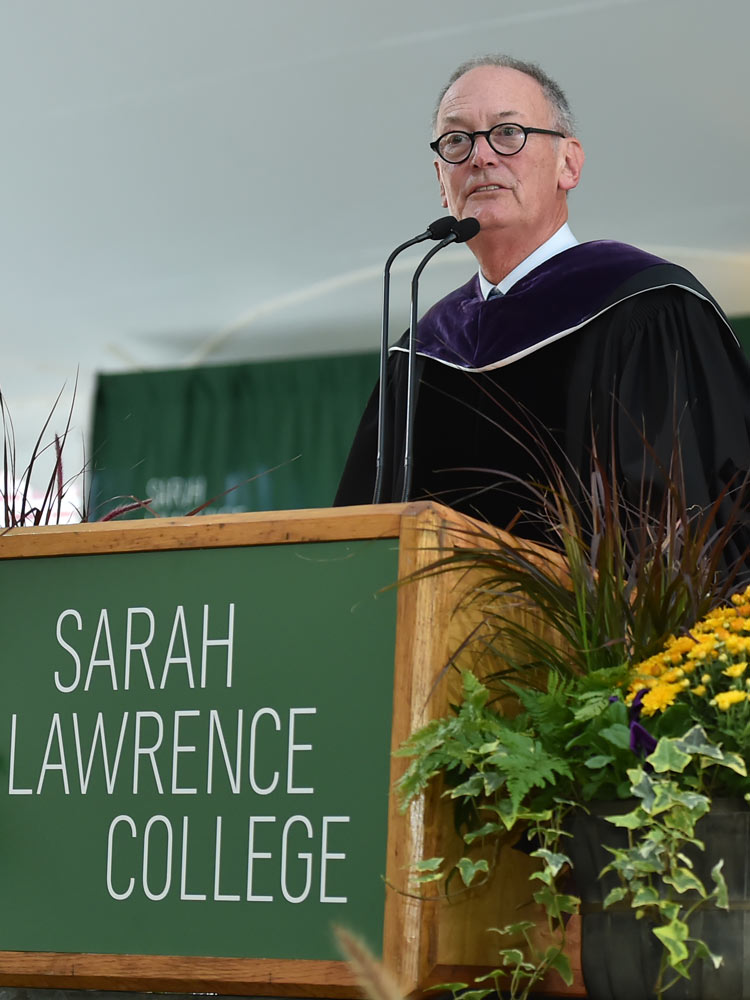 I learned about the power of this college as we shared our train ride into Boston. Professor Susan Tomlinson told me about how she learned everything she knows about teaching here at Sarah Lawrence, from fabulous professors such as Bella Brodzki, Arnold Krupat, and Bill Shullenberger. She enthusiastically let me know she learned how to think and write and develop her critical thinking on this campus. She described the unique connection between student and faculty. She spoke of the loyalty of the alumni base and their love of the College—although she did offer up that maybe they didn't give enough money, something I am certain President Judd will remedy. Everything I heard from Professor Tomlinson reinforced for me the special nature of Sarah Lawrence and that Cristle Judd is a superb new leader for the institution.
Sarah Lawrence is distinctive at its core. Higher education is filled with institutions, each seeking to define its distinctive core but lost in the endeavor to be all things to all people. Sarah Lawrence understands what it is. Students choose Sarah Lawrence for all the right reasons—because they want to be here and understand the distinctive and inspiring education they will receive on this campus. In other words, students and faculty choose Sarah Lawrence not because it is just another liberal arts college or a job for its faculty, but because students and faculty alike understand that the quality and modes of education at Sarah Lawrence fit their learning and teaching styles, ambitions and talents. In today's world of education, this is a truly important distinction.
In welcoming Cristle Judd to this campus, you have chosen a leader who understands distinction and is prepared to translate the distinctive nature of a Sarah Lawrence education into the 21st century. Cristle is powerfully bright—scary smart and a fearless learner. She understands and lives what it means to be an inspiring teacher and a world class researcher. And, Cristle has all the talents and experience to lead multifaceted academic and business aspects of a complicated college located in the New York metropolitan environment. And, most importantly, you have chosen a leader who understands the strength of an institution is in its people. Cristle understands and lives the importance of building and sustaining community. I congratulate all of you for choosing Cristle to be your next president—you have chosen well. It is a genuine and personal thrill for me to welcome Cristle Collins Judd to leadership in the higher education academic community.
Here's to Sarah Lawrence and its new president, Cristle Collins Judd.