Dear Members of the Sarah Lawrence Community,
As April turns to May, we're concluding the academic year as students feverishly finish conference work, projects, and performances while also celebrating accomplishments at student leadership and athletic awards dinners, science poster sessions, and thesis presentations, all on the way to the final day of classes on May 9.

Another of those culminating moments was at the final event last week of our History Matters series. I was honored to be in conversation with Smithsonian Secretary Lonnie G. Bunch III as he offered trenchant insights into the role that museums and public institutions play in using the past to make the present coherent. In a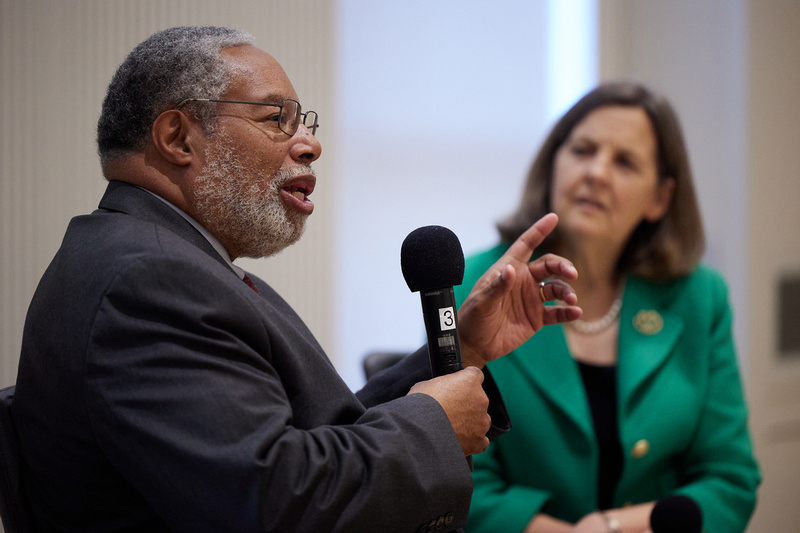 fascinating and wide-ranging conversation, Bunch, the founding director of the Smithsonian Museum of African American History and now the overseer of 21 museums, 21 libraries, the National Zoo, and numerous research centers and educational units, returned to themes that ran throughout the series. In Bunch's view, nothing could be more pressing than creating opportunities where people from all walks of life can come together and see their world and shared history through multiple points of view. This is why history matters and it is precisely what we have hoped to accomplish through this series.
I encourage you to explore the recap of History Matters via the links below. Co-curated by Associate Dean Lyde Cullen Sizer and faculty member Matthew Ellis, the series brought remarkable thought leaders to campus for enlightening, engaging, and thought-provoking discussions that highlighted the role of history as a critical tool for understanding the most urgent questions of today.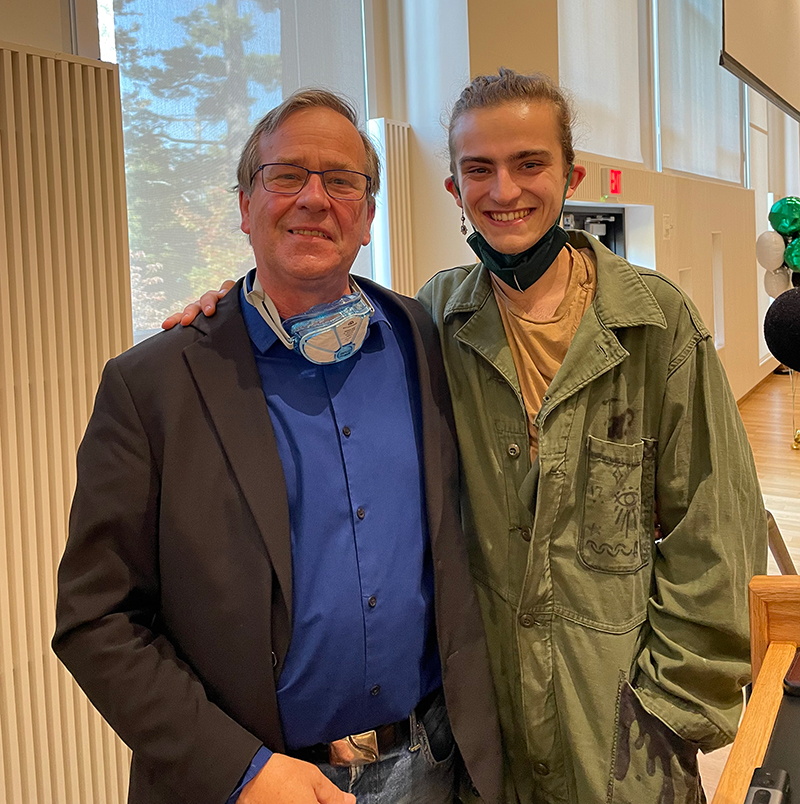 Major themes explored across the series confronted hard truths regarding reproductive justice, censorship battles in America, geopolitical conflicts, and climate change. Notably, current parent Paul N. Edwards P'26, Director of the Program on Science, Technology & Society at Stanford University, joined us during family weekend to lead a discussion on the ways in which technological and scientific change over the 20th Century locked us into deeply destructive modes of existence. This discussion presciently points toward our theme for the 2023-24 academic year: Being Human: Evolving Humanity in the Age of Artificial Intelligence.

In 1949, John Mauchly proposed Short Code, one of the first computer languages ever to be developed as a way of communicating with machines. Since then, computation has revolutionized culture and society; present and anticipated technologies, particularly in the realm of artificial intelligence, raise not only the fundamental question of what it means to be human, but of how societies direct emergent technologies, how current practices shape what we are becoming, what role ethics, politics, and culture should play, and who (or what) should lead us into the future. I know we are in for a fascinating, thought-provoking, timely, and much-needed intervention as we engage the question of Being Human | Human Being and grapple with Evolving Humanity in the Age of Artificial Intelligence. That's so Sarah Lawrence. I look forward to announcing a full lineup of speakers and topics closer to the fall semester, and hope you'll join these important conversations throughout the year.

Finally, as History Matters brought thought leaders to campus to engage with our students, faculty, staff, alums, and the broader community, we simultaneously launched another series focused on our extraordinary "hometown" talent, the Sarah Lawrence faculty. Faculty Spotlight began this year at the Sarah Lawrence Library out of a desire to regularly showcase and celebrate the publication and creation of significant new faculty work. The series, which takes the form of a live Library Podcast hosted by Public Services Assistant Tim Kail, kicked off in November with History faculty member Margarita Fajardo discussing her new book, The World That Latin America Created: The United Nations Economic Commission for Latin America in the Development Era. Spotlights followed for Writing faculty member Victoria Redel and her poetry collection Paradise, Philosophy faculty member Roy Ben-Shai and his Critique of Critique, and, just this week, Literature faculty member Gillian Adler and her new book, Alle Thyng Hath Tyme. The breadth and impact of our faculty's work is staggering, and I'm so pleased this new series gives us the time to pause occasionally to take it in together. I know what's on my summer reading list!
It has been an extraordinarily rich year at Sarah Lawrence. While these events are just the more public face of the learning and knowledge sharing that takes place daily, they are important illustrations of the intellectual vitality of our community and those who are drawn to it. Sarah Lawrence is a place that lives at the intersection of theory and practice, and is filled with people who thrive on developing and using knowledge to make change, connecting passions to create futures. We have much to be proud of, and our engagement with critical topics each year is right at the top of the list.
Yours,
Cristle Collins Judd
President
president@sarahlawrence.edu
Instagram: @slcprez
---
History Matters
Watch—or rewatch!—events from the History Matters series at the links below:
Faculty Spotlight
You can also listen to the Faculty Spotlight series via the Library Podcast's Spotify or Apple Podcast pages:
Visit the Library Podcast sites to listen to Gillian Adler's Faculty Spotlight when it's uploaded—and to listen to all 43 podcast episodes (and counting!).
---