Dear Members of the Sarah Lawrence Community,
When I launched "From the President's Desk" in January 2019 my goal was to share reflections on issues facing the College and higher education, and to have a way to provide timely updates. I confess that I have started this month's "FTPD" a few times, with each draft feeling eclipsed by some new event before I had finished drafting. So as I look back just on this past week, I'd like to share four vignettes that offer a slice of life on campus and the ways that we are thinking about the world very much beyond Westlands Gate.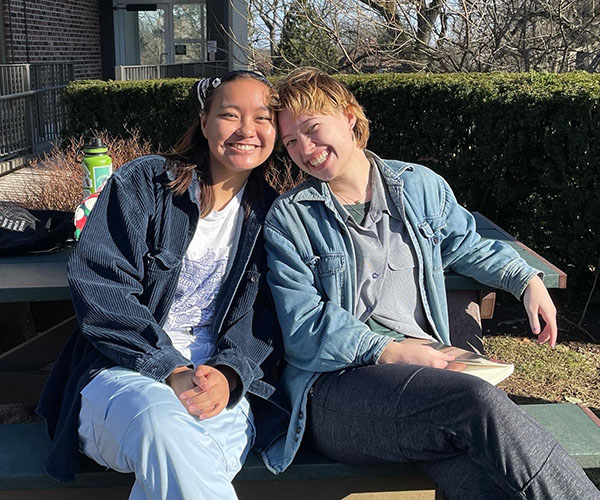 Earlier this week we enjoyed unseasonably spring-like weather. Students and classes quickly moved outside to take advantage of the sun and our beautiful surroundings. On Wednesday, as I stopped to chat with a couple of juniors, they observed that they couldn't escape remembering that this was how the campus felt in spring 2020, shortly before we disbanded in response to COVID-19. The feeling served as a kind of synecdoche for all that has transpired in these last two years, but above all in that moment these students were full of hope and optimism, savoring the prospect of experiencing the campus in person after spring break for the first time and completing—as juniors!—their first full year on campus.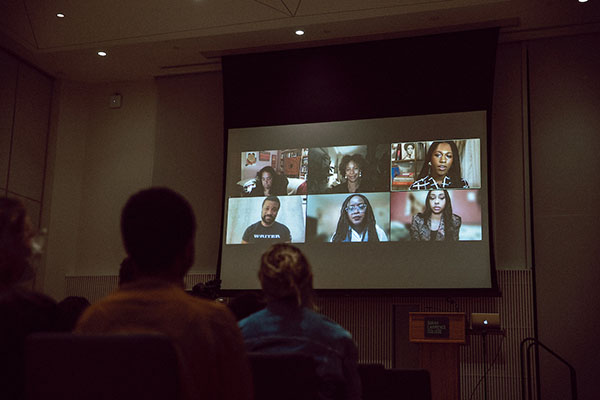 That evening I attended a deeply thoughtful and engaged panel organized by Career Services in conjunction with our offices of Alumni Relations and Diversity, Equity, and Inclusion entitled, "Centering the Voices of Black Professionals." The panel brought together five alums—Eric Anthony Glover '09, Aijah Keith '11, Kailea King '16, Kai Toussaint Marcel '19, and Suzanne Rust '86—and was moderated by alumna and Writing faculty member Carolyn Ferrel '84. As these alums talked with our students about the challenges they've faced and successes they've achieved as Black professionals, it was impossible not to also be aware that this week brought two further sets of guilty verdicts in the murders of Ahmaud Arbery and George Floyd. This long-awaited justice came even as some state legislatures are lining up to oppose the teaching of Critical Race Theory, without appearing to understand what Critical Race Theory is nor what is actually being taught.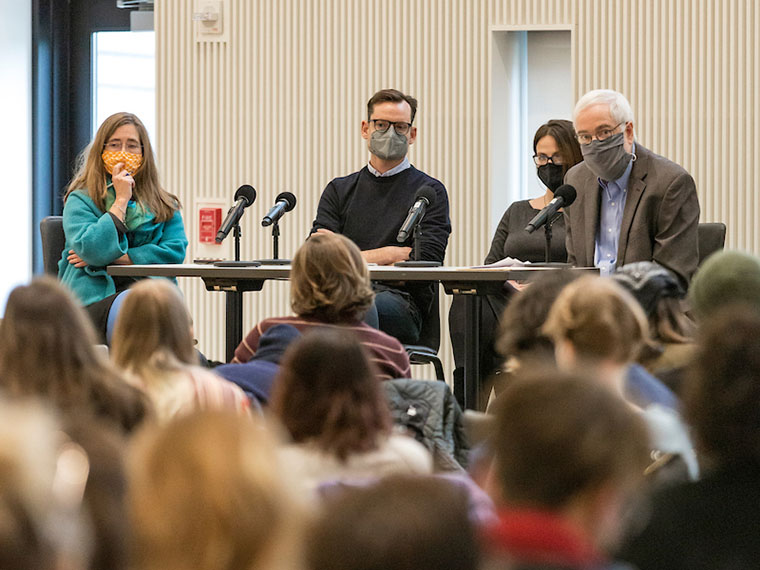 Then on Thursday, we all watched in horror as Russia launched an invasion of Ukraine. I was especially grateful that we could come together as a campus in real time for a panel by four members of our faculty to discuss the unfolding events. Moderated by Associate Dean Melissa Frazier (Russian), Yekaterina Oziashvili (Politics) joined historians Philipp Nielsen and Philip Swoboda to provide context on recent and more extended history, politics, and events, along with a Q&A session. Above all, we acknowledge the people of Ukraine and their democratically elected government as they face the unspeakable dangers of this unwarranted invasion.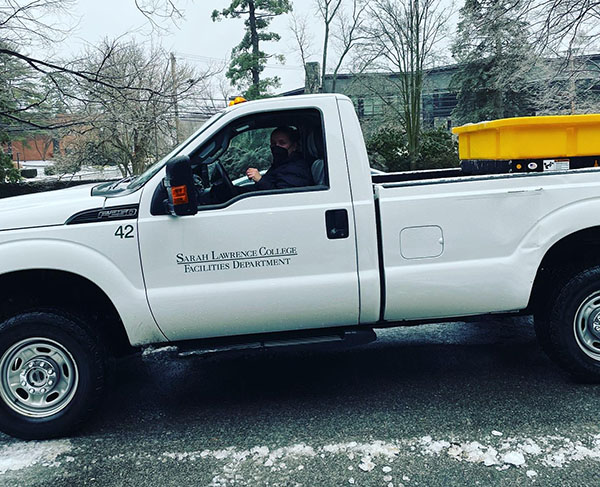 And then yesterday morning, we awoke to an ice storm, reminding us just how unseasonal that weather was earlier this week, and leading us to delay the start of classes—something we do only very rarely—to allow our faculty and staff to reach campus safely. As is always the case, our facilities and grounds crews and campus safety team were out throughout the storm to ensure the safety of all on campus.
Only three days on the calendar, but oh so much with so little time to process and reflect on it. Our promise at Sarah Lawrence is that we prepare students to tackle the problems of, and thrive in, a complex and rapidly evolving world. Moments like these remind me that we do that in part through all of the many ways we make community here on campus and beyond, the ways we support each other, and the ways we put our hearts and minds to work to understand and to respond to world events.
Following these last few days I am especially grateful that March at Sarah Lawrence traditionally kicks off with Giving Day, because it is a special moment of seeing the Sarah Lawrence community come together to support the work of our students, faculty, and staff. It takes a lot to make a campus as vibrant as ours is; much work goes on behind the scenes that is too often not recognized. Giving Day also acknowledges that.
And amidst all that we are confronting in the world, like those juniors I talked with earlier this week, I am also grateful for what the rest of the semester holds, especially the continuation of the Belonging series, which considers the concept of belonging in all its forms, across a range of geographical, disciplinary, and temporal perspectives—something that feels particularly apropos this week. Five events are coming up in the next few weeks and recaps and videos of earlier events are available on our website. Our alumni, family, friends, and the public are invited to join these events online from around the world as the Sarah Lawrence community gathers in person on campus.
I hope you will join us. Because, if there is one thing this past week has reminded me of, it is that coming together is what we do best at Sarah Lawrence—coming together in moments of joy and anticipation, coming together to face challenges, and coming together to support this education in which we so wholeheartedly believe, and which the world so desperately needs. I look forward to sharing the rest of this semester, and all that will accompany it, together with you.
Yours,

Cristle Collins Judd
President
president@sarahlawrence.edu
Instagram: @slcprez
---