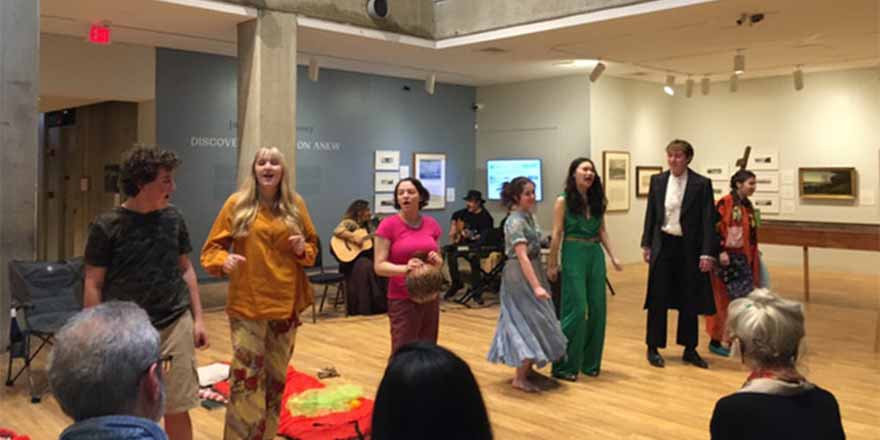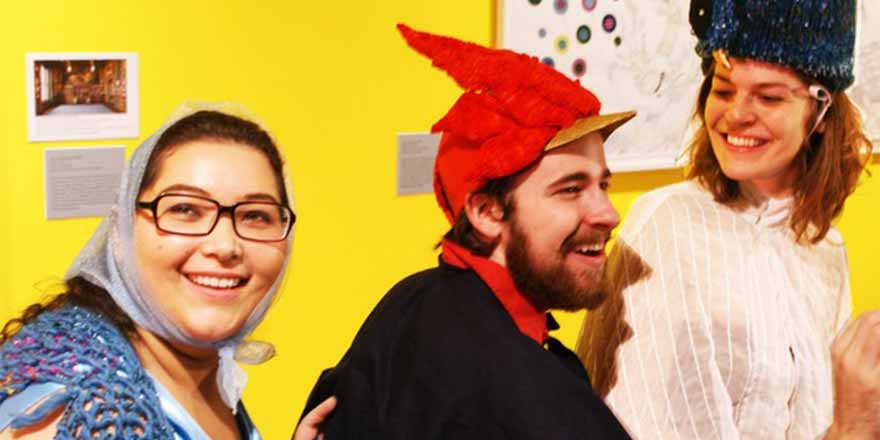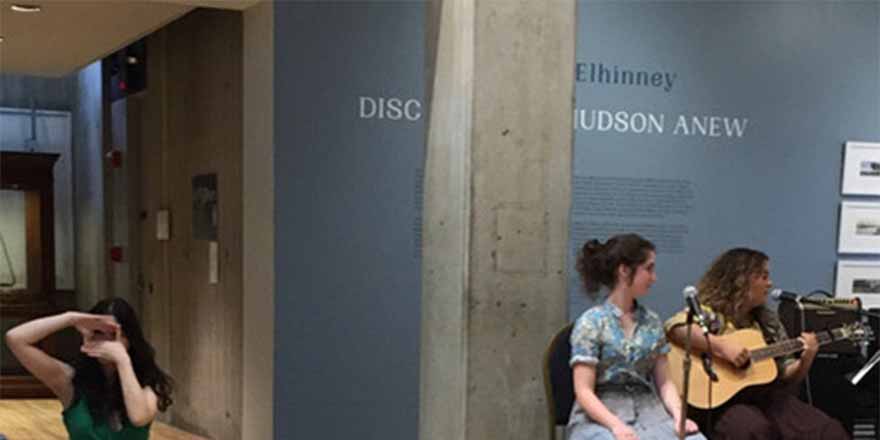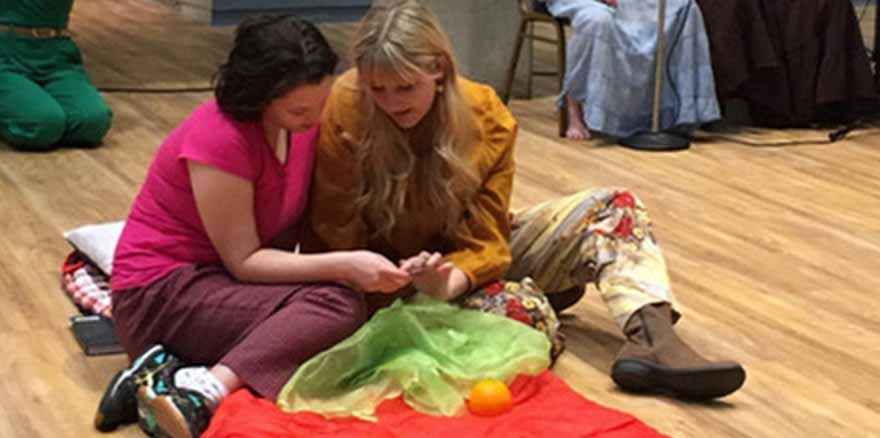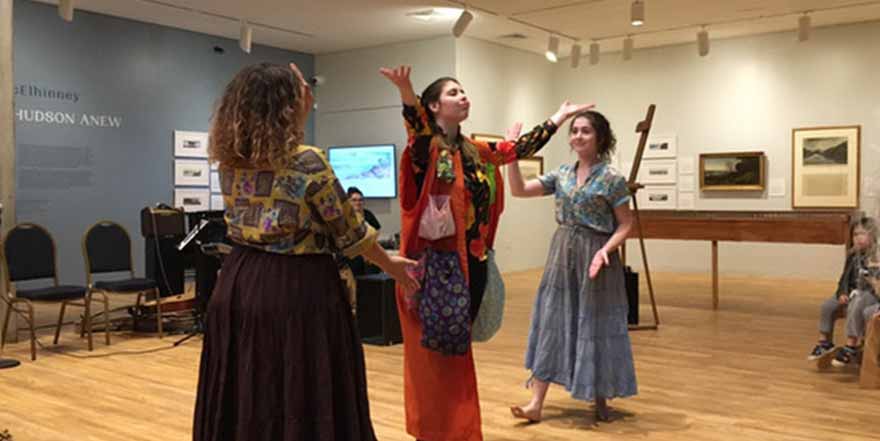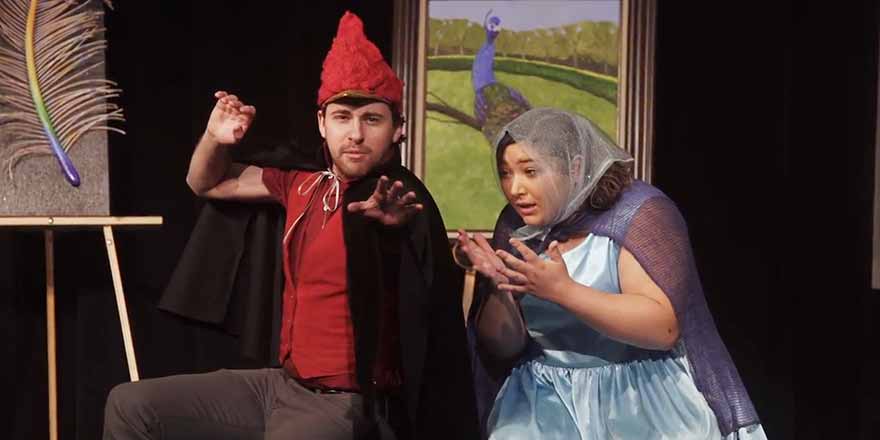 Original performances at local libraries, schools, and collaborations with the Hudson River Museum (HRM) investigate art-making, social justice, environmental issues, and more. SLC Theatre and Civic Engagement responds to the museum exhibitions through workshops, original theatre performances in the galleries, as well as inner and outer landscape poems, imagery, and video.
Program Development
Situated on the banks of the Hudson River in Yonkers, New York, the Museum (HRM)'s mission is to engage, inspire, and connect diverse communities through the power of the arts, sciences, and history. The Museum offers engaging experiences for nearly every age and interest, with a significant and ever-growing collection of American art; dynamic exhibitions that range from notable nineteenth-century paintings to contemporary art installations; Glenview, an 1877 house on the National Register of Historic Places; a state-of-the-art Planetarium; an environmental teaching gallery; and an outdoor Amphitheater. The Museum is dedicated to collecting, preserving, exhibiting, and interpreting these multidisciplinary offerings, which are complemented by an array of public programs that encourage creative expression, collaboration, and artistic and scientific discovery. Sarah Lawrence has been a longtime partner in these engagement efforts across medium interaction performances and fellowships... including on-site musicals.
Take Little Pea, for example, an original musical for children performed at the Hudson River Museum. Star of the show? A colorful peacock whose castmates include a blue jay lost in the museum and a robin who works as a museum security guard. Created by Kaplan and Lang, Little Pea complemented the museum's exhibition, Strut: The Peacock and Beauty in Art. 
Explore the depth and breadth of our program's collaborations with this community staple overtime through HRM's site highlights on collaborations with SLC.
Landscape Art & Virtual Travel Exhibition
Like everyone everywhere, the pandemic has forced Sarah Lawrence students indoors, inviting the brave, the curious to mine their landscapes. Students awakened resources while discovering expressive forms of art-making on Zoom and other media-in-the-making, working with new materials.
Yeong Ran Kim and Allen Lang work with SLC students to curate a digital exhibit as part of the Museum's Landscape Art & Virtual Travel showcase. The student art, created during the pandemic, reflects the emotions of the era and students' experiences during this abnormal period of life.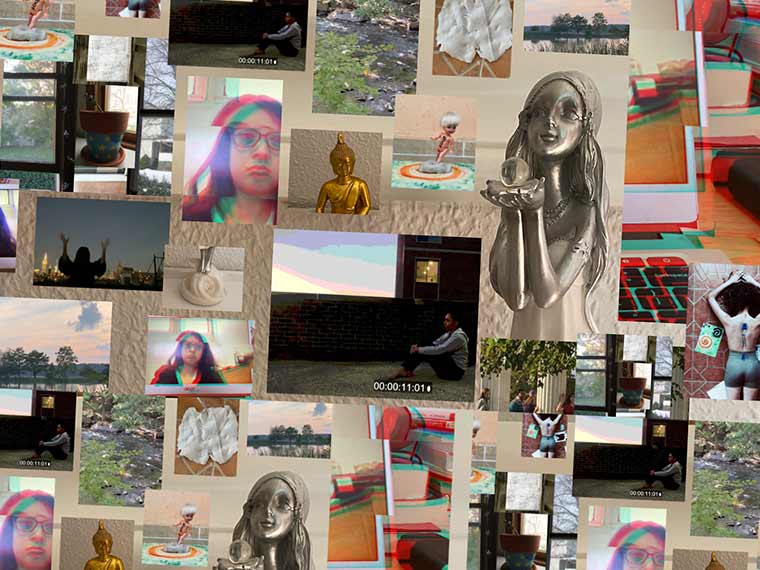 These resourceful inventors have created poetry, video, drawings, photography - befitting all their imaginings - these Sarah Lawrence student responses to the Hudson River Museum's Landscape Art & Virtual Travel exhibition. Inspired by exhibition artists Cynthia Daignault, David Hockney, Horace Pippin, Ana Mendieta, and others, the existential pandemic's solitariness reaches and enters the poetic space- journey within and tell us, show us what is there.
Exhibitors: Emily Aviles, Taylor Brothers, Michelle Cowles, Alesha Cid-Vega, Allen Lang, Tyler Lynch, Saffron Quinn, and Dara Schweitzer