The Theatre and Civic Engagement Program offers undergraduate and graduate Theatre students the opportunity to create artistic exchange strategies with our communities in Westchester County and New York City. Founded in 1974 by faculty member emerita Shirley Kaplan, the program was originally titled the Theatre Outreach and is presently led by Theatre and Civic Engagement Program director Allen Lang.
Theatre and Civic Engagement facilitates access and resources for our community, where some schools are underfunded and underperforming with limited or no access to the arts.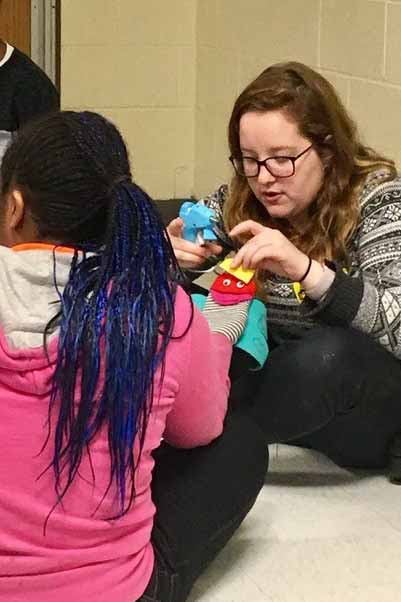 Other issues facing our community are the effects of poverty, accessible public transportation, affordable housing, gentrification, homelessness, high rates of incarceration, and drug and alcohol abuse.
Civic Engagement students participate in team-based performance and teaching partnerships in schools, community and senior centers, community colleges, colleges, museums, and libraries. Specific projects have included improvisation, music and movement, playwriting, storytelling, oral histories, puppetry, and foundations of performance and production. Students also take the courses Methods of Civic Engagement, Civic Engagement Community Projects, and on the graduate level, Teaching Artist Pedagogy Conference. Through the program, students learn about building lasting relationships by collaborating with the community while developing original, issue-oriented, dramatic material using music and theatre media.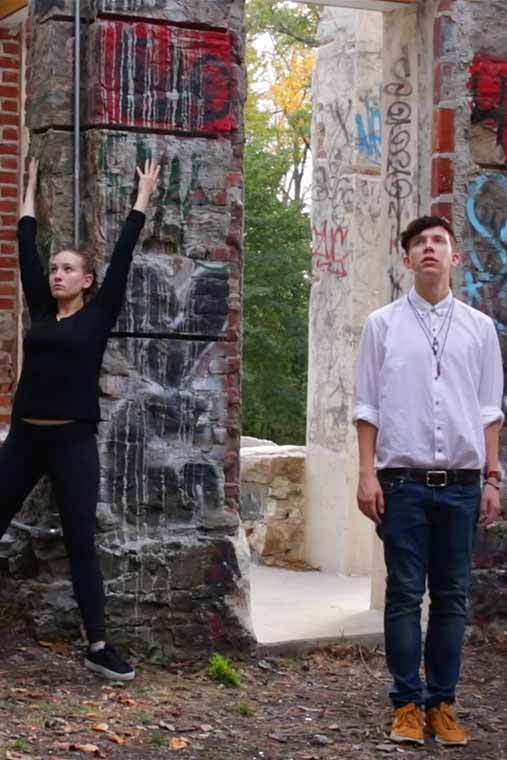 Civic Engagement connects creatively with the City of Yonkers by presenting interactive workshops and performances at the annual Yonkers Arts Weekend. 'Experience Yonkers' videos creatively explore Yonkers landmarks such as Untermyer Park and Gardens, The Yonkers Waterfront, Van Der Donck Park, The Beczak Center, and the Lenoir Preserve. Original performances at local libraries, schools, and collaborations with the Hudson River Museum investigate art-making, social justice, and environmental issues. Sarah Lawrence students connect with seniors at the Wartburg in Mount Vernon and at other area senior residences and centers through song.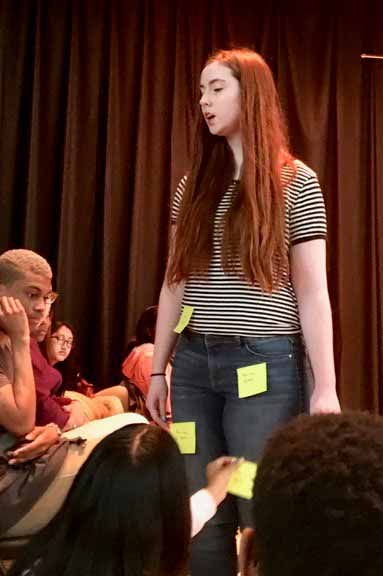 Lunchbox Theatre, an essential component of Theatre and Civic Engagement, offers a free process-centered theatre curriculum on Saturdays for members of the local community of different age levels, including senior citizens. Lunchbox Theatre began in 1997 as a special workshop for the children of Sarah Lawrence faculty and staff, and has grown to include 80 participants from Yonkers and the surrounding area. Graduate and undergraduate students lead the workshops and participants bring their lunch, facilitating the bond that occurs when people make art together and share food. Many Lunchbox Theatre participants stay with the program for years, honing theatre skills and developing personal expression.
Theatre and Civic Engagement frequently brings guest artists and performers to the program for special events, including an annual performance by youth for Black History Month led by Kwame Johnson's Youth Theatre Interactions and the Thomas D. Young Greenburgh Community Center. Other guests have included poet, activist, author and performance artist Annie Lanzillotto, theatre educator and director Martin Balmaceda, Artistic Director of Collective Encounters, Sarah Thornton, Aretha Sills, master teacher of the Viola Spolin Technique, and Yonkers Poet Marcus C.John.
Examples of Theatre and Civic Engagement Program Placement Sites
Center Lane LGBTQ Youth & Community Education Center (Yonkers & White Plains)
Greenburgh-Graham Schools (Hastings-on-Hudson)
Lehman College (Bronx)
Mary J. Blige Center for Women (Yonkers)
PS 14 (Bronx)
School 30 (Yonkers)
Wartburg Senior Living Center (Mount Vernon)