An American-art-history-buff-turned-French-pastry-chef alumna bridges cultures with deep-fried deliciousness.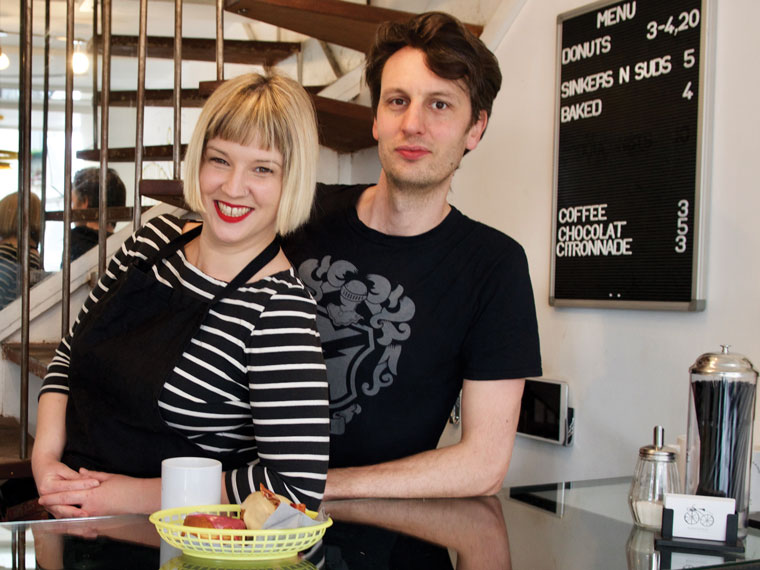 In front of a narrow storefront in central Paris, a hand-printed blackboard menu calls to passersby. Inside, Amanda Bankert '03, hair in a kerchief, reigns over a tiny specialty bakery. The décor is whimsical—the five stools bear yellow smiley faces—and the air sweet from the plump small-batch doughnuts Bankert turns out three or four times a day in the even smaller kitchen upstairs. "It's really teeny-tiny," she says with a laugh. "And no dishwasher!"
When Bankert was studying art history at Sarah Lawrence, no one would have predicted that she'd end up in Paris running—with her Irish husband, Louis Scott—an American artisanal doughnut shop, of all things. But during a junior-year semester there, she fell so in love with the city that she spent much of her senior year plotting her return.
In the post-9/11 era of "freedom fries," however, France wasn't granting many work visas to Americans. "The Office of Career Services advised me to go as a student," Bankert recalls. "I wasn't ready to continue in art history. I had waitressed since high school, so I applied to the Cordon Bleu for the pastry course. Pastry is visually driven, which appealed to my art history side." Three days after graduation, she boarded a plane back to Paris.
She earned the pastry diploma, and after several years baking in restaurants and for upscale cafés in Dublin—"a detour," she says—Bankert resettled in Paris in 2012. The next summer, visiting her family at the New Jersey beach where she vacationed growing up, a breakfast of cinnamon sugar doughnuts from the local mom-and-pop bakery prompted her to muse, "I wish we could get these in Paris."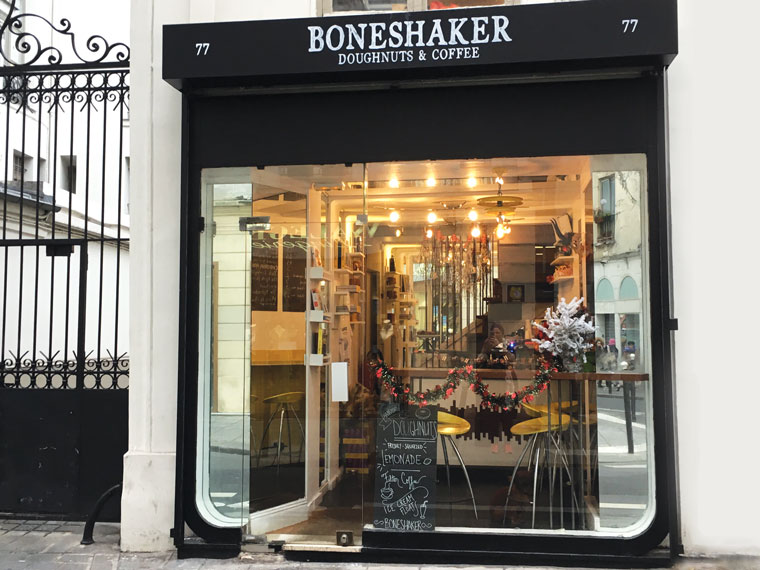 From that inspirational moment to the launching of Boneshaker Doughnuts took two and a half years. "Historically, France doesn't have an entrepreneurial culture, although they admire it in us," Bankert says. "Banks are very cautious, and everyone says, 'No, you can't,' but I can be stubborn. To succeed at Sarah Lawrence you have to be self-motivated. There's a support system, but nobody stands over you. The College instills independence, and that really helped me."
At the time, Paris had no doughnut shop, but Bankert noted Parisians' new fondness for American food beyond chain burgers and thought they were ready. She began in her apartment kitchen with a small home fryer bought at a yard sale for 10 euros (about US$12). After three months of testing and tweaking recipes and learning the ropes by supplying coffee shops and operating a pop-up store, she opened her shop in the summer of 2016.
The day's offerings might include cinnamon sugar, honey-glazed, salted caramel, or more elaborate flavors, but always her best-sellers: maple-bacon, beer-glazed, and whiskey. ("I guess I just like booze," she says.) Is she riding a trend? "We don't want to be trendy," she says. "We're just an old-school doughnut shop, giving people pleasure. No one's ever in a bad mood in a doughnut shop."