As director of Human Services in Washington, DC, Laura Green Zeilinger '95 changes lives by reducing homelessness.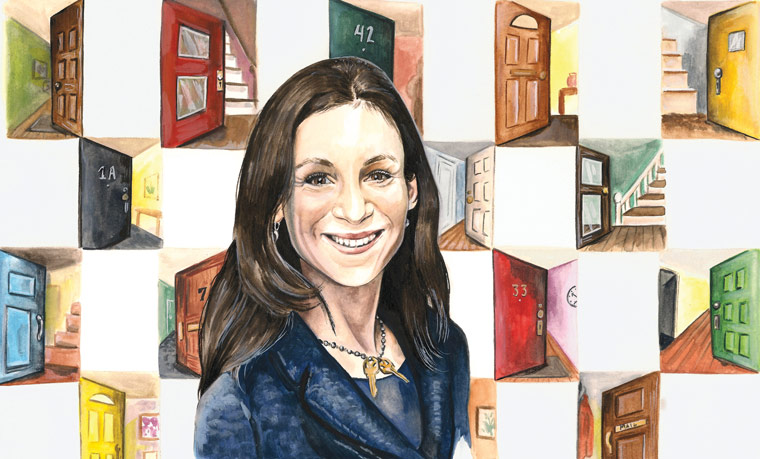 When Laura Green Zeilinger '95 was an Ohio high school student, she helped organize summer camps for impoverished children in Cleveland. For many of the kids, it was their first time leaving the city for more sylvan settings, an "important joy" that many of us take for granted, she says. "I loved that experience," Zeilinger recalls. "I'm sure it was the start of the path I took."
Today, Zeilinger continues to help the less fortunate—and on a much grander scale. As director of the Department of Human Services in Washington, DC, she oversees nearly 1,000 employees who provide a litany of services—food and medical assistance, child care, and rental support among them—to 270,000 low-income residents, about one third of the city's population.
Zeilinger spends much of her time tackling the district's homeless crisis. It's familiar territory. Mayor Muriel Bowser recruited her from the Obama administration, where she led the Interagency Council on Homelessness. In her current role, Zeilinger's efforts helped reduce the district's homeless rate by 11 percent over the one-year period ending in January 2017. She's instituted year-round access to shelters for families and launched a homeless prevention program that diverted more than 4,500 families from shelters.
"I've never met anyone who is more attuned to the needs of the most vulnerable in our society," says Jay Melder, a senior official in the DC government. "What is striking about Laura as a public servant is that she is guided by a profoundly strong moral compass, in every decision she makes and every issue she is confronted with."
"There is still so much more to do."
While at Sarah Lawrence, Zeilinger says, she learned the skills needed to help make significant change in seemingly intractable social problems—strong critical thinking, problem solving, and, she says,"recognition of the need to build trust by listening to people."
Since starting her job in January 2015, Zeilinger listened to scores of poor DC residents. Last fall many of them faced the loss of welfare benefits through a federal program known as Temporary Assistance for Needy Families. In all, some 4,700 families, with more than 10,000 children, had reached the time limit for assistance, which, Zeilinger says, would have led to more homelessness. She and her team worked with stakeholders and the city council to extend the aid, which she calls "a shining achievement."
While Zeilinger concedes her work can seem overwhelming at times, she also understands its impact. She recently visited a family who had just moved into an apartment after spending many years homeless. The father teared up as he described to Zeilinger the joy on his children's faces when he unlocked the door and they saw a place to finally call their own. "This is absolutely why we do this work," she says. "There is still so much more to do, but it's important to celebrate the beautiful moments, to make you realize what this means for people, that what we are doing is really life-changing for so many."