Dear Members of the Sarah Lawrence Community,
I typically draft and complete these letters a few days before they are scheduled to go out. Yet again it seems that my planned words have been overtaken by the news of external events, as the last few days have carried devastating news of student deaths on campuses in Idaho and Virginia and the horror inflicted on the LTBTQ+ community in Colorado Springs. The letter below is focused on gratitude and recent achievements on our campus and it is a message that I do believe merits sharing with you as written, but I want to acknowledge before doing so the gravity of the events that leave us all shaken and to encourage students who may be struggling with these events to reach out to our Health and Wellness team and to take advantage of the resources they provide.
***
As we approach the Thanksgiving break, I find myself, as I do every year, pausing to reflect on the first part of the semester… and reminding myself to take a pause and a deep breath or two to gear up for its final frenetic stretch. When students arrived this fall, I talked with them in our class meetings about the importance of gratitude and of expressing it, and that is where I find myself at this moment: with a profound sense of gratitude. Above all this semester, I have been struck by the positive energy on campus, by the ways in which we are building – and exploring new ways to build – community. I give our students enormous credit for this. Campus is alive, so vibrantly alive. Even as students spend long hours in the library, lab, or studio, they are engaged not only in their own curricular and extracurricular work and activities, but also that of their peers and their faculty. We've hosted wonderful guests for scores of events, and we've welcomed our neighbors and friends back to campus with great intentionality this semester, resuming and expanding our role as a cultural and intellectual hub for those around us. I enjoy sharing glimpses of campus life on my Instagram, and invite you to join me there to see more of what makes me so thankful on a daily basis to be part of this community.
In a semester marked by so many highlights, one weekend in particular stands out, and will for some time. As many of you saw or heard, Sarah Lawrence was in the spotlight during a whirlwind visit from President Joe Biden as part of a campaign rally hosted by New York Governor Kathy Hochul on Sunday, November 6.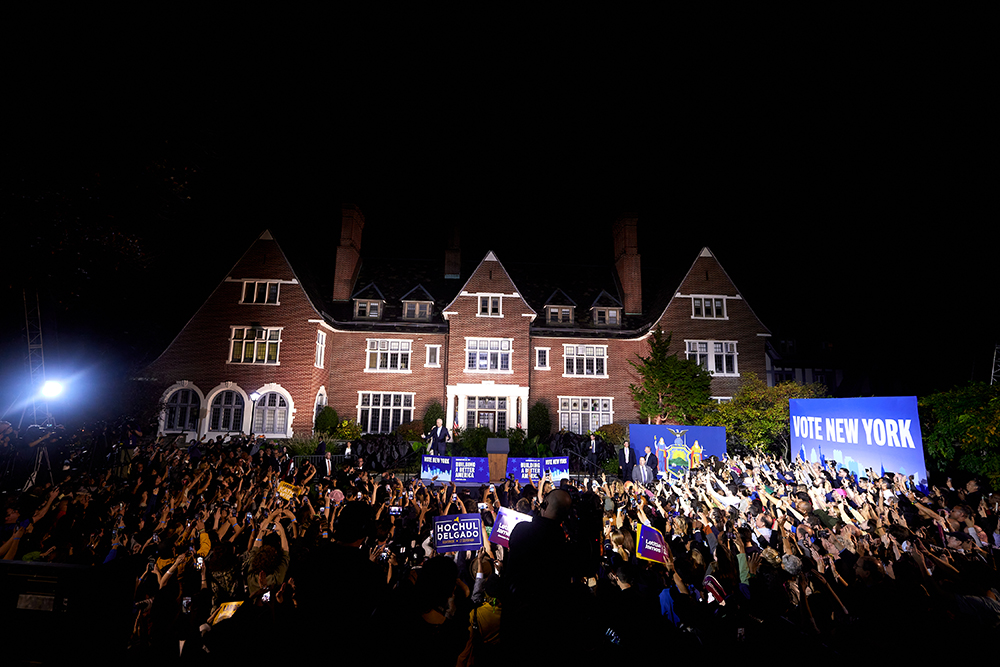 It was quite something to have Westlands lit up and standing proud for all the world to see as it served as the backdrop for the event. So many members of our community – led front and center by hundreds of our students – gathered on Westlands Lawn, and despite long lines and the significant disruption that comes with a visit from POTUS, the sense of pride at being selected for this momentous occasion was, and remains, palpable. I don't think we'll soon forget the feeling of hearing the President of the United States refer to us as one of the best colleges in the country during his remarks!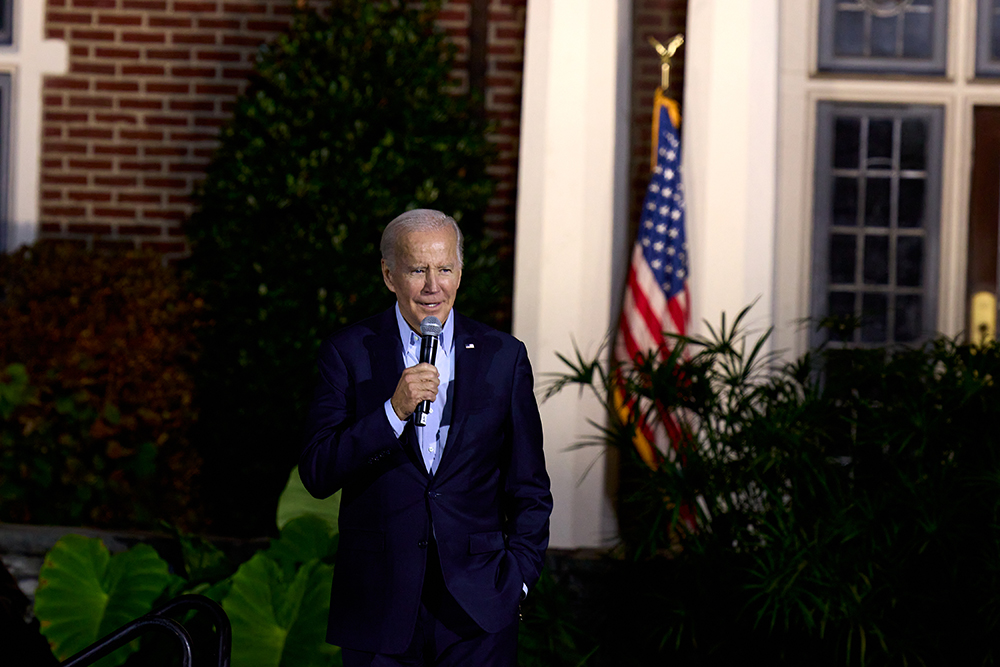 I was honored to be asked to deliver welcome remarks at the event (you can watch them here if you like), and took that opportunity to highlight the work we're doing this year in our History Matters series. When we planned the series earlier this year, no one could have imagined that we'd be immersed in history right on our own campus – the first time a U.S. president has visited Sarah Lawrence. For a community such as ours – a community that understands that history does, indeed, matter, and that democracy matters – this was an unbelievable moment and opportunity, and I am especially grateful for how our students were included and for how they responded and got involved.
I'm grateful, too, for all the members of our community who had a part in making it possible for the President of the United States to visit Sarah Lawrence – and in making the College look so good in the process. Though it wasn't a Sarah Lawrence event, it nevertheless involved herculean efforts from all corners of campus, with our staff taking on most of the pressure. In truth, prepping the campus and our community for an event of this magnitude on such short notice was only possible because we have the staff we do. And that's not just my opinion. As the event ended, the lead member of the White House team shared with me how appreciative the team was of all their interactions at the College, and that everyone they had encountered had been unfailingly helpful, finishing with "this College has a terrific staff". I couldn't say it better.
Not to be overshadowed by news of a Presidential visit, the women's soccer team was making history of its own, adding to the excitement of that memorable weekend by winning the Skyline Conference championship in front of a boisterous home crowd on Saturday, November 5. In the weeks since their victory, the team swept the All-Conference Awards, with seven players and coach Maurizio Grillo earning recognition from the Skyline Conference. It's been a great season so far for our Gryphons all around, with more to come!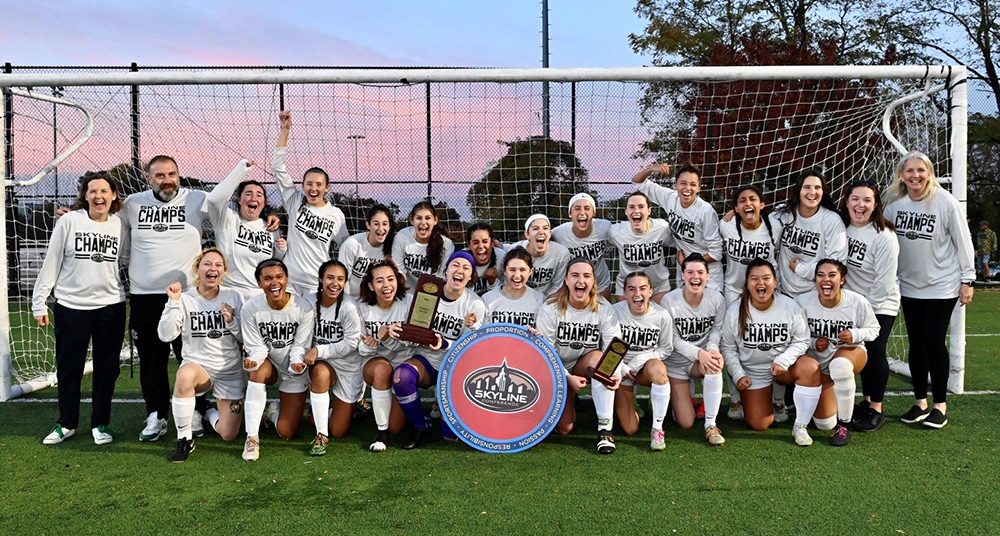 We've not only brought the world to Sarah Lawrence, but taken Sarah Lawrence to the world. I'll highlight two of the many ways we have done so in just the two weeks since the Presidential visit. Three undergraduate students, Anahat Brar '23, Nitika Kamath '22, and Gaia Moisan '23, joined Sarah Lawrence faculty member Ceci Toro to present their work at the Society for Neuroscience conference in San Diego, an international conference with tens of thousands in attendance. And second-year genetic counseling graduate students took an active part in the National Society of Genetic Counselors conference in Nashville. As the oldest, and still the largest, program in genetic counseling, the College also has the largest alumni body in the profession, and Sarah Lawrence was front and center at the meeting as alumna Deepti Babu MS '99 assumed the leadership of the society and alumna Michelle Fox MS '79 received the Natalie Weissberger Paul National Achievement Award. I was delighted to have the opportunity to introduce Kelle Steenblock, the new director of our genomics institute, at a large and lively alumni gathering at the conference.

It has been quite a semester, and there is more yet to come! As we enter this welcome brief break before the final weeks of the semester, I extend to all of you my best wishes and gratitude for all you bring to the Sarah Lawrence community.
Yours,
Cristle Collins Judd
President
president@sarahlawrence.edu
Instagram: @slcprez
---