The President of the United States visited Sarah Lawrence College on Sunday, November 6, as part of a Get Out the Vote event hosted by New York State Governor Kathy Hochul. The event marked the first presidential visit to Yonkers—the state's third largest city—in nearly 50 years, and the first time that a U.S. president has visited Sarah Lawrence College. More than 1,000 people attended the event, including several hundred Sarah Lawrence students, faculty, and staff.
In addition to President Biden and Governor Hochul, Sunday's pre-Election Day campaign rally featured a host of elected officials from the local, state, and national level: Senate Majority Leader Chuck Schumer, Senator Kristin Gillibrand, Representative Jamaal Bowman, New York Senate Majority Leader Andrea Steward-Cousins, New York State Attorney General Letitia James, New York State Comptroller Tom DiNapoli, Westchester County Executive George Latimer, and Yonkers Mayor Mike Spano.
"Sarah Lawrence is proud to sit in the city of Yonkers at its intersection with the village of Bronxville in Westchester County," said Sarah Lawrence president Cristle Collins Judd in opening remarks. "We are so pleased that today's event shines a spotlight on this important area of our great state and highlights the critical role Sarah Lawrence plays as a cultural and intellectual hub for our surrounding community."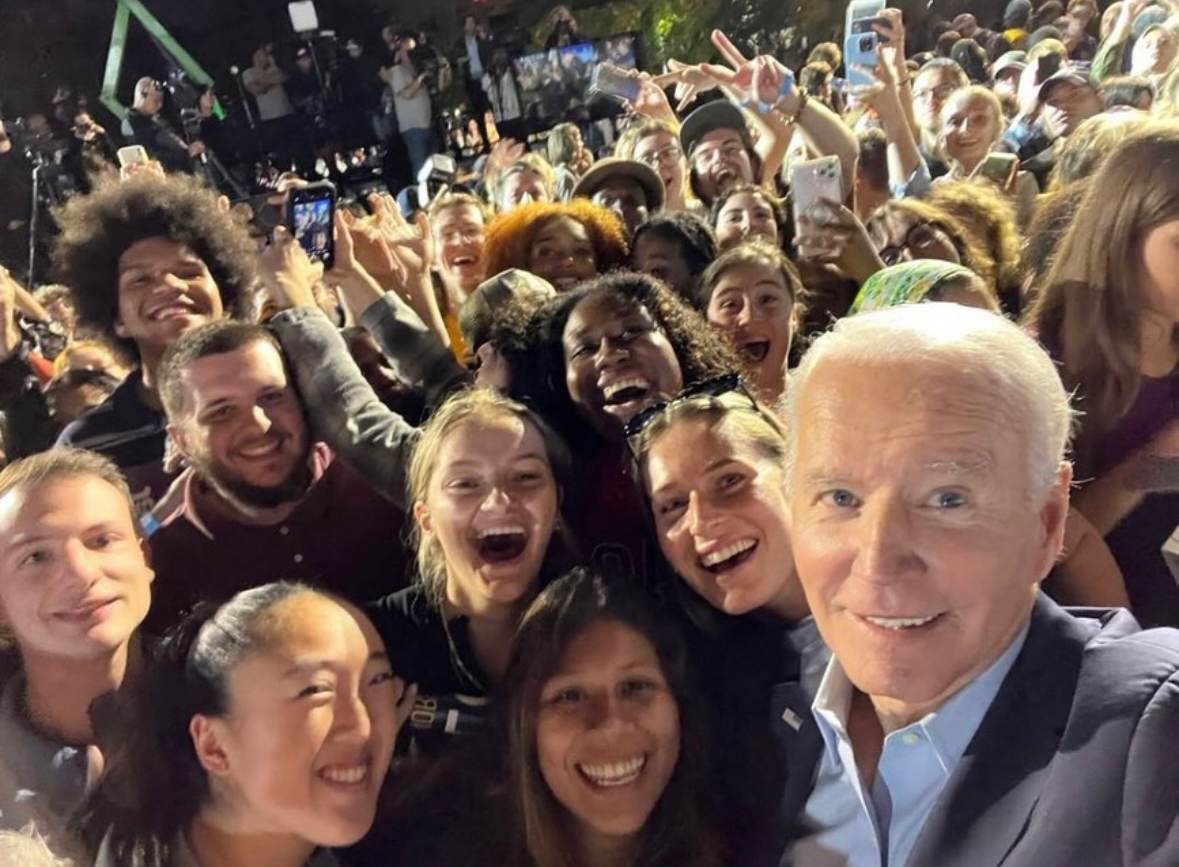 Sarah Lawrence students were front and center in Sunday's event. After Judd's remarks, music student Katin Sarner '25 performed the national anthem, the second musical performance of the evening after the Sarah Lawrence Vocal Chamber Ensemble performed "My Friend Elijah" by Paul Carey under the direction of Patrick Romano. Several Sarah Lawrence students, many representing the Sarah Lawrence chapter of the nationwide organization Democracy Matters, participated in the event as volunteers, with two students getting the opportunity to meet and take a photo with President Biden. At the end of the night, following his remarks, Biden entered the crowd, shaking hands, conversing, and taking selfies with Sarah Lawrence students.
The build up in excitement for President Biden's arrival was palpable as an overcast day gave way to a moonlit evening over the campus' iconic Westlands building. "Hello New York! What a great crowd!" the President exclaimed over raucous applause as he took the stage. "Hello Sarah Lawrence College, one of the great liberal arts schools in America.  You guys are really good!"
Explore more coverage of this event:
Photos by Argenis Apolinario
Selfie with President Biden courtesy of Colleen Coughlin '26
---