Wednesday, February 2, 2022
On Wednesday, February 2, 2022, Sarah Lawrence, in partnership with Ava DuVernay's film collective Array, presented a special screening of the 1993 film Sankofa, followed by a panel discussion.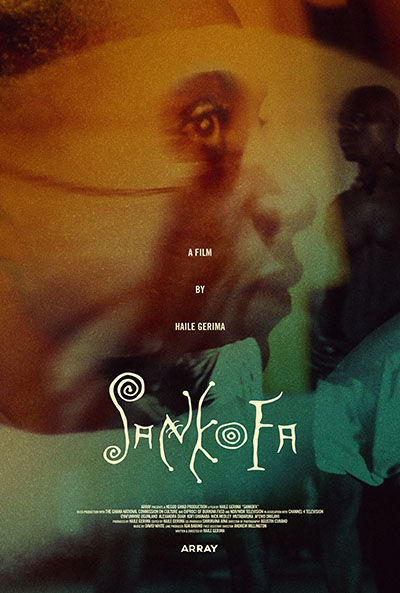 Sankofa, streaming now on Netflix, was written and directed by Ethiopian-born filmmaker Haile Gerima and tells the story of an African American fashion model named Mona who goes on a spiritual journey of resistance to confront her past. An encounter with a local griot sends her on a transcendental journey back through time, where she emerges as Shola, an enslaved woman on a plantation somewhere in the Americas. The film's title is derived from the word "Sankofa" in the dialect of Ghana's Akan people, meaning to retrieve. This concept is represented by an African Diaspora symbol of a bird flying forward with its head turned backward holding a precious egg in its mouth, recovering what was lost in order to move forward. The movie is a bridge between the origin of the ideology and the meaning it holds in society today.
The panel discussion following the film screening was moderated by History faculty member Dr. Kishauna Soljour and explored the link between the legacy of slavery and modern societal problems, resistance and liberation, identity, activism, community-building, and generational storytelling. The distinguished panelists for this event were:
Damani Baker '96, Director & Filmmaking and Moving Image Arts Faculty
Oceana James MFA '15, theatre artist, dancer, and director
Hasna Muhammad '77, visual artist, writer, and educator
In order to build and expand on these themes, additional community resources include: a genealogy workshop, learning companion, suggested readings, small group discussions, and a podcast. This event is part of a series that engages different generations and individual approaches to injustice in the past and possibilities for the future. While this initial conversation focuses on descendants of the African Diaspora, future events will provide an opportunity to discover how other groups, communities, and populations tell their stories.
Array has compiled a learning companion to deepen the conversation and inspire personal action after viewing Sankofa. Explore these lessons and activities online.