One of the first residents of Warren Green, SLC's sustainable lifestyle house, Chris Girgenti '10 now uses nature to nurture kids. In New York City.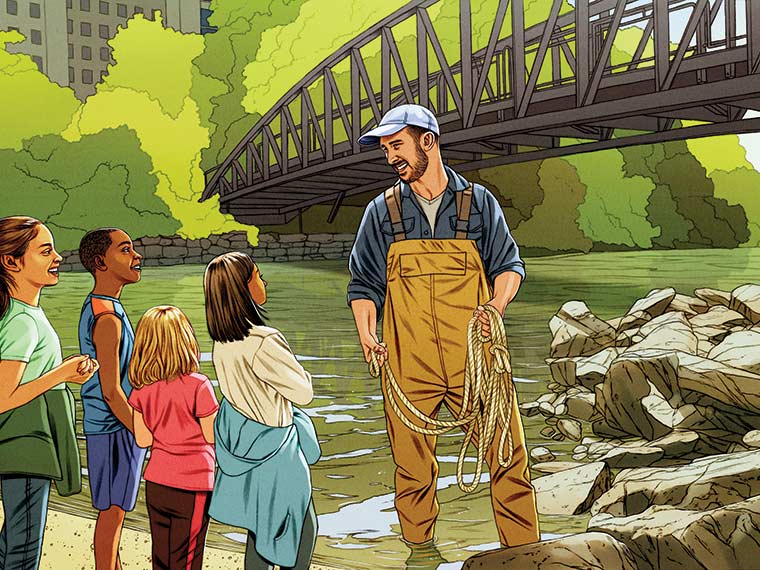 It's a bright, sunny day, and Chris Girgenti '10 is leading a group of children from New York City's under-resourced neighborhoods into the East River for a very different kind of urban adventure. Wearing chest waders, they fan out, pulling nets through the water, seeking fish that live in the shallows, testing water quality, and evaluating the ecological implications of their findings. One by one, they pull out, categorize, and then release striped bass, seahorses, northern pipefish (a close relative of the seahorse), and American eel—all to the surprise of their onlooking parents, who long considered these waterways dead.
It's just another day at the office for Girgenti, who clocks in at Randall's Island, an urban oasis at the confluence of New York's Harlem and East rivers. Bordered by East Harlem, the South Bronx, and Astoria, Queens, with the Robert F. Kennedy and Hell Gate bridges soaring overhead, the island is a patch of green that contains 430 acres of parkland, more than one third of Manhattan's outdoor sports fields, 20 acres of restored natural areas, and more than four miles of bike and pedestrian paths along its waterfront.
Many of these kids do not often have the chance to step off pavement. After visiting, they understand the connection between their built environment and nature.
As natural areas manager for Randall's Island Park Alliance, a nonprofit that acts as the park's steward, Girgenti's job is to encourage urban kids to venture off the beaten path. The alliance provides free educational opportunities for students in kindergarten through 12th grade, teaching them how to use tools, make observations, and understand environmental stewardship. These programs address timely issues through immersive experiences such as environmental festivals, fishing clinics, and courses like "It's Buzz Worthy: The Secret Life of Insects."
"I want the children to be completely enveloped in the reeds, trees, and shrubs—to really use their senses," Girgenti says. "To hear the birds, the leaves rustling. To touch tree bark, see lichen. Many of these kids do not often have the chance to step off pavement. After visiting, they understand the connection between their built environment and nature. They start seeing street trees as habitats for birds and insects."
When he's not educating the community, Girgenti maintains the shoreline and natural areas, providing ecological restoration and contributing to regional projects that range from vegetation monitoring to studying how harbor herons use the salt marsh to forage for fish.
For Girgenti, who spent his life surrounded by rivers, this is heaven: He grew up in a town not far from the Hudson and rowed on the Gryphons' crew team. It was at Sarah Lawrence that Girgenti started to appreciate how the environment affects society. He cites in particular Charles Zerner's environmental studies course on cultures and nature as influential to his thinking holistically about nature, as well as Kenneth Cameron's biology class in field botany and Kathryn Tanner's geography lessons. In return, he recruits interns from Sarah Lawrence and provides career mentoring.
"I love that I get to be outside, share my passion with people, and indulge their desire to gain a greater appreciation for the environment," he says. "I can't imagine doing anything else."
Written by Patti Harmon
Illustrated by Michael Hoeweler
---