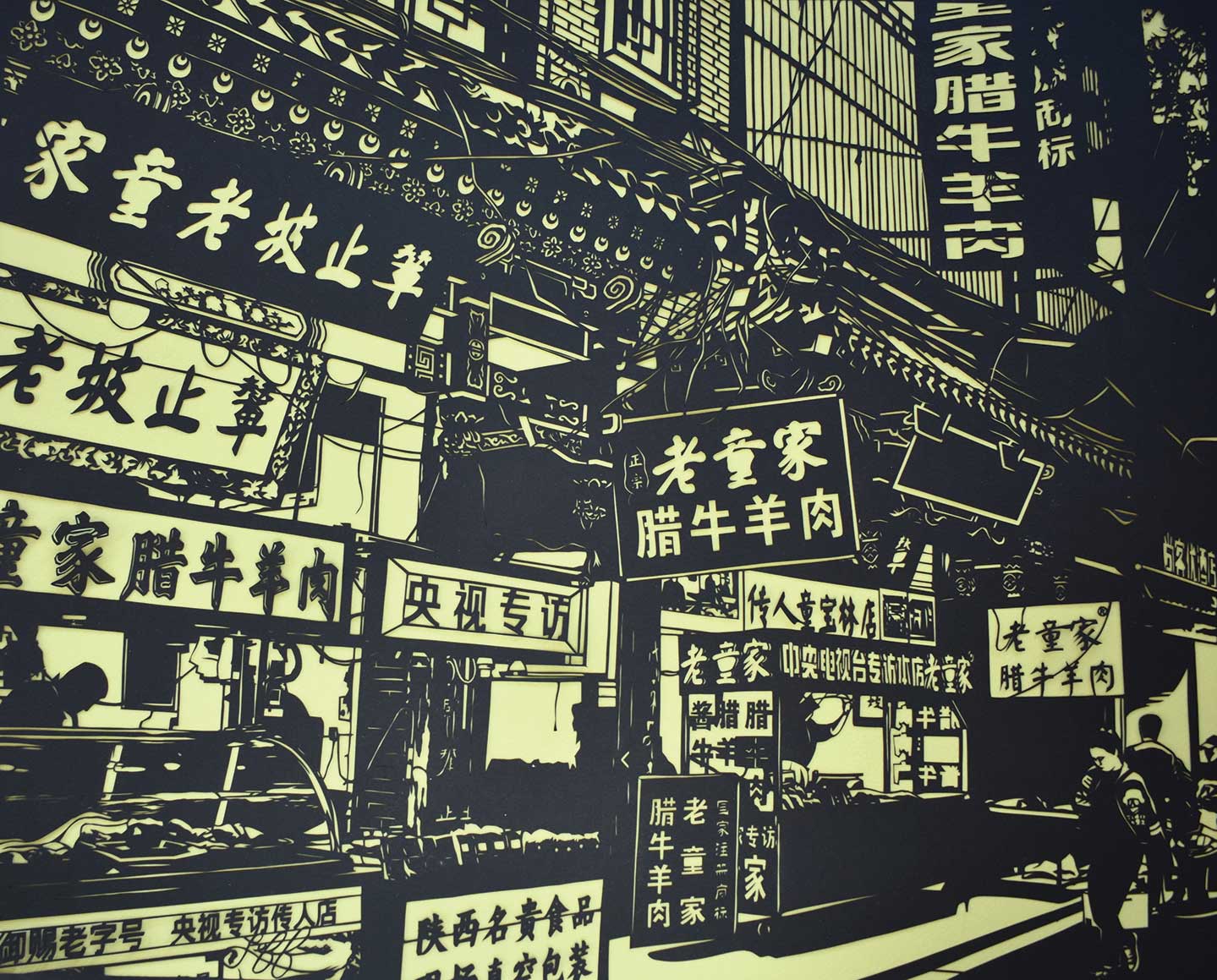 On her first visit to China, where paper was invented more than 2,000 years ago during the Han Dynasty, papercut artist Rosa Leff '11 photographed a teen on the vibrant streets of Xi'an. Leff was captivated by the way the girl stared down at the sidewalk, ignoring the visual chaos surrounding her. "She probably walks there all the time, so for her this was nothing unusual," Leff recalls. "If she had looked up, she could have read those storefront signs—none of which were intelligible to me."
Leff often works from photos taken in places she's lived or visited. Painstakingly fashioned from a single sheet of paper, each piece is unique and can take up to 100 hours to complete with continuous, meticulous cuts using an X-ACTO knife. The process yields intricate images that capture and elevate otherwise ordinary moments, acknowledging their underlying significance.
Known for her meticulous renderings of power lines and cityscapes, Leff began cutting paper in 2012 when she was asked to create a children's book while pursuing her master's degree in elementary education. She channeled inspiration from her grandmother, a professional oil painter, and technical knowledge gained during an apprenticeship with Alejandro Cordobés at the Instituto Superior de Arte in Havana, Cuba, where she completed an independent study as a junior at Sarah Lawrence. "Alejandro helped me understand where to place shadow," she says, "and how a single line can set the tone for an image."
A board member of the Guild of American Papercutters, Leff is also a kindergarten teacher, commuting to a school an hour from her home in Baltimore. In the midst of such a busy schedule, she finds her art meditative. At the end of a hectic day, wielding a blade gives her, too, a chance to stare down and ignore the chaos of life.
Written by Patti Harmon
A Cut Above
Artist: Rosa Leff '11
TItle: Before the Rush
Medium: Hand-Cut Paper
Size: 16" x 20"
Created: 2019
---