A serial entrepreneur savors his latest business venture: cultivating a medal-winning, vegan-certified vineyard and winery.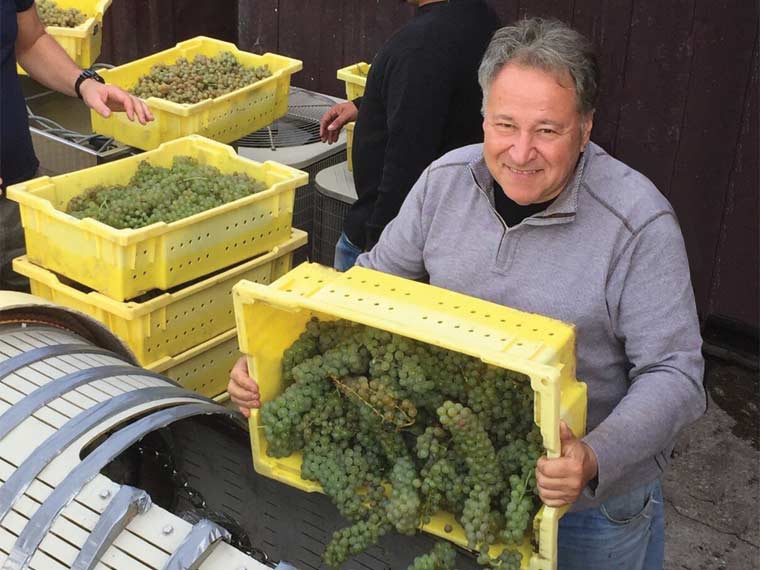 Jim Melillo '72 grew up in a working-class family, his father a seasonal truck driver, his mother a part-time nurse. When he found he could swing tuition at Sarah Lawrence (with help from scholarships) but not room and board, he came up with an ingenious solution: He created a food co-op to support himself and shared the fruits of his labor with his classmates. "We would drive down to the meatpacking district," Melillo says, "and pick up cheeses and eggs, fresh vegetables, and fresh fruits. We would feed up to 500 students a week for an entire year."
Since that first taste of entrepreneurship, Melillo has started and sold nearly a dozen companies, including Executive Conversation, a leading business sales training company. Priam Vineyards, spread across 40 acres in Colchester, Connecticut, was facing financial and operational issues when Melillo agreed to buy a 50 percent ownership share. It wasn't his first foray into the wine business: He's served as president of Les Amis du Vin, a Boston organization dedicated to wine appreciation, and he's consulted with wine buyers in California. But it's the first time he's gotten his hands dirty in the actual production process, from hand-picking grapes to cleaning barrels to helping choose which vines to plant. His transition from suited executive to winemaker has paid off.
"When I came here, the vineyard was producing about 20,000 bottles of wine a year," Melillo says, "and this year we're doing close to 40,000 bottles. We tripled the size of our tasting room, increased the number of barrels for aging wines from 12 to 46, and just became the Northeast's first vegan-certified winery."
The vineyard installed solar panels to power its operations and bred bluebirds on the property in lieu of using insecticides. For its sustainability practices, Priam was declared a nature conservation area by the World Wildlife Federation. The winery, which sits atop an exceptional terroir of glacier-deposited shale and gravel, also boasts a highly touted vintner—Ruaan Viljoen from Cape Town, South Africa. "Ruaan is a brilliant winemaker who makes hundreds of decisions about everything that goes into creating great wine," Melillo says, "from balancing acidity, sweetness, and alcohol in individual wines to the overall vineyard strategy."
Melillo's investment has been a boon for the winery, which has garnered 17 medals this year alone. Its Riesling won gold at the Berlin International Wine Competition. Its St. Croix Bourbon Barrel Aged, which spends 14 months in French Oak, then one month in Maker's Mark bourbon barrels, won gold in the Napa Valley's largest wine competition.
Melillo is proud of helping to rebuild a winery in rural Connecticut, though he finds himself missing his primary residence in California. And as a serial entrepreneur, he's forever in search of his next venture. "I live and work at the vineyard in Connecticut," he says, "but I'd like to spend more time in Montecito, where my main house is, and transition to a lifestyle where I can do both."