Prizes are awarded to Sarah Lawrence's outstanding students and faculty each year to recognize and reward them for their artistic and academic achievements in the following areas: fiction writing, human genetics, humanities, mathematics and science, music, playwriting, poetry, stage management, and teaching.  We are grateful to the donors who have created and continue to support these meaningful prizes.  Below is a description of each prize, along with information about the 2021 recipients.​ 
The Spencer Barnett Memorial Prize for Excellence in Latin American and Latinx Studies
The Spencer Barnett Memorial Prize for Excellence in Latin American and Latinx Studies is awarded annually to students producing outstanding conference papers or projects dealing with Latin American, Caribbean, and Latinx Studies.  Across a range of disciplines and in both English and Spanish, the students' works are a demonstration of the diversity and caliber of and vital interest in Latin American Studies at Sarah Lawrence College. Since 2011, the family of Spencer Barnett has supported and sponsored this prize and ceremony in memory of their son.
---
The Geraldine Putman Clark Prize for Visual Arts
An endowed enrichment fund established in memory of Geraldine Putman Clark '45 by her husband, Henry B. Clark, to recognize outstanding talent in a studio arts student.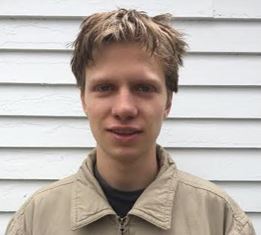 Olaf Saaf '21, 2021 Recipient
Olaf is an extremely focused and original artists. His paintings, drawings, and sculptures straddle the line between form, function, and narrative. His work is inventively strange and funny with a formal rigor that is rare for someone with such diverse interests. –John O'Connor, Faculty in Visual and Studio Arts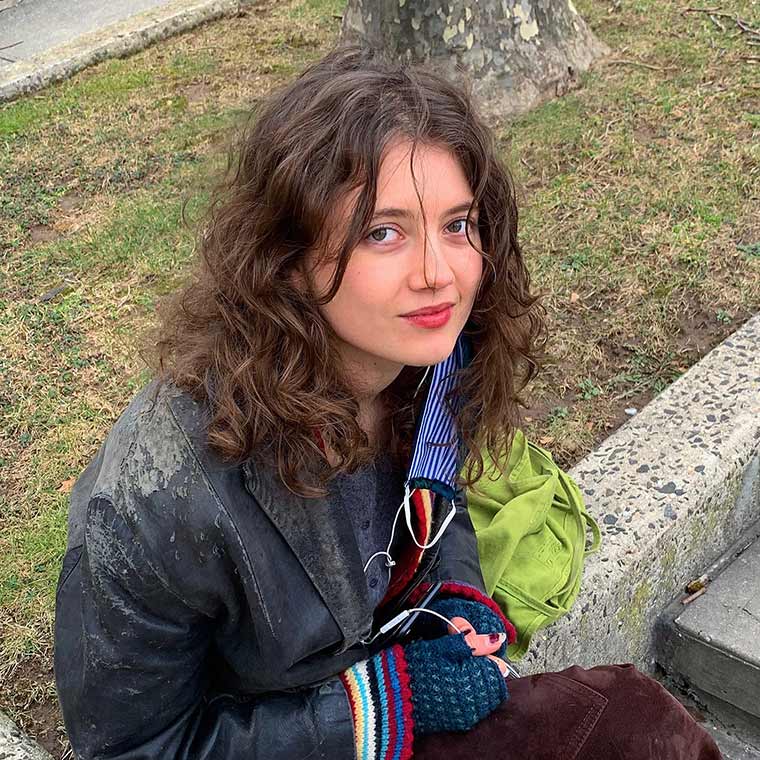 Lily Massee '22, Honorable Mention
---
The Edward Cogan Prize for Mathematics and Science
An endowed prize established in memory of Edward Cogan, teacher of mathematics from 1957-1996, to recognize a graduating senior exhibiting excellence in mathematics and science and contributing significantly to the mathematics and science community.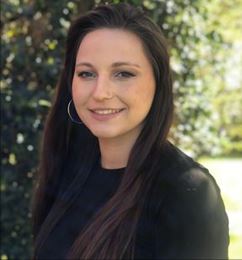 Nicholle Chew '21, 2021 Recipient
A resident of Chesapeake, VA, Nicholle Chew came to Sarah Lawrence with interests in Environmental Studies and Dance.  During her first year, she discovered a passion for Organic Chemistry and changed the focus of her studies accordingly.  Since that time, Nicholle has taken a great variety of Physical Science and Environmental Studies courses.  She has also pursued many leadership initiatives within the science community at Sarah Lawrence, including acting as the president of the SLC Chapter of the American Chemical Society and co-chair of the STEMming Women student group. Since her sophomore year, Nicholle has also been one of the organizers of the SciMath Poster Symposium, and has tutored for several chemistry classes. She also served on search committees for faculty hires in Biology, Environmental Science, and Physics.  Since last summer, Nicholle has undertaken chemistry research under the supervision of Professor Patrick Holland at Yale University as part of her Senior Thesis work.  Nicholle has been accepted into the chemistry graduate program of Indiana University, Bloomington where she will be conducting research in the field of catalysis towards her PhD.  –Colin Abernethy, Faculty in Chemistry 
View Nicholle's Work
---
The Lucy Grealy Prize for Poetry
This endowed fund, was established by an anonymous donor to honor the memory of noted poet, essayist, and Sarah Lawrence alumna Lucy Grealy. To be awarded to outstanding undergraduate students in poetry.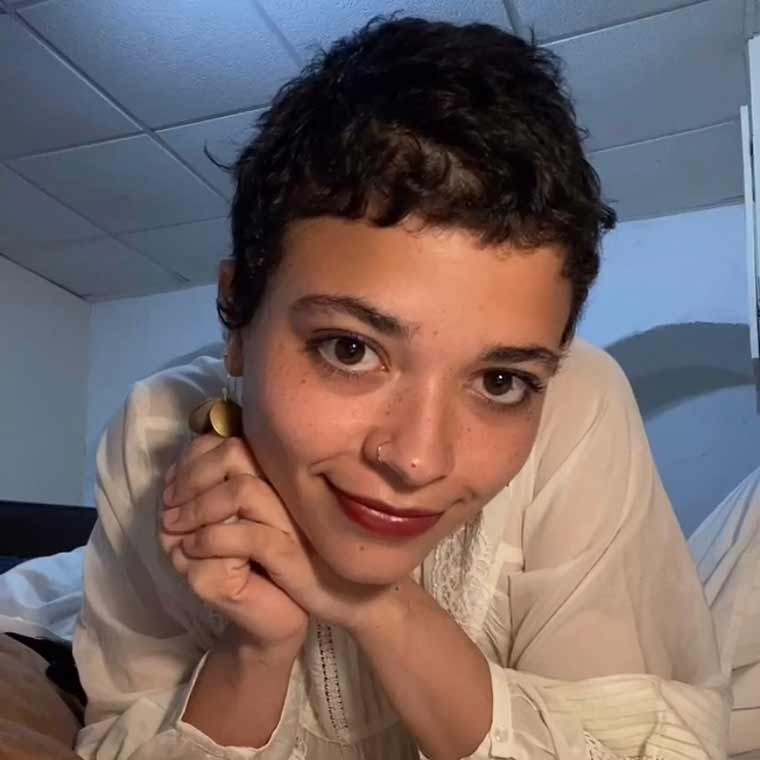 Elena Millwood '21, 2021 Recipient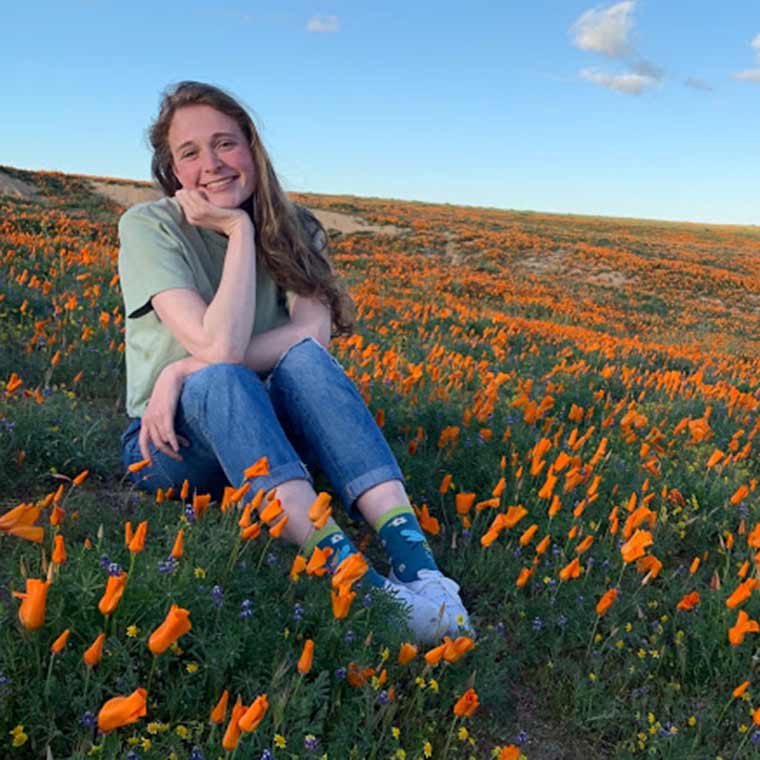 Anna Schechter '21, 2021 Recipient
---
The Lori Hertzberg Prize for Creativity
An endowed enrichment prize established in memory of Lori Hertzberg '93 by her parents, Dr. and Mrs. Henry Hertzberg, to recognize exceptional creativity in writing or the visual arts.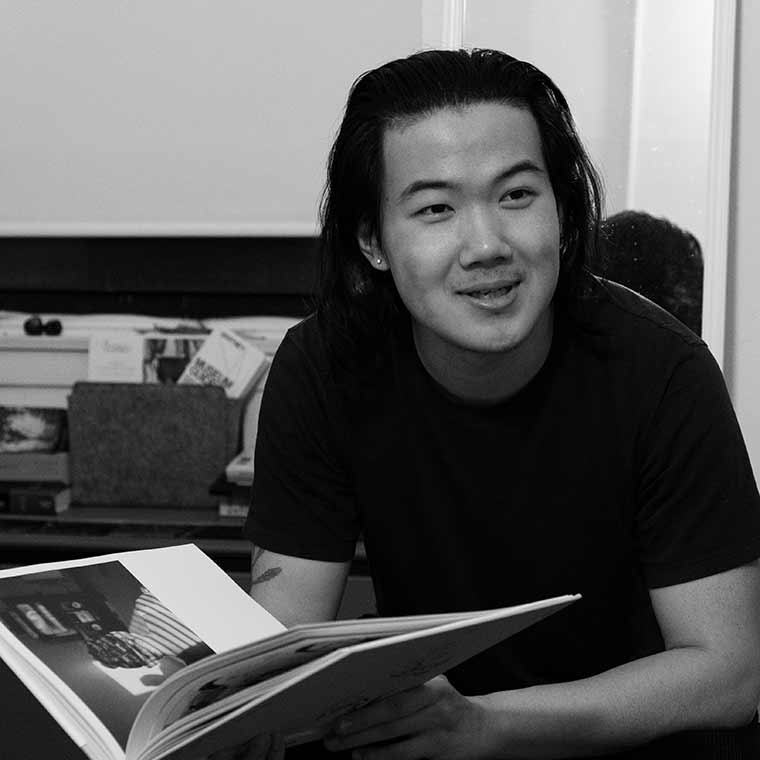 Yuan Oliver Jin '22, 2021 Recipient
A silver 2009 Ford passenger van outfitted to be a home and an artists' studio has been Oliver's Sarah Lawrence this covid year. Sleeping in truck stops and parking lots, he has diligently pursued his course work while simultaneously photographing and eloquently writing about "the much-erased history of Chinese migrant laborers in the 19th and early 20th centuries, from the gold miners of the Sierras, to the railroad workers of the Rocky Mountains, to the plantation workers along the Mississippi River."  His photographs are quiet, thoughtful, and ultimately brilliant. In our sad epoch of prejudice and violence towards persons of perceived Asian origins, the book that Oliver is humbly and bravely creating will surely be a work of art, writing, and understanding. – Joel Sternfeld, Faculty in Photography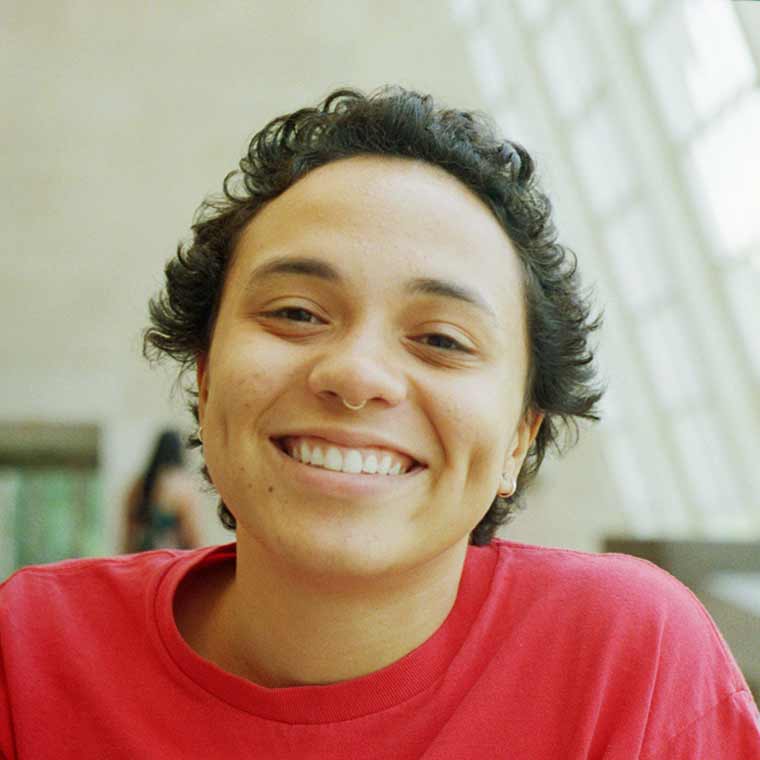 Adrienne (Adj) Samuels '21, Honorable Mention
---
The Ian Lipkin '74 Science Prize
A prize endowed in 2017 by Laurel Appell Lipkin '79 as a tribute to her brother, Dr. Ian Lipkin '74. Each year, the recipient of the prize will be selected on merit by the science and mathematics faculty, based on the quality of his or her proposed science research project.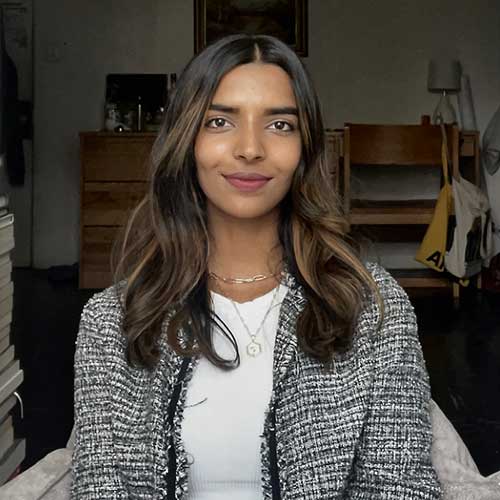 Anahat Brar '23
Anahat is a junior at Sarah Lawrence who has concentrated her studies around molecular biology and neuroscience. After her sophomore year, she worked remotely with Cecilia Toro in the SLC Summer Science program and studied current research about sensory hair cells. The following summer, Anahat received a Suzanne Arkin externship award to perform neurobiology research in the lab of Dr. Stephanie Rudolph at Albert Einstein College of Medicine. This school year, she has continued to work with Dr. Rudolph--investigating the role of oxytocin in the cerebellum--through independent field work, and she will use the Lipkin Science Prize to continue her research at Einstein during the summer of 2022. Through this work, Anahat is learning many cutting edge techniques in neurobiology, including how to work with laboratory rodents, perform molecular and cellular investigations of neuronal gene and protein expression, and analyze confocal microscope images. Anahat has a stellar academic record, and we believe that the Lipkin Science Prize will enable her to be a competitive candidate when she applies for PhD programs in neuroscience after graduating from Sarah Lawrence. – The Ian Lipkin '74 Science Prize Committee: Colin Abernethy, Merideth Frey, Bernice Rosenzweig and Cecilia Toro
---
The Lipkin Family Fund of Prizes for Innovation and Creativity in the Arts and Science
Endowed funds established by Stanley and Evelyn Lipkin, parents of Ian Lipkin '74 and Laurel Lipkin '79. The following prizes are awarded annually to recognize student excellence: 
The Stanley and Evelyn Lipkin Prize for the Humanities
The Stanley and Evelyn Lipkin Prize for Playwriting
The Stanley and Evelyn Lipkin Prize for Poetry
The Lipkin Family Prize for Human Genetics (graduate studies)
Additionally, The Lipkin Family Prize for Inspirational Teaching annually recognizes a teacher, selected by the president and the Advisory Committee on Faculty Appointments, whose generosity of time and talent draws from students both high performance and a lifelong love of learning.​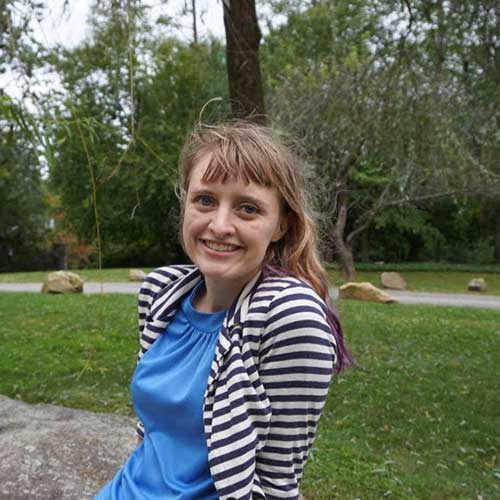 Laura Cooper-Hastings MS 22 (The Lipkin Prize for Human Genetics), 2022 Recipient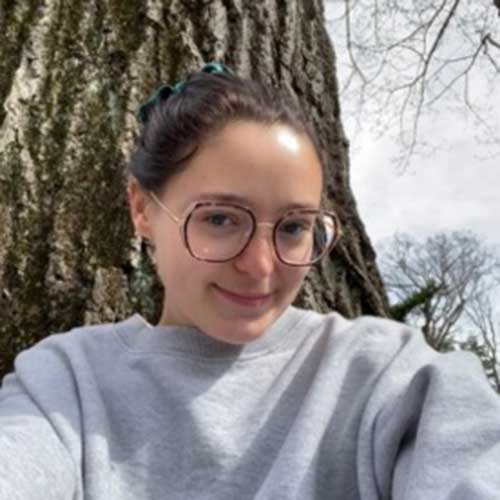 Bella Phelan '22 (The Stanley and Evelyn Lipkin Prize for the Humanities), 2022 Recipient
Bella Phelan's terrific paper identifies a critical connection between two Middle English works on female spirituality, Seinte Margarete and Julian of Norwich's Revelations of Divine Love. Integrating research on late medieval mysticism and martyrology with persuasive close readings of interconnected spatial images, such as the prison, the anchoritic cell, and the maternal womb, Bella's essay demonstrates how Seinte Margarete and the Revelations link the representation of enclosure to the potential for divine encounter. It reflects Bella's strong foundation in the medieval literary and spiritual traditions and her keen perception of conceptual continuities across texts. – Gillian Adler, Literature Faculty, and Roy Ben-Shai, Philosophy Faculty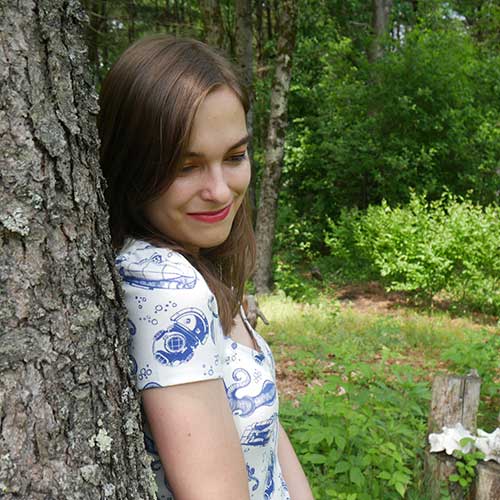 Corinne Rottger '22 (The Stanley and Evelyn Lipkin Prize for the Humanities) 2022 Recipient
Corinne Rottger's impressive paper highlights the complex interplay between identity, subjectivity, and reputation in Chrétien de Troyes' Arthurian romances, discerning the fascination with interiority and identity construction in the twelfth-century literary imagination. Approaching the narratives of Lancelot and Yvain with theoretical sophistication and subtle close readings, Corinne's essay demonstrates how the omissions and acts of naming contribute to a broader dialectic between the knights' public and private lives, proliferating or deconstructing their identities. The attention to narrative time, including the shifting temporalities of Chrétien's plots, further emphasizes Corinne's grasp of narratology and the ways in which modern theories can disclose the richness of medieval texts. – Gillian Adler, Literature Faculty, and Roy Ben-Shai, Philosophy Faculty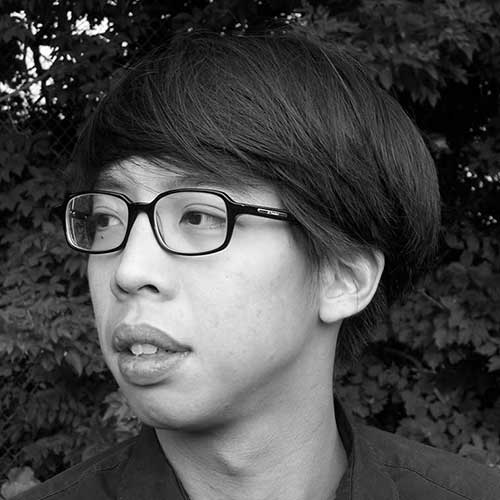 Rattawut Lapcharoensap, Writing (The Lipkin Family Prize for Inspirational Teaching), 2022 Recipient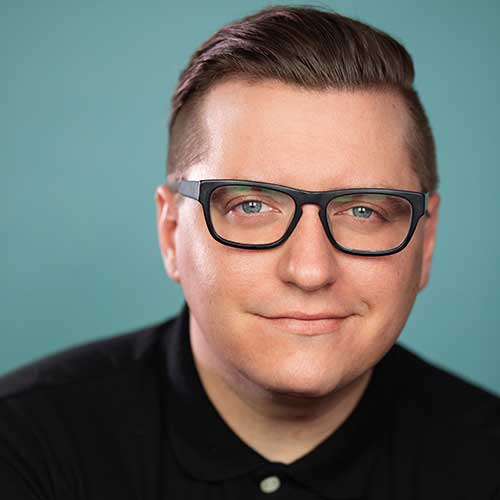 Andrew John Henske Del Vecchio MFA 22 (The Stanley and Evelyn Lipkin Prize for Playwriting), 2022 Recipient
"For his ability to provoke complex emotions by examining the subject of human mortality through the lens of wildly comic, hilariously funny situations and characters, the Lipkin Playwriting Prize goes to Andrew Del Vecchio." –The Sarah Lawrence Theatre Faculty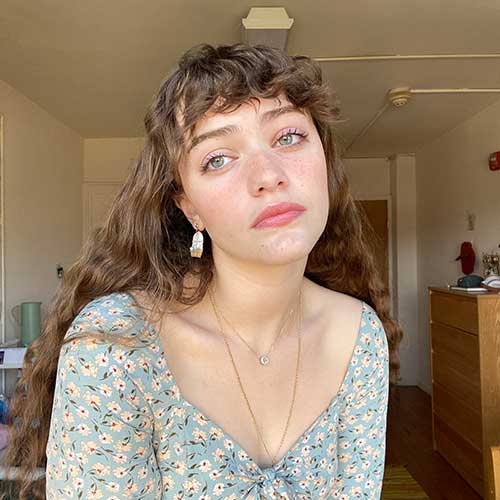 Emma Sky DeNaples '23 (The Stanley and Evelyn Lipkin Prize for Poetry), 2022 Recipient
Emma DeNaples's poems render the often un-renderable complexity of human relationships, and they do so with a wonderfully unsettling forthrightness and ease ("My mother is a very fervent sort of person. / She folds me over. She tucks me up into the cupboard."). These poems make beautiful our curious human condition of embodiment ("My hair is a seam down my spine."; "I will be lessened piece by piece until / I am only a ribcage, I am just my rib"). I am in awe of DeNaples's sophisticated attention to sound, image, and sense at this stage in her career, and I can't wait to see where her work goes next. – Stacy Gnall, Judge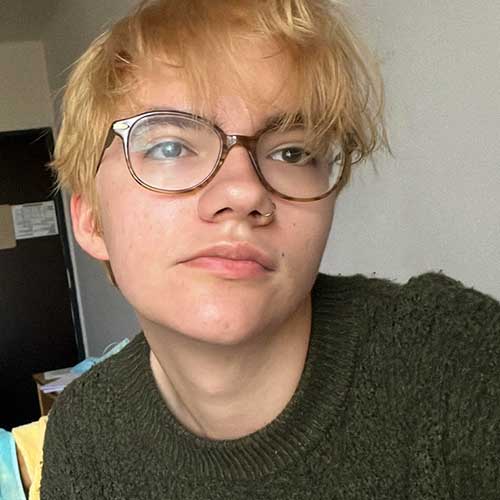 Theodore Heil '25 (The Stanley and Evelyn Lipkin Prize for Poetry), 2022 Recipient
The poem "Eat" accomplishes so much technically without making you aware that's happening; it's in and of the body and senses while formally it's cut into parts like "a mango, a quart of strawberries, a difficult bag of flour." The body is also being parsed, transformed, and it's shifting through time, from the "I" into the "we," the eyes suddenly floating, the face disappearing -- its penultimate section ending, "You did not see/ the shape that I took,/ though your hands/ stilled around me." – Chessy Normile, Judge
---
The Greta Minsky Prize for Stage Management​​
The Greta Minsky Prize for Stage Management was created in memory of longtime faculty and staff member and stage management guru Greta Minsky. It was established by her loving wife, Barbara de Bellis, and is awarded for excellence in stage management. The recipient should be, like Greta was, someone who cares about colleagues, someone who is generous of spirit, kind, and collaborative; basically, a great stage manager and a good, stand-up human being. ​​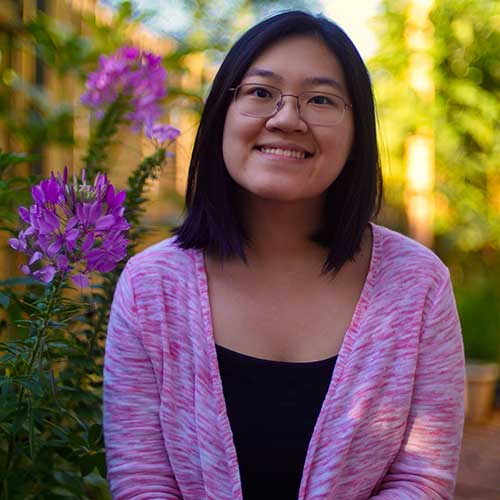 Jamie Chen '22, 2022 Recipient
The recipient of the Greta Minsky Prize for 2022 is awarded to a student who surpasses the duties of a stage manager, taking the organization and care of a creative project to new heights. She makes her collaborators feel welcome and safe, always one step ahead. This student has worked hard on many projects from mainstage musicals, to Downstage shows, to independent student group productions. Not only is she a kind, patient, thoughtful, and meticulous stage manager, but she has also devoted herself to SLCTheatre as a production assistant, designer, and crew member.  She is, above all else, full of care and positivity- an absolute joy to work with! We are full of gratitude for this recipient's contributions to the theatre program. We are pleased to present the Greta Minsky Prize for 2022 to Jamie Chen.–Caden Manson, Director, Theatre Program
---
The Moser-Marsh Annual Fellowship in the Visual Arts and Visual Culture
An endowed prize established in honor of Joy Moser and Ellen Marsh, roommates in the Class of 1954, both of whom became passionate and professional artists, to be presented to one student for excellence in visual arts or visual culture, with preference for a student with an interest in the practice or study of drawing.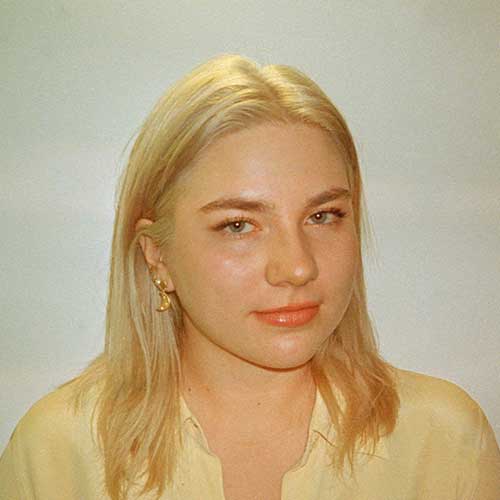 Lillian Dabe '23, 2022 Recipient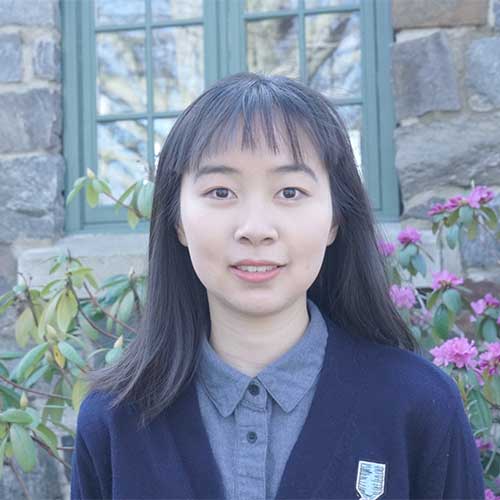 Yuning Wang '23, 2022 Recipient
---
The Presser Undergraduate Scholar Award in Music
The Presser Foundation funds this award to be presented to an outstanding student concentrating in music at or near his or her junior year​.The student is to be selected by the music faculty guided solely by consideration of excellence and merit. This award is an honor award and the student is to be known as a Presser Scholar.​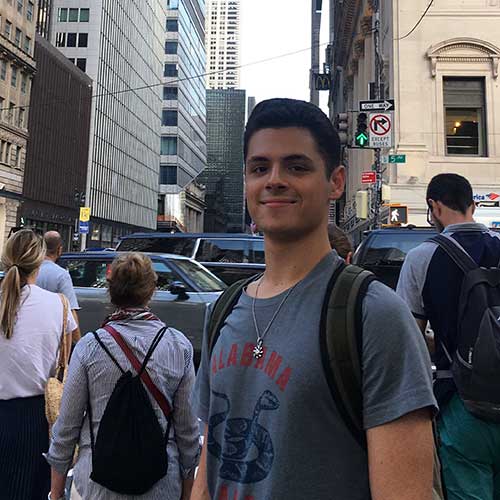 Owen Anderson '23
Owen Anderson has demonstrated outstanding and exemplary work in every area of study be it academics, music or performance. He has achieved extraordinary proficiency on his chosen instrument of guitar, and has demonstrated excellent discipline and leadership. He is respectful and supportive of all classmates and colleagues in academic classes as well as performance ensembles and has demonstrated impeccable attendance. He has expressed a clear passion and interest for wanting to continue studies in music and to pursue it as a career and this award will serve, support and assist this endeavor. – John Yannelli, Director, Program in Music and Music Technology; William Schuman Scholar in Music​
---
The Nancy Lynn Schwartz Prize for Fiction Writing
An endowed fund established in memory of Nancy Lynn Schwartz '73 by her family and friends to recognize an outstanding student in fiction writing.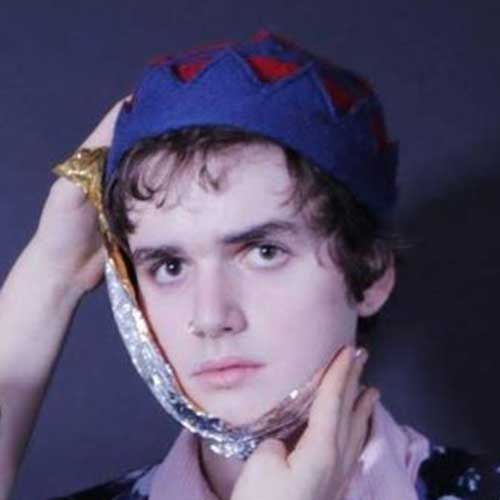 Alice Charlotte Bethke '24 (First Place)
The language and storytelling in "Writer's Block" are clear as glass, propulsive, and deceptively straightforward. The layering of Violet's desires and underachieved ambitions builds and shifts to reveal a fully realized character in the world. The quotidian repetitions and stories within the story of her days (a painting of changing meaning she stares at when in her room, the novel she tries to write) give the narrative a vital humor. Even (or especially) when Violet is superficial, her story has depth. I was reminded of a passage from Milan Kundera's The Curtain, where the writer discovers a "…greater understanding of others in their self-deception…nobody is the person he thinks he is…his misapprehension is universal, elementary, and…casts on people… the soft gleam of the comical." The recognition that "he is like those he despises leads us to see everyone, himself included, haloed by a tender gleam of irony," and that this is the writer's (and I would add, reader's) "precious reward."  – Judge Sophie McManus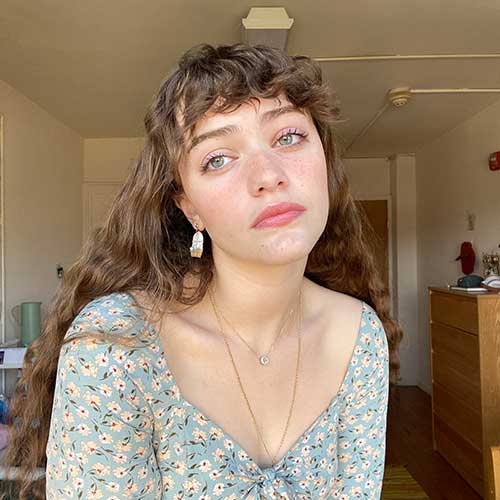 Emma Sky DeNaples '23 (Second Place)
"Resistance Letter" is elegiac, atmospheric, and lyrical, somehow deeply intimate and anonymous at once. This story bends the form. It is a story, but conveys so much—the entire evolution of a young love from beginning to end—in such few, vivid strokes, that it gathers into a rhythm of loss and possibility, and stayed with me long after, in the way a poem does, in surprising flashes of picture and meaning. Like many great poems of sorrow and grief, "Resistance Letter" transforms loss into beauty without allowing our memory of the loss to fade, and holds room for the future, too. – Judge Sophie McManus
---
The Raymond Seidelman Award for Political Advocacy
An endowed fund established by former students, colleagues, and friends of Raymond Seidelman, a member of the Sarah Lawrence faculty from 1982 until 2007. The award will be given annually to a student who has done the most to further the broad aims of economic and social justice and equality through action in social movements or in mainstream politics.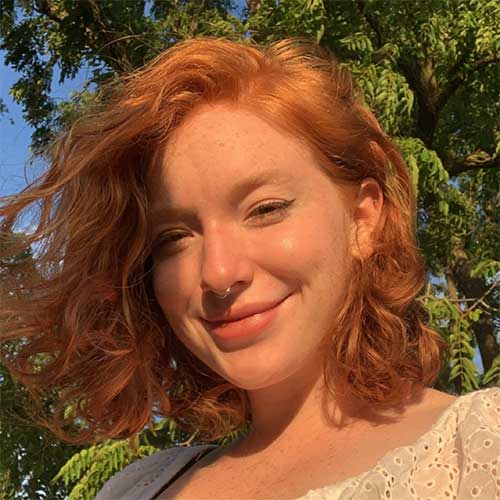 Saoirse De Mott Grady '24
For working with the Mary Mitchell Center re: food availability/food justice in the Bronx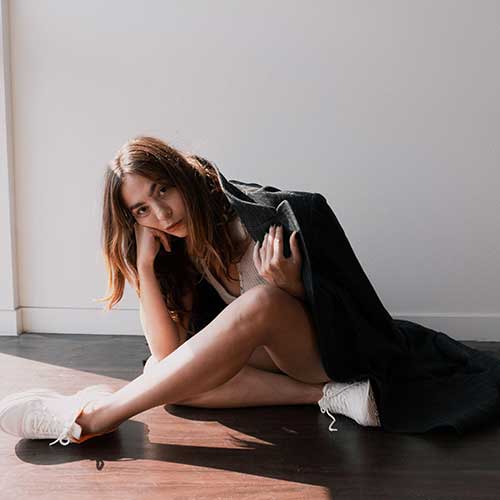 Anya Maria Johnson MFA '22
For writing workshops with low-income women.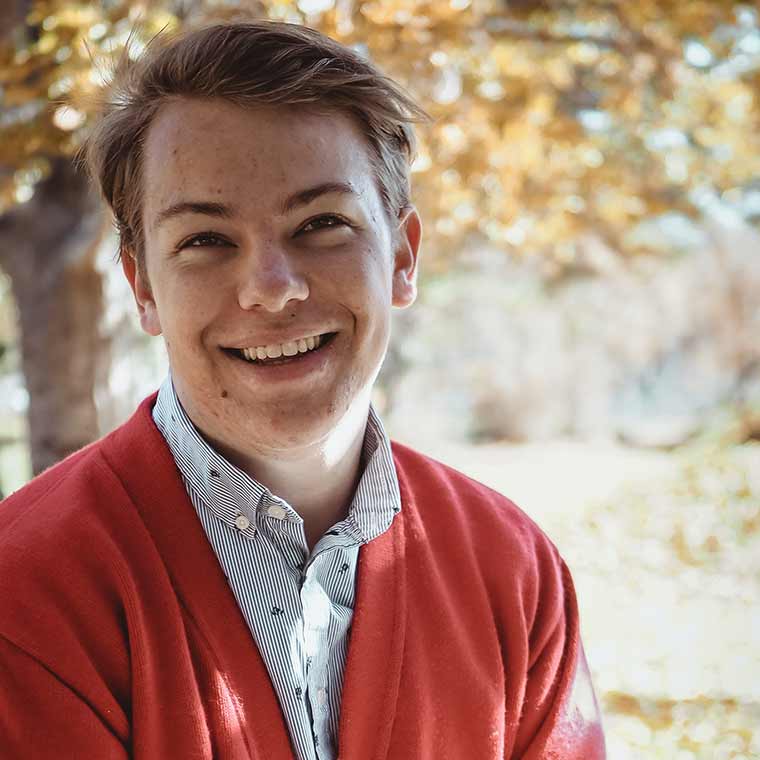 Calvin Mumm '23
To complete his film on West Salt Lake City, the redlined community where he grew up.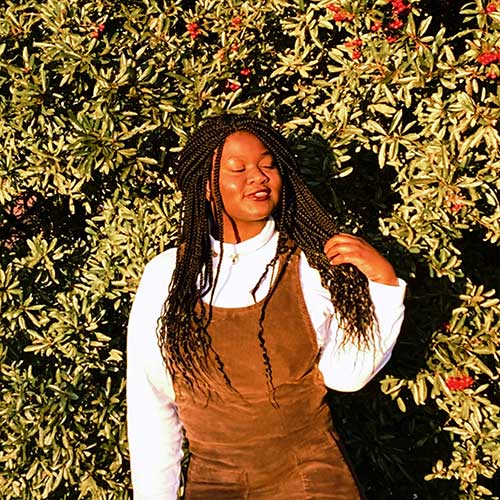 Charmayne Planter '24
For "Politics of Conservation: Studying the Racial Erosion of U.S Indigenous Community of the Gullah-Geechee.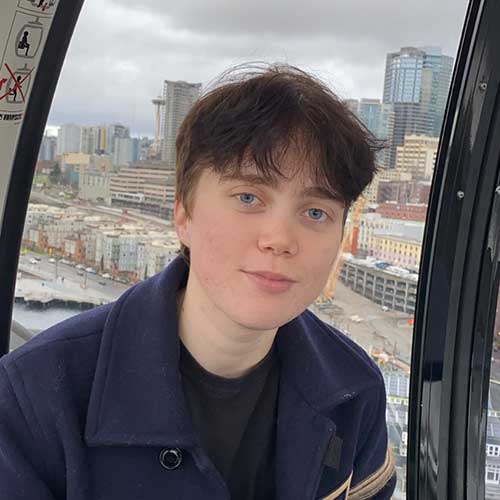 Archie Villiers '24
For the development of a free website that would assist community groups in securing grants.
---
The Andrea K. Willison Poetry Prize
A prize established by Malcolm Willison, Martha Huggins, and friends in memory of Andrea Klein Willison '81 to recognize that undergraduate student or staff member, other than faculty, who submits the best poem on relationships among women, especially in the context of justice for everyone.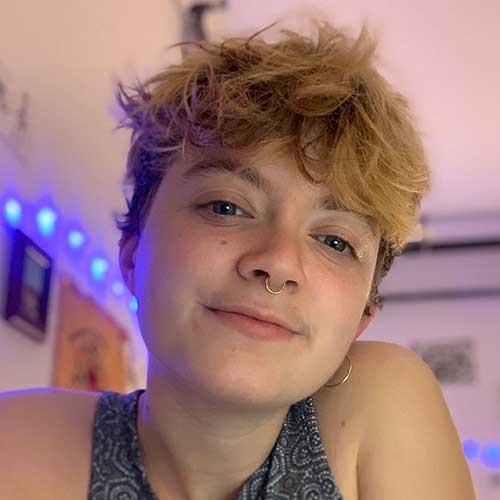 Elijah Burger '22 , 2022 Recipient
Elijah Burger's "We Come From" is a stunning poem of contemplation, connection, being, and belonging. There is such strength in softness and subtlety here ("that wind through my body at my first synagogue"). This is an open, honest, asking voice ("How can I let her go when she comes in from the cold, hands red and tears stinging?"; "Oh mother, an aching too tender to touch"). Burger's poem is a beautiful slow burn rising to a final, triumphant crescendo ("we a coming continuous we an ever tumbling coming from a right now we waking up to say / hineinu hineinu hineinu."). This is a poem I want to read again and again. This is a poet I certainly want to read more of. – Judge Stacy Gnall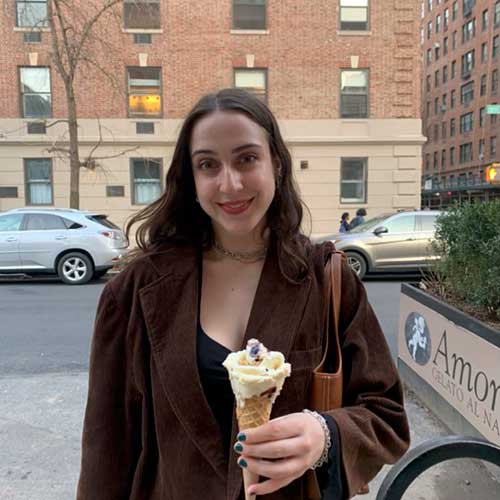 Emma Cameron '24 , 2022 Recipient
Emma Cameron's "The Posture of Ophelia (amputated from Shakespeare. He does not own girls floating down creeks)" had me at its title. Cameron's is a powerful voice that demands attention, and I am an eager audience. I relished in being instructed by this voice ("To float on your back, you must first inflate your belly.") and in learning from this voice ("To move you must first imitate a chicken, then the letter T, and finally a soldier."). And I was moved by hearing what I never knew yet have always felt to be true ("our girlhood/learning how to sit, how to talk, how to hold our body still / in its thin red cast.). Cameron's voice will demand readers' attentions long into the future, I'm sure of it. – Judge Stacy Gnall
---
Prizes Not Awarded This Year
Chamber Music Certificate of Excellence
Faculty emeritus Sungrai Sohn MFA '78 has been renowned in the Sarah Lawrence community as a premier violin teacher and director of chamber music for over four decades. He has generously created a prize for achievement in chamber music—The Chamber Music Certificate of Excellence. It will be awarded annually to a student actively involved in the program, showing commitment and dedication to chamber music, while supporting peers. This gift will continue Sungrai's influence on our students long after his retirement.