Prizes are awarded to Sarah Lawrence's outstanding students and faculty each year to recognize and reward them for their artistic and academic achievements in the following areas: fiction writing, human genetics, humanities, mathematics and science, music, playwriting, poetry, stage management, and teaching.  We are grateful to the donors who have created and continue to support these meaningful prizes.  Below is a description of each prize, along with information about the 2023 recipients.​ 
The Spencer Barnett Memorial Prize for Excellence in Latin American and Latinx Studies
The Spencer Barnett Memorial Prize for Excellence in Latin American and Latinx Studies is awarded annually to students producing outstanding conference papers or projects dealing with Latin American, Caribbean, and Latinx Studies.  Across a range of disciplines and in both English and Spanish, the students' works are a demonstration of the diversity and caliber of and vital interest in Latin American Studies at Sarah Lawrence College. Since 2011, the family of Spencer Barnett has supported and sponsored this prize and ceremony in memory of their son.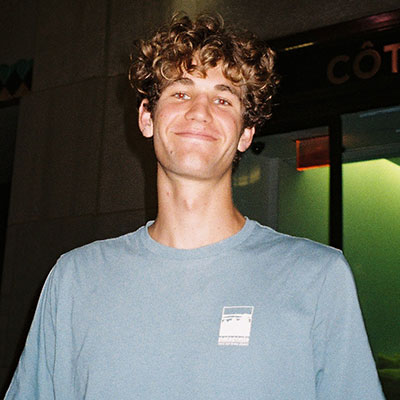 Braden Burman '26
"A Cuban Agricultural Revolution"
Faculty Sponsor: Michelle Hersh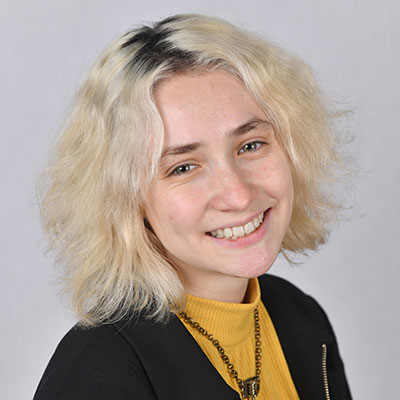 Simone Endress '24
Manuel From the Corner" (podcast)
Faculty sponsor: Ann Heppermann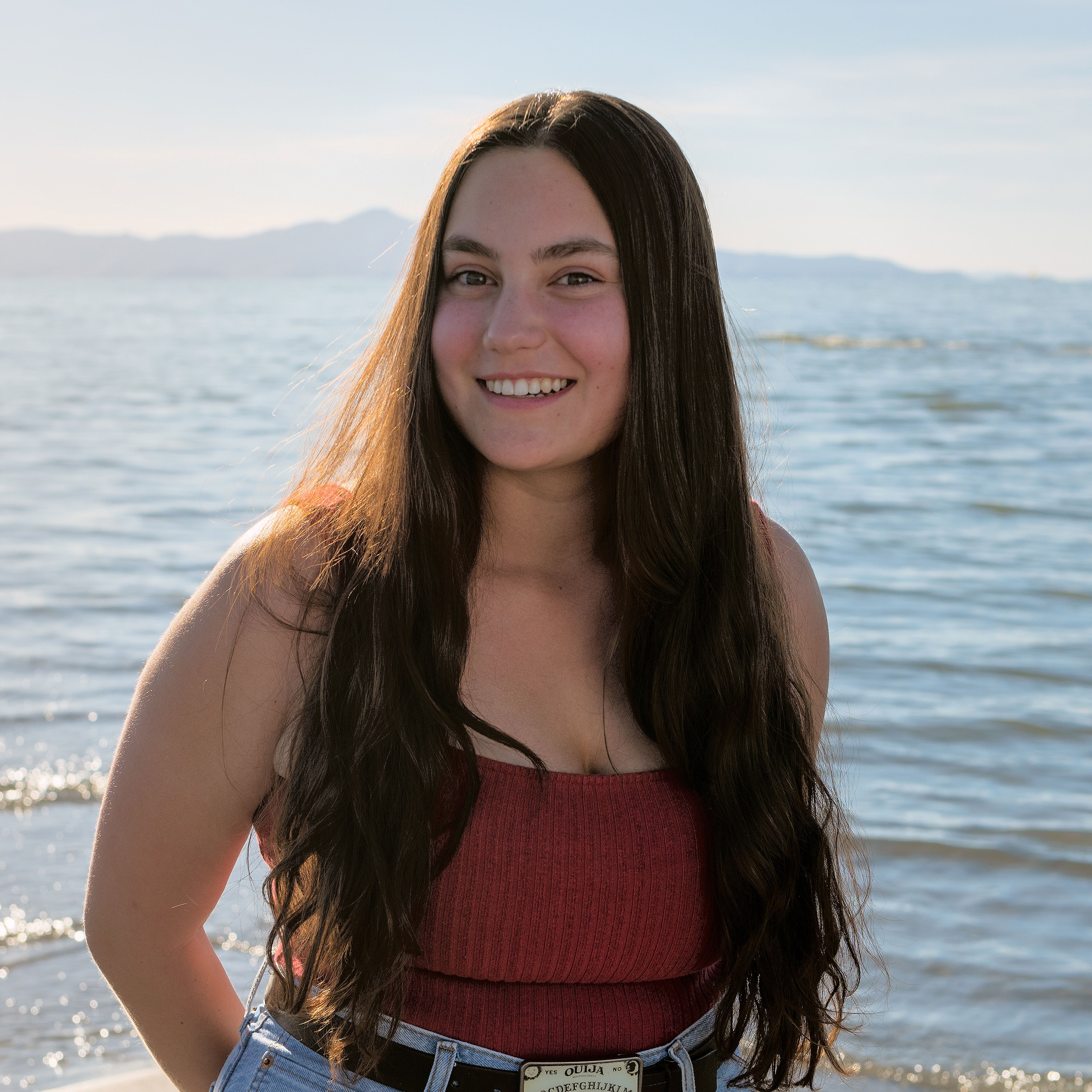 McKenzie Shaffer-Kay '25
"La representación de la pobreza en cinco películas latinoamericanas"
Faculty sponsor: Dana Khromov
---
Chamber Music Certificate of Excellence
Faculty emeritus Sungrai Sohn MFA '78 has been renowned in the Sarah Lawrence community as a premier violin teacher and director of chamber music for over four decades. He has generously created a prize for achievement in chamber music—The Chamber Music Certificate of Excellence. It will be awarded annually to a student actively involved in the program, showing commitment and dedication to chamber music while supporting peers. This gift will continue Sungrai's influence on our students long after his retirement.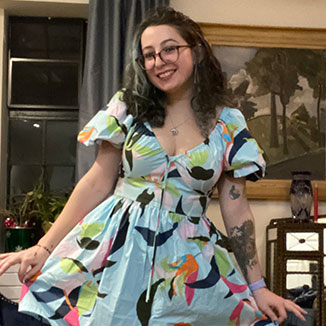 Delphine Kernis '25
 Delphine Kernis has been enthusiastically active in the chamber music program during her time at Sarah Lawrence College.  She is a strong violinist and a real team player — a perfect combination for success in chamber music.  In working situations she is sensitive to and compassionate towards the other musicians in the group.  I am thrilled she still has two years remaining at SLC and I'm excited to see what projects she will embrace going forward. 
– John Yannelli, Director, Program in Music and Music Technology; William Schuman Scholar in Music
---
The Geraldine Putman Clark Prize for Visual Arts
An endowed enrichment fund established in memory of Geraldine Putman Clark '45 by her husband, Henry B. Clark, to recognize outstanding talent in a studio arts student.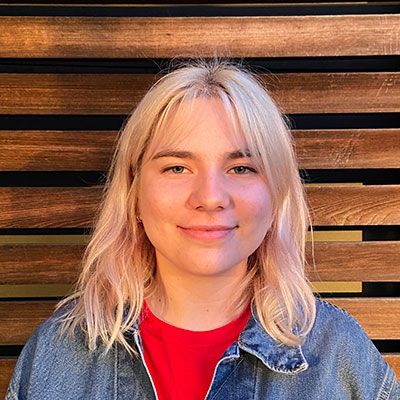 Lillian Dabe '23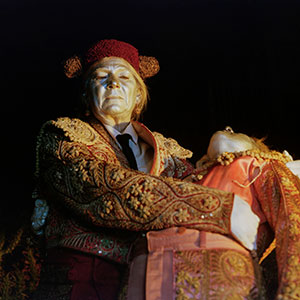 ---
The Edward Cogan Prize for Mathematics and Science
An endowed prize established in memory of Edward Cogan, teacher of mathematics from 1957-1996, to recognize a graduating senior exhibiting excellence in mathematics and science and contributing significantly to the mathematics and science community.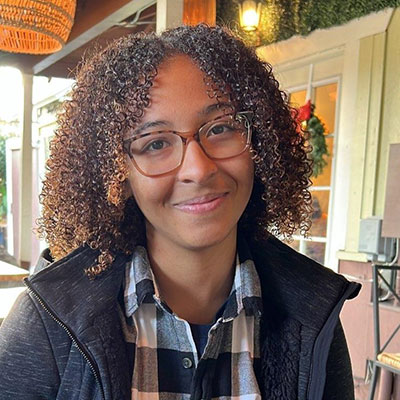 Payton G. Howell '23
Payton Howell is an accomplished student of mathematics, physics, computer science, and dance who has contributed to Sarah Lawrence College in exceptional ways. She assisted mathematics faculty member Dan King in a 2021 Summer Science operations research project. Her subsequent consulting work with the SLC IT Department in the 2021-22 academic year contributed directly to the revamping of the undergraduate registration process in which students are placed into courses based on their indicated weightings of course selections. Payton spent the following summer at the selective Budapest Program in Mathematics and enrolled last fall as a guest student at Pitzer College to study more advanced mathematics courses. This spring marks the third semester she has served as a Mathematics tutor in the Learning Commons. Payton will begin a PhD in applied mathematics at the University of Washington this coming fall.  – Drew Cressman, Faculty in Biology
View Payton's Work
---
The Lucy Grealy Prize for Poetry
This endowed fund, was established by an anonymous donor to honor the memory of noted poet, essayist, and Sarah Lawrence alumna Lucy Grealy. To be awarded to outstanding undergraduate students in poetry.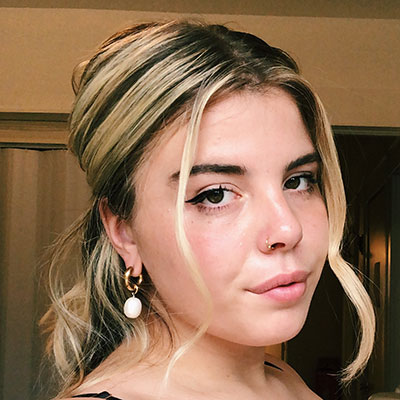 Aubrey Elizabeth Baker '23
Aubrey's poems are brutal and tender elegies grounded in everyday details that in their accumulation become transcendent.  The relationship to the mother is an anchor that portrays complicated and yet essential acts of care that allow one to survive trauma and loss. – Kendra DeColo, Judge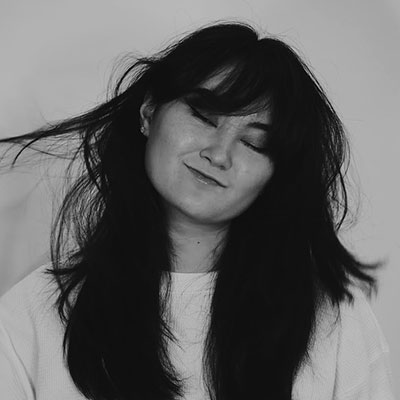 Naomi Rottman '23
Naomi's poems use abundant yet understated imagery to convey the messiness of human connection and intimacy within systems of racism, micro and overt. The narratives she's crafted are compelling and shimmer with heartache, empathy, urgency and delight. – Kendra DeColo, Judge
---
The Lori Hertzberg Prize for Creativity
An endowed enrichment prize established in memory of Lori Hertzberg '93 by her parents, Dr. and Mrs. Henry Hertzberg, to recognize exceptional creativity in writing or the visual arts.
Brooklynn Golinvaux '23 and Mason Hughes Miller '23.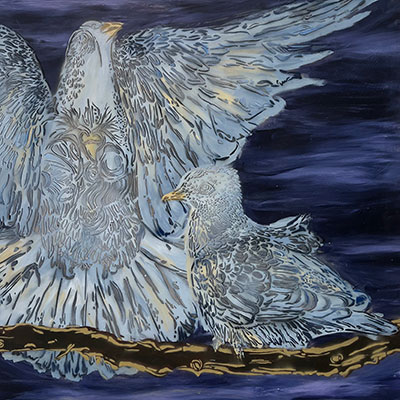 ---
The Ian Lipkin '74 Science Prize
A prize endowed in 2017 by Laurel Appell Lipkin '79 as a tribute to her brother, Dr. Ian Lipkin '74. Each year, the recipient of the prize will be selected on merit by the science and mathematics faculty, based on the quality of his or her proposed science research project.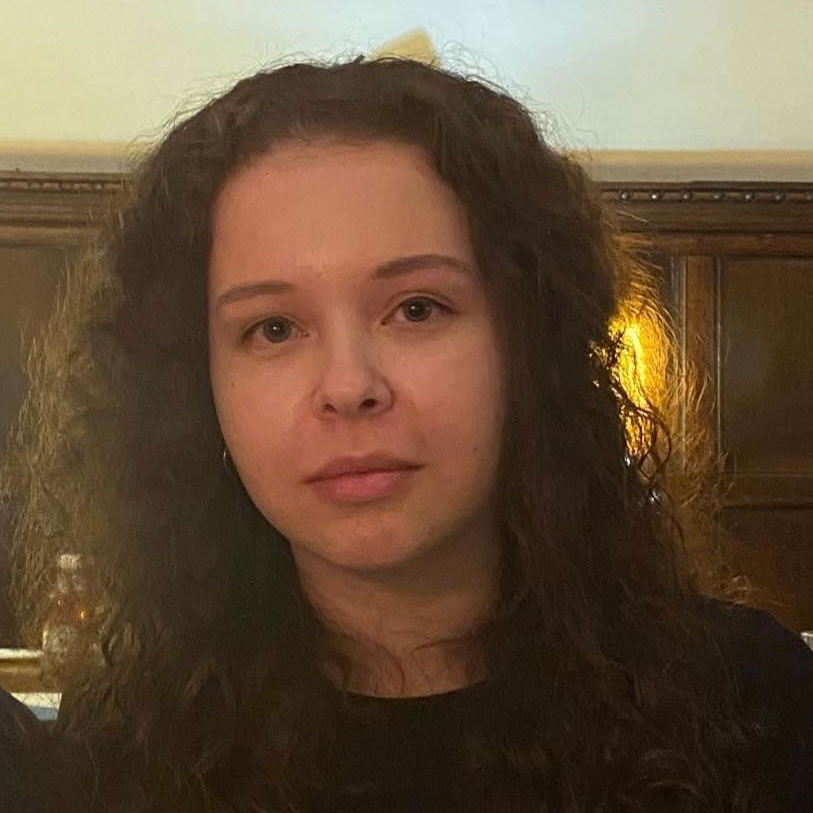 Natalia Potter '23
Natalia Potter '23 concentrated her studies at Sarah Lawrence in neuroscience, with specific interests in emotion recognition, mood, and prosocial behavior. After originally coming to college to study music and psychology, Natalia enrolled in her first neuroscience courses during her sophomore year and quickly realized that she had a passion for understanding the brain. Natalia was involved in the science community at Sarah Lawrence, particularly through her work as a co-chair for the Cortex Club, an organization for students interested in psychology, neuroscience, and related fields. Natalia will use the Ian Lipkin '74 Science Prize to support a cognitive psychology and neuroscience summer internship in the lab of Dr. David M. Greenberg, Cambridge, England. Through this internship, Natalia will conduct research on how empathizing-systemizing cognitive styles link to autism, and how these links can inform music-based therapies to improve the lives of autistic people. Natalia plans to use this experience to support her applications to graduate school in the cognitive sciences. – The Ian Lipkin '74 Science Prize Committee: Colin Abernethy, Merideth Frey, Bernice Rosenzweig, and Cecilia Toro
---
The David Lindsay-Abaire Award for Playwriting
Sarah Lawrence Theatre faculty chooses the recipients of the award each year, based on their demonstrated excellence in playwriting.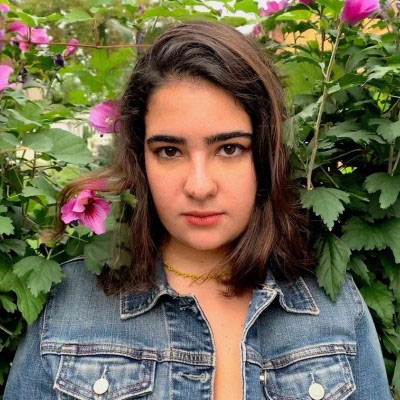 Rachel Saruski '23
For her unmistakably singular ability to blend the deeply cathartic, the hysterically comedic, and the urgently now; for her professionalism and relentless work ethic; and for writing the only stoner comedy that has ever made one of her playwriting professors laugh, the David Lindsay-Abaire Award goes to Rachel Saruski. – The Sarah Lawrence Theatre Faculty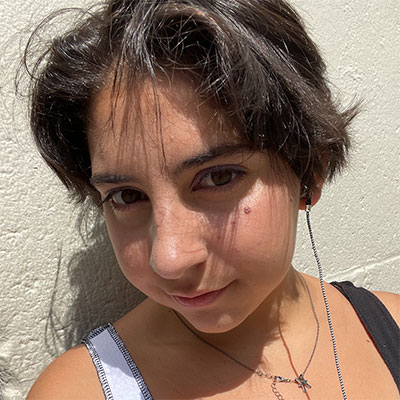 Zoe Stanton-Savitz '23
For her sharp dramatic instincts and her richly complex characters, for her stylistic range from dark, troubling psychodrama to stylish pastiche of classic murder mysteries, the David Lindsay-Abaire Award goes to Zoe Stanton-Savitz. – The Sarah Lawrence Theatre Faculty
---
The Lipkin Family Fund of Prizes for Innovation and Creativity in the Arts and Science
Endowed funds established by Stanley and Evelyn Lipkin, parents of Ian Lipkin '74 and Laurel Lipkin '79. The following prizes are awarded annually to recognize student excellence: 
The Stanley and Evelyn Lipkin Prize for the Humanities
The Stanley and Evelyn Lipkin Prize for Playwriting
The Stanley and Evelyn Lipkin Prize for Poetry
The Lipkin Family Prize for Human Genetics (graduate studies)
Additionally, The Lipkin Family Prize for Inspirational Teaching annually recognizes a teacher, selected by the president and the Advisory Committee on Faculty Appointments, whose generosity of time and talent draws from students both high performance and a lifelong love of learning.​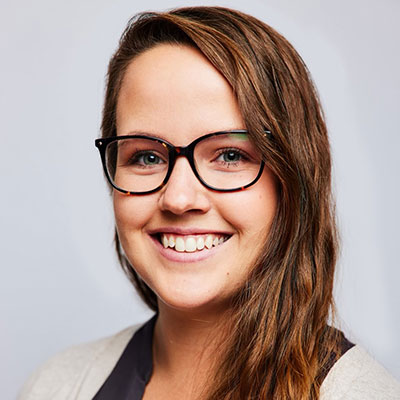 Meghan Zadorsky MS '23 (The Lipkin Prize for Human Genetics), 2023 Recipient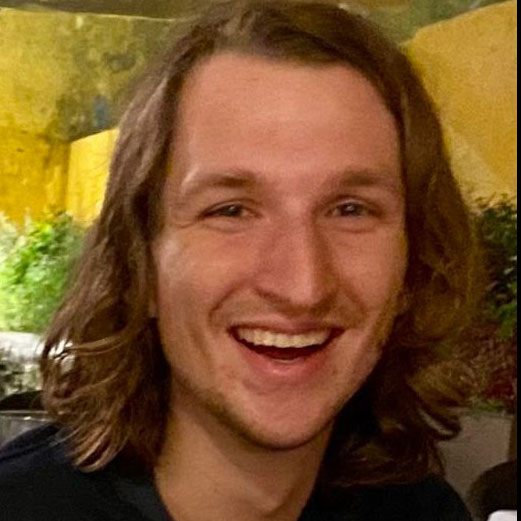 Theo Koskoff '23 (The Stanley and Evelyn Lipkin Prize for the Humanities), 2023 Recipient
Theo Koskoff's illuminating essay, "The Aesthetic Transubstantiation of Dantean Philosophy in Herman Broch's Der Tod des Vergil," challenges a positivistic approach to Broch's engagement with the history of Virgil by arguing that Der Tod des Vergil ​represents the ancient poet as a mirror of Dante's guide in the Commedia​. Examining broader resonances between these two works, Theo's sophisticated​ study also contends that both Broch and Dante pursue a project of transubstantiating the literary tradition and philosophizing the relationship between love and free will. Integrating impressive readings of literary form with an incisive treatment of critical scholarship, this comparative analysis reflects Theo's keen sense of the convergence between ancient, medieval, and Broch's early twentieth-century temporalities in Der Tod des Vergil. -- Gillian Adler, Literature Faculty, and Roy Ben-Shai, Philosophy Faculty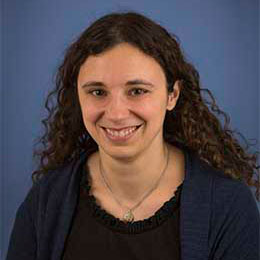 Michelle Hersh (Biology) (The Lipkin Family Prize for Inspirational Teaching), 2023 Recipient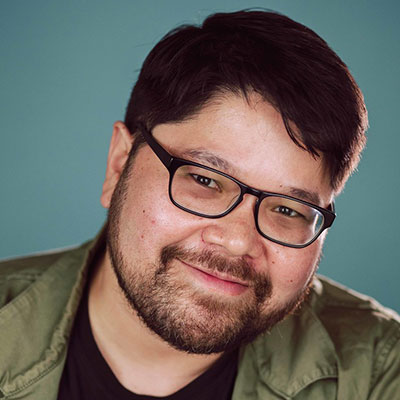 Kenneth Keng MFA 23 (The Stanley and Evelyn Lipkin Prize for Playwriting)
"For his tendency towards crafting detailed, imaginative, singular, weird and funny and also terrifying worlds, for his keen sense of history and insights into identity, and for his urgent sense of theatricality and impossibility, the Lipkin Prize goes to Kenneth Keng." –The Sarah Lawrence Theatre Faculty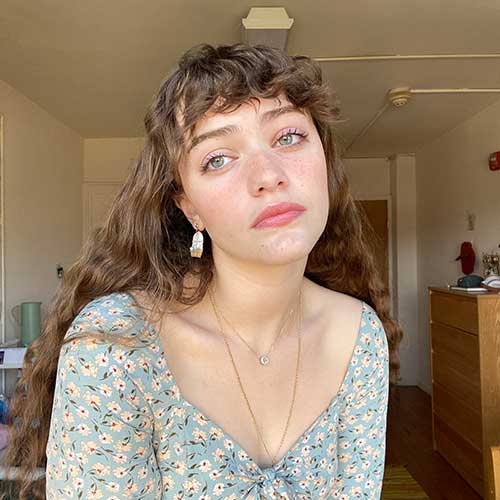 Emma Sky DeNaples '23 (The Stanley and Evelyn Lipkin Prize for Poetry), 2023 Recipient
I was constantly surprised reading Emma DeNaples's poems—each turn and imagery so unexpected and striking. At times violent, at times fantastical, all the while told in nonchalant and often detached tones, the poems masterfully sustain tension and thus the reader's gaze. I am thoroughly grateful to be invited into DeNaples' poetic world through these works.– Emily Yoon, Judge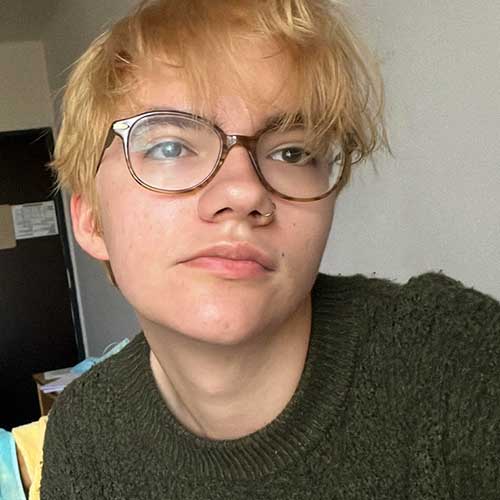 Theodore Heil '25 (The Stanley and Evelyn Lipkin Prize for Poetry), 2023 Recipient
Theodore Heil's poems hold us close while exploring "losses, loves, and sicknesses," with beautiful tenderness and remembrance. Heil's sense of timing, moving among musings, observations, and questions, is nothing short of exquisite; I learn a lot from reading these poems. Many of the lines are ones that I wish I could have written—lines that make me want to write.
– Emily Joon, Judge
---
The Greta Minsky Prize for Stage Management​​
The Greta Minsky Prize for Stage Management was created in memory of longtime faculty and staff member and stage management guru Greta Minsky. It was established by her loving wife, Barbara de Bellis, and is awarded for excellence in stage management. The recipient should be, like Greta was, someone who cares about colleagues, someone who is generous of spirit, kind, and collaborative; basically, a great stage manager and a good, stand-up human being. ​​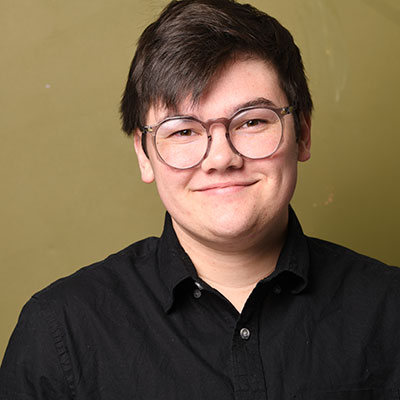 Elias Gutierrez '23
Elias Gutierrez (he/they) is an accomplished manager who takes advantage of all opportunities to learn, grow, and perfect his craft —and then contributes that experience back into the community.  Eli has been involved in all aspects of theatre here at Sarah Lawrence College.  This year for the semester projects he stage-managed the devised piece Eat Yourself Out and served as Production Manager on Rabbits, Rabbits.  For DownStage he served as Line Producer for Gary: A Sequel to Titus Andronicus, and for student organizations he stage managed for Half-Naked Shakespeare.  Eli also works as a Crew Chief on the Electrics/Media Crew.  He is part of the foundation of all production experiences here at Sarah Lawrence.  Eli leads with humility and openness, and his subtle, honest inquiry translates into a highly effective management style.  His passion to continuously learn, grow, and improve operations is an inspiration to his peers and a beacon of hope for his mentors.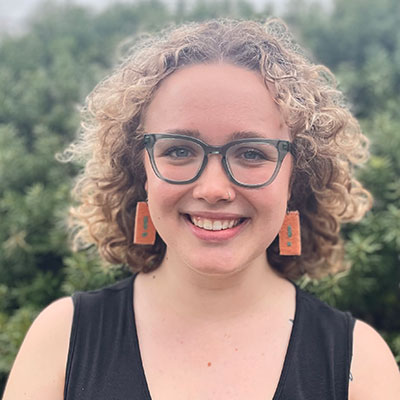 Ella Lieberman '23
Ella Lieberman is a skilled manager with a tremendous work ethic.  She is sharp and focused but also leads with care and empathy.  Ella has been involved in all aspects of theatre here at Sarah Lawrence College.  This year for the semester projects she acted as Production Manager for Urinetown, and Stage Manager for Almost Equal To.  For DownStage she stage managed Gary and acted as a Producer for the student organization Melancholy Players.  Ella also works on the Electrics/Media Crew and is the only undergraduate on our House Management team.  She is a great liaison between the program, guest artists, and students and a trusted member of our company.  Ella takes advantage of every opportunity she is presented with and it has been a pleasure to watch her grow and refine her distinct management style.
---
The Moser-Marsh Annual Fellowship in the Visual Arts and Visual Culture
An endowed prize established in honor of Joy Moser and Ellen Marsh, roommates in the Class of 1954, both of whom became passionate and professional artists, to be presented to one student for excellence in visual arts or visual culture, with preference for a student with an interest in the practice or study of drawing.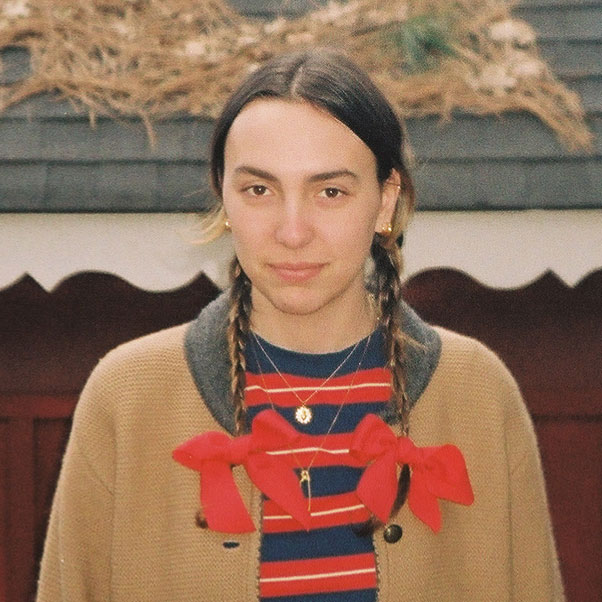 Avery Moore '23
---
The Presser Undergraduate Scholar Award in Music
The Presser Foundation funds this award to be presented to an outstanding student concentrating in music at or near his or her junior year​.The student is to be selected by the music faculty guided solely by consideration of excellence and merit. This award is an honor award and the student is to be known as a Presser Scholar.​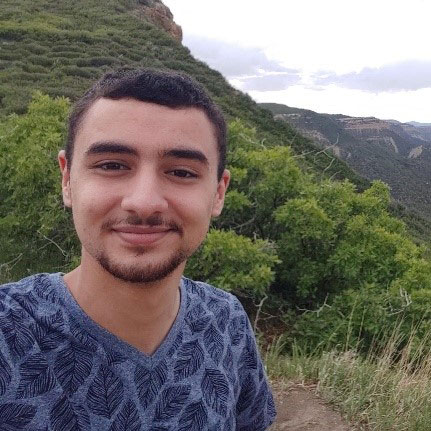 Shawn Mou '24
Shawn Mou has been very active in the music program at Sarah Lawrence over the last three years.He plays violin and drums and has the musical flexibility to participate in both the classical and jazz programs.  With this diversity, he is widely known across the department and is well-liked by his peers and professors.I look forward to his senior year during which I'm sure he will engage is some innovative musical projects. 
– John Yannelli, Director, Program in Music and Music Technology; William Schuman Scholar in Music
---
The Nancy Lynn Schwartz Prize for Fiction Writing
An endowed fund established in memory of Nancy Lynn Schwartz '73 by her family and friends to recognize an outstanding student in fiction writing.
Sara Yossef '24 (First Place)
Yossef has written a haunting story of a single mother raising a budding teenager who is disabled. At the center of this story rests the question of a woman's desire in the face of obligations rooted in love and how our bodies are marked and valued in the world at large. It's a story that unapologetically brings a reader right to the uncomfortable start of a woman who seeks satisfaction from public acts of self-pleasure in a way that under-scores her invisibility in society as an older, working-class single mother. The writer manages to achieve a perfect parallel between the embodiment of the mother and the disembodiment of the daughter, Eve, who in her own ways, moves through the world unseen and at moments is stripped of control over her own body.
Yossef's characters stayed with me. The pace of the story was very well done, and the way time was rendered— the ticking clock of the slow overnight shift kept up the suspense but also brought home the long slog of hourly wage earning. There was so much in this story to admire, the writing was beautiful, purposeful, and surprising —Yossef leads the reader toward an ending that was both powerful and raw. – Asale Angel-Ajani, Judge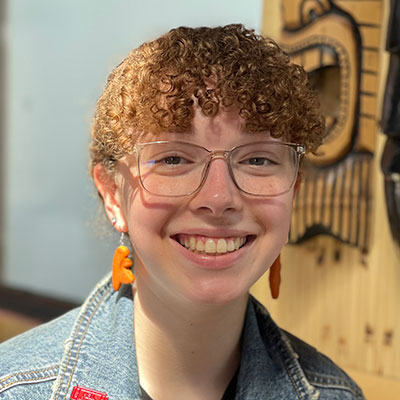 Rachel O'Connor '26 (Second Place)
The Sins of Thy Father, Sins of Thy Son is a family story that is filled with the kind of pathos that brings to mind the best elements of the genre.  O'Conner writes a family mystery with a light touch so that a reader feels dropped into a saga with just enough information to understand the family dynamics. This is an intimate story that calls into question how two people, brothers, can forge a path toward each other. O'Conner's story calls into question the consequences of family roles, specifically, for first and second-born sons who are raised within a context where forgiveness is not part of the culture and where love is weaponized. At stake here, is a second son's quest for love and acceptance from the father and the betrayal of a beloved and admired sibling. The author writes with a restraint that keeps the sweep of the story moving at a quick pace, all while drawing a reader into the relationship between the two brothers and their break from each other. – Asale Angel-Ajani, Judge
---
The Raymond Seidelman Award for Political Advocacy
An endowed fund established by former students, colleagues, and friends of Raymond Seidelman, a member of the Sarah Lawrence faculty from 1982 until 2007. The award will be given annually to a student who has done the most to further the broad aims of economic and social justice and equality through action in social movements or in mainstream politics.
Kyla Buss '25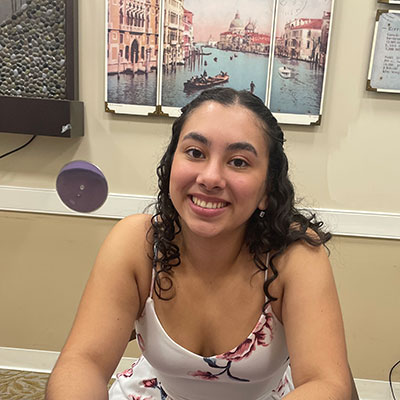 Daniella Calvo '25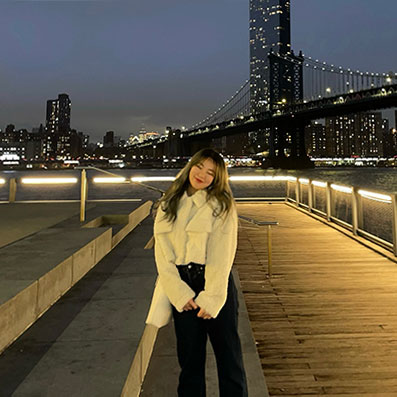 JiaYing Carolyn Chen '23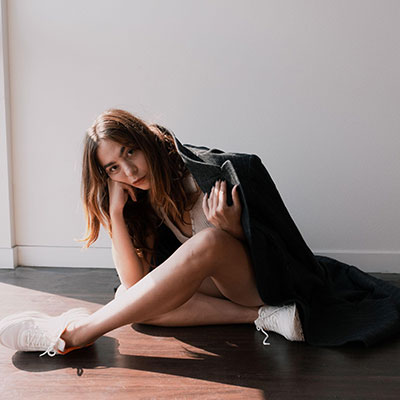 Anya Johnson MFA '23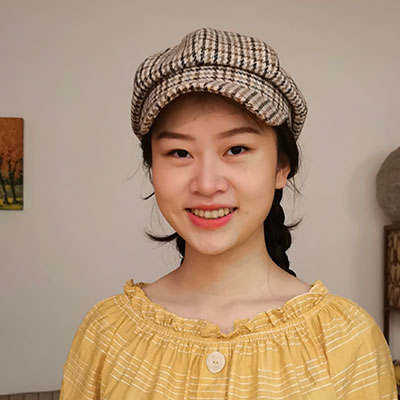 Estella Kexin Luo '25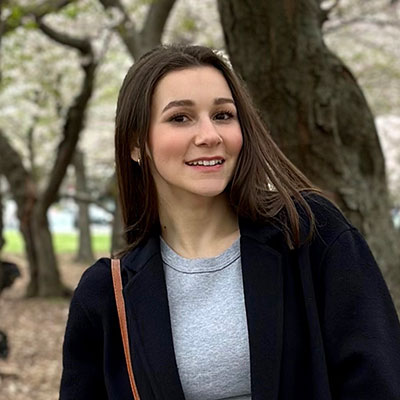 Gabriella Nanna '23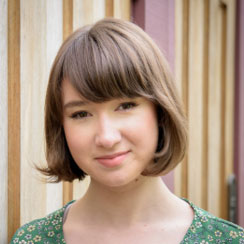 Syd Walter '26
---
The Andrea K. Willison Poetry Prize
A prize established by Malcolm Willison, Martha Huggins, and friends in memory of Andrea Klein Willison '81 to recognize that undergraduate student or staff member, other than faculty, who submits the best poem on relationships among women, especially in the context of justice for everyone.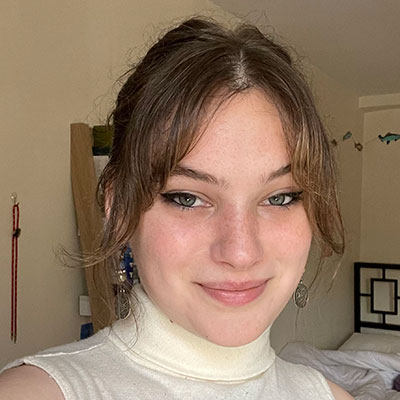 Greer McAllister '23
"This is How it Must Be Death"
Greer McAllister writes with incredible elegance, precision, and certainty. Each poem feels like a haunting, or perhaps a summoning—it is rich with myths and voices past, especially those of women, whose belonging(s) were taken from them. I love that the speaker weaves the self among these presences and histories, but is never lost, seeking further questions rather than easy answers on how these narratives have been carried out.  - Emily Joon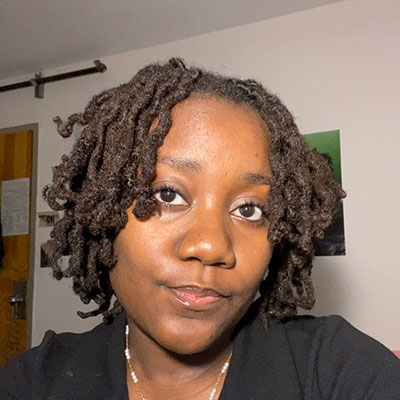 Micaela Francis '23 (Honorable Mention)
---