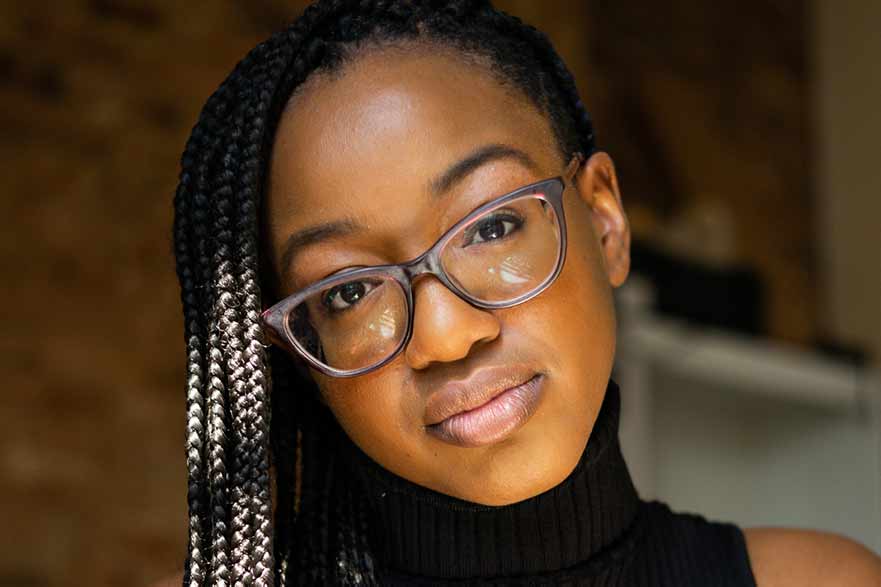 Arriel Vinson is a Tin House Winter Workshop alumna and Midwesterner who writes about being young, Black, and in search of freedom. She earned her MFA in Writing with a focus on fiction from Sarah Lawrence College. Her poetry, fiction, and essays have appeared in Kweli Journal, Catapult, Electric Literature, Waxwing, and others.
Arriel's work has been nominated for Best New Poets 2020, Best of the Net 2019, and a Pushcart Prize. She is a 2020 92Y Discovery Poetry Contest semifinalist, a contributing editor for Catapult and Apogee Journal, and a 2019 Kimbilio Fellow.
Can you describe your first inklings that you were a writer? How did you know?
When I was a child/teen, I kept a notebook where I'd write stories (or novels, let me tell it back then) and poems, or raps. Which is so embarrassing to say. But I remember my sophomore year of college, being fed up with the men I'd been dating, and writing a poem about it. It came out of nowhere. I called my then-best friend, who was a poet before I even took poetry seriously, and read it to him. He was speechless. That's when I knew. But I still didn't share my work. It wasn't until my senior year that I realized I wanted to live a creative writing life. I revised that poem and won third place in a campus talent show, and have been writing seriously ever since.
Can you tell us about yourself and your background before you joined the MFA in Writing program at Sarah Lawrence?
For almost my entire college career, I swore I'd be a journalist. I was committed to writing stories about Black experiences on campus, telling myself I'd one day be at The New York Times or a magazine that catered to Black women, like Essence. It felt so true. But after spending a summer in New York City with the Knight Diversity Internship Program, I had learned so much about creative writing outside of my journalism internship. I knew I wanted to spend the rest of my life writing in that way, in the way that sometimes bends facts and always hails truth telling. Not in the way that forced me to chase sources for interviews or give voice to those who sought to oppress others. I never thought my path would lead me to this kind of life.
What made you choose to pursue your MFA at Sarah Lawrence?
Even before I visited in the summer of 2016 for the internship program, I knew I wanted to be in New York. But that summer solidified it. I also had gotten closer with author Leah Johnson while I was at IU, as we were both journalists then, and she was going down the same path I found myself wanting to pursue.
We started talking about grad school (which, as a journalist, I swore I'd never attend), and she convinced me that I needed to check out Sarah Lawrence. I didn't know anything about the College except what she told me. But as I learned more, what stood out to me the most was the MFA in Writing leadership. Anytime I had questions or needed to learn more, I could always get in touch with them. It felt like I already knew them, like I already belonged.
Describe the MFA in Writing program using a simile.
The MFA in Writing program is like Bronxville—small but rich.
Who influenced you most during your time in the program? Do you have a favorite professor, mentor, or class?
Oh my goodness, this is such a hard question to answer. Aracelis Girmay, Carolyn Ferrell, David Hollander, and Rattawut Lapcharoensap, to name a few. Aracelis Girmay taught me how to read poetry closely and how to find truth in each line. Carolyn Ferrell taught me to trust my voice. David Hollander taught me how to explore. Rattawut Lapcharoensap taught me that revision can be just as beautiful as your love for the work.
But aside from professors, my classmates influenced me the most. I'm thinking about all the conversations I had with friends about craft, being stuck, telling stories that matter. And sometimes, we had the same conversations over and over. Sometimes, we shared 50 iterations of the same piece. That is what influenced me most—all of us asking questions, curious, excited. The community I built during the program is the one that keeps me going.
Do you have any advice for current or prospective students?
Figure out why you want to attend this program. Is it for connections, for community, to learn more about the craft of writing? Knowing your reason will guide you to the right classes, the right craft talks, the right people.
And build a community! Latch onto the classmates whose work you absolutely adore, or whose work frightens you in a good way. My friend group was my friend group because we loved each other's writing and we cared to see it grow.
Describe your career trajectory and what you are doing now.
My goal is to write full time. So, on the path to that, I am currently a marketing coordinator for Catapult, Counterpoint Press, and Soft Skull Press. And because I don't know how to not be busy, I teach creative writing workshops in my free time for organizations like Girls Write Now, The Loft Literary Center, and others.
Being a full-time writer means being able to support yourself financially. I look forward to the day my YA fiction and poetry foot the bill.
Where can we find examples of your writing or purchase your books?
You can find links to my work on my website, sincerelyarriel.com. If you want to read my work as soon as it publishes, I'm always tweeting @arriwrites.
What are you currently working on?
I am currently working on a YA novel-in-verse about a 16-year-old Black girl in Indianapolis, Indiana. I'm in the revision process, which seemingly never ends, but I'm almost ready to start querying. Be on the lookout for my book deal announcement one of these days!