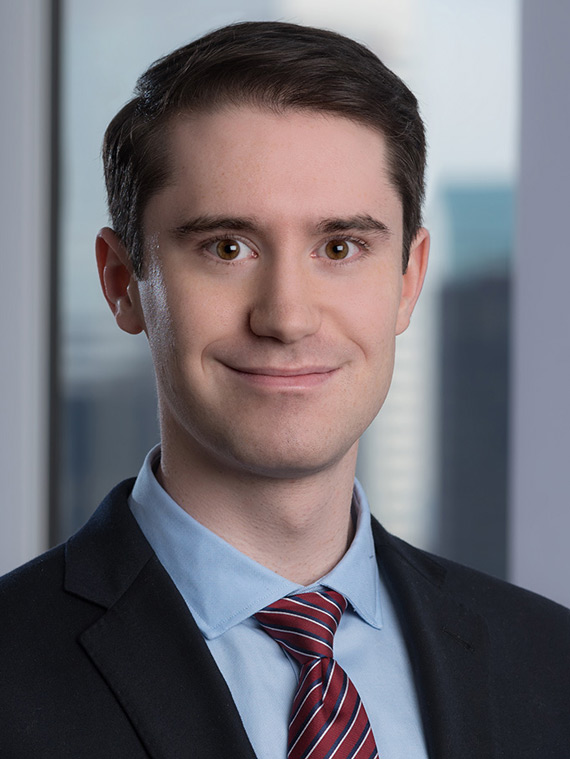 What are you doing professionally?
I am a litigation associate at Ropes & Gray LLP in its New York office.  Since joining the firm in 2016, my practice has predominately focused on complex commercial litigation (which is another way of saying that I represent companies and individuals involved in disputes centering around the meaning of lengthy contracts). These disputes have placed me on the frontlines of important economic/social battles including one matter relating to Puerto Rico's ongoing financial dysfunction and another matter in which hundreds of residential mortgage originators disputed the allocation of losses from illiquid mortgage-backed securities arising out of the 2007-2008 financial crisis.
I have also maintained a pro-bono practice. Among other things, I have represented a small business in appellate litigation concerning its right to proceeds collected (but not distributed) by payment processors, and assisted the Obergefell appellate team (after it had already secured the marriage decision) with various issues presented to prevailing parties in civil rights litigation.
How did Sarah Lawrence prepare you for your career?
A good attorney has to be a hard worker, effective writer, and rigorous analytical thinker. Sarah Lawrence's emphasis on the tutorial system certainly lends itself to developing all of those skills. Indeed, my ability to produce polished work product and identify creative and effective arguments was in no small part developed during the long nights spent preparing conference work.
But, more important than the pedagogical method, the students and teachers of Sarah Lawrence create a generous and collegial environment of thoughtful peers and mentors. Great professors like Mark Shulman, Samuel Abrams, Fredric Smoler, Cameron Afzal, Glenn Dynner, Jefferson Adams, and Brian Morton (to name only a few) are genuinely invested in the intellectual development of their students and foster classrooms where students can explore new ideas and challenge each other in a spirit of collaboration. The learning environment created by these professors develops students that are uniquely prepared to defend their analysis in team environments, which happens to be a frequent part of my day-to-day work.
What internships or other activities did you participate in while at Sarah Lawrence College?
I was very active in Sarah Lawrence's pre-law association, a teaching assistant for guest lecturer Adam Kirsch, and served as Sarah Lawrence's representative to the Student Conference on US Affairs (SCUSA) at West Point. SCUSA was an incredible opportunity to participate in a conference debating how the United States could maintain its leading role in international affairs at the height of budget control and sequestration. I did not engage in politics-oriented internships (e.g. I did not intern for senators or think tanks) but I am certain such opportunities would be well worth exploring.
Why did you choose the University of Chicago Law School?
I had seriously considered a career in the law from an early age because I had family members that I admired who found meaningful careers as attorneys. One anecdote I relayed during interviews was that, when I was younger, I was always impressed when my mother (an attorney) received phone calls late at night from more junior attorneys soliciting her view on a last minute filing or the like. When I watched her take those calls and provide the final answer on various subjects I knew that I wanted a profession with the same sense of collaboration, thoughtfulness, and urgency.
At Sarah Lawrence I also realized that I was interested in the policy considerations associated with the law as well as the analysis and interpretation of words. While conducting literary and historical analyses of religious texts for conference work with Glenn Dynner and Cameron Afzal it occurred to me that I wanted a career that involved rigorous research and thoughtful interpretation of texts. It was later that I found out that I enjoyed interpreting contracts and statutes.
I decided to attend the University of Chicago for law school because it had the same traits I enjoyed about Sarah Lawrence. It is a rigorous academic institution that rightly believes its students and professors should challenge each other and through Socratic dialogue develop skills in persuasive communication and a deep understanding of the policy considerations that undergird wide-ranging areas of the law. While there are many great law schools, the University of Chicago stands out by emphasizing the economic analysis of legal rules as well as encouraging healthy debate.
What brought you to what you're doing today?
While attending law school I realized that I wanted to practice litigation through great classes and internships. As an intern at the United States Attorney's Office for the Eastern District of New York, I had the opportunity to participate in a trial team, draft an appellate brief, and participate in fact discovery. By participating in several stages of litigation I knew that both the daily grind and high-level experience of trial practice were things that I wanted to pursue. I similarly enjoyed working as an intern at the University of Chicago's Federal Criminal Justice Clinic where I was able to participate in a civil rights challenges to the practices of the ATF. Joining Ropes & Gray LLP allowed me to further pursue my interest in litigation alongside great colleagues. Working at a big law firm is a great way to learn from great practitioners with incredible resources at your disposal.
Do you have any advice for current Sarah Lawrence students with an interest in a career in the law?
A legal education is a large investment from a financial and time perspective. Before taking the plunge, it would be a good idea to get first-hand experience. For this reason I encourage current students to spend 1-2 years after graduating college as a paralegal or case assistant at law firms, public interest institutions, or law enforcement offices. By doing this, you will get a sense of whether the work is something that really motivates you. It would also be helpful to work in finance, marketing, or other such fields for a few years. While you won't get to experience legal practice, having a sense of what motivates commercial parties and how they operate will assist you as an attorney and law student.
If you have already decided to attend law school then remember to spend some time outside of the library. Law school is a great opportunity to meet future colleagues, friends, and mentors that will help you throughout your career. Additionally, treat law school like your job. By that I mean you should try to maintain a strict schedule for the hours you work and hours you are not working (i.e. make it a 9 to 5 or 9 to 7). Unlike college where many smart students succeed working sporadically or focusing their studies at the end of the semester, law school is geared towards consistent work.