Dear Members of the Sarah Lawrence Community,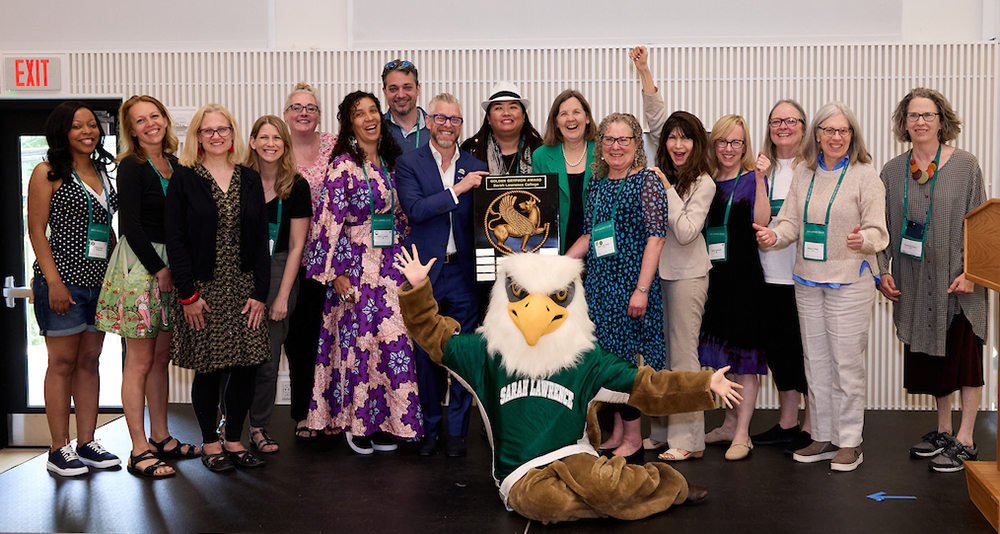 Earlier this month I had the pleasure of welcoming alumni back to campus for Reunion to reconnect with each other and with the College. As always, Reunion activities included special celebrations with the milestone 50th and 25th reunion classes, the Service of Remembrance, the alumni art show, and faculty seminars. This year also featured the long-awaited dedication of the Joseph Papaleo Atrium in the Barbara Walters Campus Center—a beautiful tribute to a long-time, beloved faculty member—as well as the opportunity for alumni to share their SLC stories as part of an effort spearheaded by the Library to collect memories as we look toward our second century. We also introduced a bit of healthy competition, as classes competed for the new Golden Gryphon award, recognizing the Reunion class with the most donors (congratulations to the co-winners, the classes of 1983 and 1998, pictured above!)
One of my favorite moments of Reunion is offering the "Year in Review" presentation (below). It's gratifying to take a moment to look back on the academic year, and seeing it all together it's hard not to pause and say, "what a year!"
I use my Instagram as a diary of sorts to prepare this presentation, including campus scenes and traditions, student work and performances, athletics, faculty news and achievements, and the historic visit by President Biden to campus, the first visit by a president to SLC. (Who doesn't like reliving POTUS describing Sarah Lawrence as a great liberal arts college?)
One of the themes I highlighted in my review was Sarah Lawrence's commitment to lifelong learning and community engagement. From our partnerships with Bronx Community College and Westchester Community College to the 10-year anniversary of the Center for the Urban River at Beczak and the broad array of work led by our Community Partnerships team, our role as an anchor in the local community was very much in evidence. The same is true for the College's tradition of creating innovative programs that respond to critical societal needs, as we launch the Institute for Genomics Education, Workforce & Leadership and embark on a partnership with the NYU Grossman School of Medicine to launch a new master's degree in genome health analysis. Look for more on both of those important developments to come!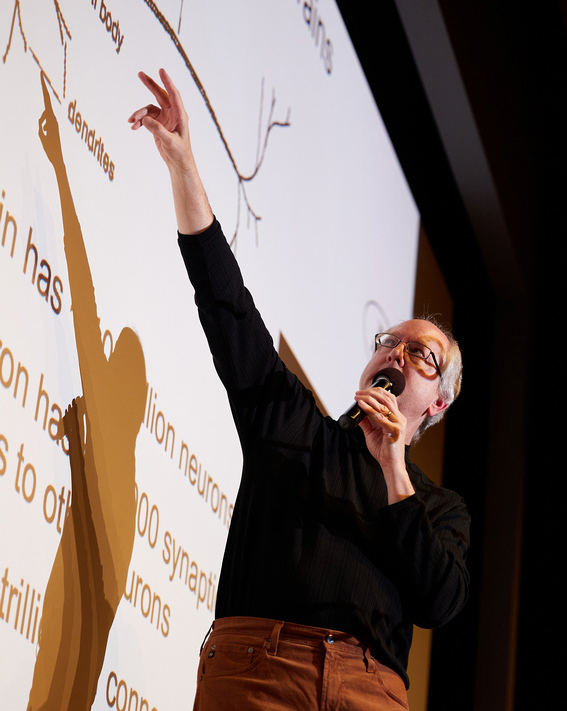 Reunion kicked off this year with a seminar led by computer science faculty member James Marshall. "Engines of the AI Revolution" explored the basic ideas underlying neural network technology, the driving force behind so many of the astonishing developments in AI over the past decade. That fascinating discussion also served informally as a teaser to next year's theme, Being Human: Evolving Humanity in the Age of Artificial Intelligence. I look forward to sharing more information on that series with you, including information on our first event to kick off the fall semester.
I'll conclude this note as I ended my "Year in Review": by reminding you of the three key ways you can support Sarah Lawrence as alumni, students, family, and friends. First, represent the College: make sure SLC is in the bio on your LinkedIn profile, mention your affiliation with the College on a podcast or in an interview, make sure a Sarah Lawrence mug is on your desk, and sport some SLC swag. Second, be a network—for our current students, for our most recent grads, and for each other. Students and alumni, join SLC Connect if you haven't already! The Sarah Lawrence community is an incredible resource that spans the globe. And finally, participate: when I meet with potential supporters of the College, the first question I'm often asked is, what percentage of alumni support Sarah Lawrence? The statement alumni make by showing that they believe in a Sarah Lawrence education, years and decades after they graduate, is invaluable, so making a gift of any size has an enormous impact and is much appreciated.
From the President's Desk will take a break in July. I will look forward to writing to you again later this summer as we prepare to open the 2023-24 academic year. Until then, thank you for all you do for SLC, and I send my best wishes for an enjoyable summer.
Yours,
Cristle Collins Judd
President
president@sarahlawrence.edu
Instagram: @slcprez
---
Recent Announcements
SCOTUS & Affirmative Action
As we await the Supreme Court's decision on affirmative action in higher education (Students for Fair Admissions (SFFA) v. Harvard and SFFA v. University of North Carolina), I want to assure you that regardless of the decision, Sarah Lawrence remains committed to the importance of the diversity of our community and to a holistic admission process. Ahead of oral arguments in these cases, Sarah Lawrence, with 36 other private liberal arts colleges, submitted a "friend of the court" brief enumerating the previously accepted legal and constitutional arguments in favor of race-conscious admissions practices. As a member of the Liberal Arts Colleges Racial Equity Leadership Alliance (LACRELA), in May I joined 25 other college presidents in signing an open letter prioritizing diversity in liberal arts colleges and defending long-standing recruitment and admissions practices.
The admissions team at Sarah Lawrence College has never relied solely on one single factor when admitting students, and we will continue to ensure that we are recruiting and enrolling as diverse a class as possible in support of our mission, which remains unchanged: to graduate world citizens who are diverse in every definition of the word, who take intellectual and creative risks, who cross disciplinary boundaries, and who are able to sustain exceptional academic discipline within a framework of humanistic values and concern for community.
Recapping Reunion
In case you missed it, you can watch my "Year in Review" presentation online here. You can also see and download photos from the weekend here. Thanks to everyone who returned to campus and helped make this such a special event!
The Fund for Sarah Lawrence
As the academic year ends, so does the College's fiscal year, which means now is an important time to support The Fund for Sarah Lawrence. Please consider making a gift by June 30 to provide immediate-use support to our students, our faculty, and this one-of-a-kind education—and to show the world your belief in SLC!
---