Dear Members of the Sarah Lawrence Community,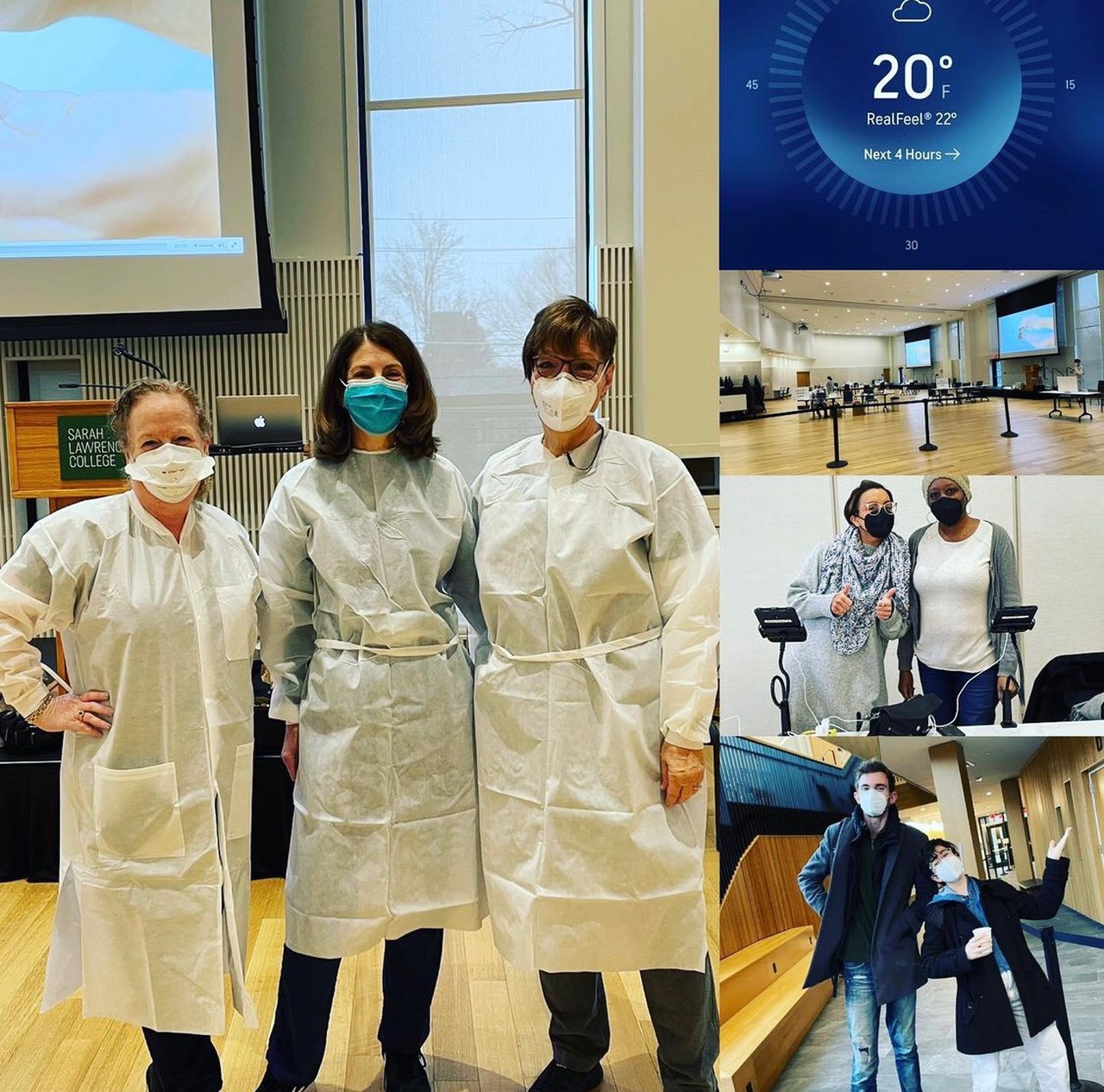 Today, January 26, marks the first day of classes of the spring 2022 semester. Undergraduate students moved in on (a very chilly) Sunday and Monday earlier this week, and the process ran incredibly smoothly thanks to the planning and hard work of staff from so many areas of the College. Special thanks to our Residential Life team (including our terrific student RAs), Health & Wellness, Operations, and Campus Safety for their tireless work to welcome our students back to campus. We are fortunate that our plan to start the spring semester a bit later than usual means that we are reconvening as the Omicron surge appears to be on a downward trend in our area. That said, we are beginning this semester with extra caution and carefully laid-out protocols to help ensure that we achieve our shared goal of a safe, enjoyable, and productive semester.
We have asked a lot of the Sarah Lawrence community of late – patience, flexibility, and compassion – at a time when it is easy to feel frustrated and weary. I am reminded time and again of our community's willingness to summon what is needed, and I am continually heartened and encouraged by your resilience and resolve.
Because of that I approach yet another "abnormal" start to a semester with my normal excitement and eager anticipation intact. And there is much about which to be excited! I'm happy to share with you a news item that broke just today: Sarah Lawrence has received a $1.5 million grant from The Andrew W. Mellon Foundation, the largest programmatic grant in the College's history. The three-year grant, part of the Mellon Foundation's Humanities for All Times initiative, will help deepen and expand the work being done by faculty and students in the Sarah Lawrence Interdisciplinary Collaborative on the Environment (SLICE) as they approach the critical issues of climate and environmental justice through the lens of the humanities to develop creative, collaborative pedagogies to address the climate crisis. The grant also supports our growing partnership with Bronx Community College, which will be a key collaborator over the next three years, and with whom we recently established a transfer partnership.
New semesters often bring new beginnings for faculty and staff. Please join me in congratulating four faculty members who were reappointed last semester: Gillian Adler (Literature), Roy Ben-Shai (Philosophy), Rattawut Lapcharoensap (Writing), and Cecilia Phillips Toro (Biology). And welcome to Bridget Bohannon, who joined the College earlier this month as the new director of the Health Advocacy program. Bridget comes to Sarah Lawrence with a resume that reflects a career spent working to improve health access and outcomes, and I look forward to her contributions to our renewed direction for Health Advocacy at Sarah Lawrence. There is much more I could share about the accomplishments of our faculty and staff, but in the interest of word count I'll simply encourage you to visit sarahlawrence.edu often to see all the latest updates.
Finally, I want to share excellent news from the Office of Admission. With all application deadlines now complete, Sarah Lawrence has reached a new milestone: over 5,000 students applied for admission to the undergraduate Class of 2026. This represents a 12% increase over last year's applications and builds on several record-breaking application cycles in recent years. I can't wait to learn more about these prospective students and see how the class of 2026 shapes up as our (now very busy!) Admission team pores over their impressive application materials.
I hope this snapshot of what's happening at Sarah Lawrence as the spring semester gets underway fills you with the same excitement it does me. It is such a privilege to be able to share updates like this with you, and to begin on a positive note as we set off to do what we do best: provide an unmatched education for our talented, creative students. While we know that there are surely challenges ahead, we also know that we will face them with confidence together. Here's to a great spring semester!
Yours,
Cristle Collins Judd
President
president@sarahlawrence.edu
Instagram: @slcprez
---
Recent Announcements
Belonging Series
The Belonging series resumes next week for the first of several events that will take place this semester. I hope you'll join us online next Wednesday, 2/2, at 6 p.m. ET for a screening of the groundbreaking film Sankofa, which will be followed by a panel discussion. Learn more about this and other upcoming events at slc.edu/belonging.
Commencement
Last week we announced that commencement will take place in person on campus on Friday, May 13. We'll be celebrating the undergraduate and graduate classes of 2022 in a joint ceremony on Westlands Lawn, following a hooding ceremony on Thursday, May 12, for our master's candidates. The classes of 2020 and 2021, who had their commencements interrupted by the pandemic, are also invited to participate. We look forward to welcoming families and guests to campus, but will also live stream commencement for those unable to be here. Visit slc.edu/commencement for more information.
#GoGryphons
Our student athletes are getting back in action, with some teams having competed even during winter break. Women's Swimming placed second at the Skyline Conference Championships this past weekend, and head coach Daniel Drury was named Skyline Conference Coach of the Year. Earlier this month, Men's Basketball head coach Chris Ehmer was listed among Silver Waves Media's Most Impactful Head Coaches in NCAA Division III. Visit gogryphons.com to see more news, accolades, and game schedules as our spring teams start their seasons.
Spring Semester Information Site
For the most up-to-date information on the spring semester, including policies and procedures related to COVID-19, bookmark the semester information site.
---