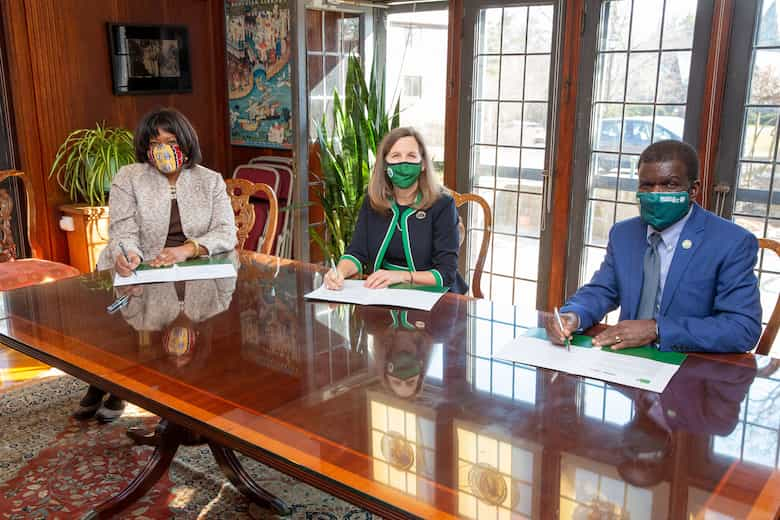 Sarah Lawrence College (SLC) is pleased to establish transfer partnerships with Westchester Community College (WCC) and Bronx Community College (BCC). 
The program—intentionally created with neighboring institutions—will begin immediately and identify high-achieving students from each community college and guarantee that, if admitted to Sarah Lawrence, they will matriculate with junior standing, their full demonstrated financial need for tuition and fees will be met, and they will be on track to complete their Sarah Lawrence Bachelor of Arts two years after enrolling, among other benefits.  
"Sarah Lawrence College is proud to form these partnerships with Bronx and Westchester Community Colleges to advance our institutions' collective work as engines of social mobility as well as to open the doors of opportunity to even more students in our region who will benefit from Sarah Lawrence's one-of-a-kind education," said Sarah Lawrence College President Cristle Collins Judd. "We are looking forward to welcoming participating students in the fall of 2021 and supporting them in the next chapter of their education as they connect their passions to create their futures."  
The individual agreements with Bronx and Westchester Community Colleges, part of Sarah Lawrence's focused and continued efforts to advance the region and build deeper relationships in its local communities, are unique and designed to reflect student interests and the strengths of each institution. 
"This transfer partnership is a major achievement for both Sarah Lawrence and Bronx Community Colleges," said Dr. Thomas A. Isekenegbe, President, Bronx Community College. "Sarah Lawrence will add the talent and commitment of our outstanding and diverse graduates to its student body. BCC will benefit from a new and important pathway from our campus to one of the great four-year colleges in the country." 
The pilot programs will begin with a small cohort of two students from each institution and the three institutions plan to seek philanthropic and grant support in order to expand the program in the future. Students who are accepted to Sarah Lawrence as part of this pilot, in addition to the College meeting their full demonstrated financial aid need for tuition and fees and entering with junior standing, will also be paired with a faculty advisor prior to enrolling and will receive preferred admission status to specific Sarah Lawrence graduate programs.
"This articulation agreement represents a continuation of a strong historical partnership between Westchester Community College and Sarah Lawrence College, especially in the field of early childhood development," said Dr. Belinda S. Miles, President of Westchester Community College. "This agreement opens the door for community college students to pursue a course of study that prepares them to serve the high demand early childhood education field across a spectrum of roles."
Bronx Community College transfer agreement
BCC will identify two students on track to graduate with an associate degree in the spring of 2021 who have an interest in transferring to a four-year liberal arts institution and who have a 3.60 GPA or higher. These students will apply to Sarah Lawrence and, if meeting the College's admission standards, will be admitted for the fall of 2021 with junior standing and will receive grants and scholarship to meet 100% of their demonstrated need for the cost of tuition and required fees for the next two years, as long as they remain fully enrolled and in good academic standing. 
Incoming BCC transfer students will be assigned faculty mentors upon their admission in the spring semester preceding their enrollment at SLC and special attention will be taken to ensure that Sarah Lawrence faculty advisors working with BCC students are committed to facilitating a successful transition between institutions. The Sarah Lawrence Office of Admissions will work closely with the BCC Offices of Student Success and Transfer Services to facilitate engagement between the BCC students and their faculty advisors, as well as other regularly scheduled opportunities to engage with the Sarah Lawrence community in advance of those students' arrival on campus.
The pilot program is scheduled to initially operate in the above manner for two years, with four students in total participating, as both institutions work to grow the program via outside funding sources. The goal for this program is to establish a robust and long-term partnership that enrolls a cohort of five to ten students every year with the same benefits.
Westchester Community College transfer agreement
WCC students who participate in this pilot program will earn either an Associate's in Science (AS) degree in Childhood Education track at WCC or an Associate's in Applied Science (AAS) in Early Childhood. Upon matriculating to Sarah Lawrence College, a participating student will enter with junior standing and be on track to earn a Bachelor of Arts after completing 60 additional credits (Sarah Lawrence requires 120 total credits to graduate). In addition, a participating student who maintains at least a 3.0 GPA during their junior year at SLC will be guaranteed admission into the College's 4+1 (or in this case, 2+2+1) Master's of Science in Education (MS Ed) Art of Teaching graduate program, should they wish to enroll. Art of Teaching students simultaneously earn their New York State teaching credential as well as their master's degree, and complete the program prepared to serve as teachers in public or private early childhood and elementary schools, as school administrators or curriculum developers, as teacher educators, and/or to enter PhD programs. 
This partnership between SLC and WCC will run as a pilot for four years (through the spring of 2025) and is scheduled to automatically renew in two year increments after 2025. Both institutions will have the ability to re-evaluate the partnership at each renewal and establish mutually agreed upon amendments and additions. Sarah Lawrence Art of Teaching faculty will also work with WCC students before they receive their associate's degree to create a pathway into the Sarah Lawrence bachelor's program and 5th-year master's option. 
---