Yours, Virtually
What happens to our relationships when there's always a device in the middle?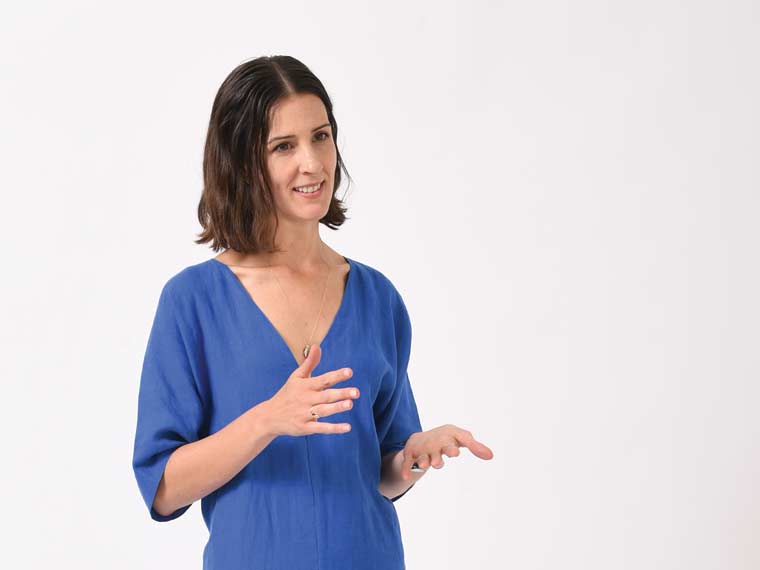 Meghan Jablonski (psychology) teaches her in-demand course "Virtually Yours: Relating and Reality in the Digital Age" while keeping in mind both adaptation and evolution. She doesn't reach as far back as Darwin, mind you, but zeroes in on Homo sapiens.
"With relating, the physical environment put pretty hard constraints on who we had access to for friendships and romantic partnerships," says Jablonski, a practicing psychologist. Traditionally, this probably meant the inhabitants of your village and the next village over. "Our cognitive and emotional capacity for maintaining relationships had not often been tested beyond the 100 to 200 people we typically know in our lifetime, from our grandparents when we're children to our grandchildren when we're older. We need important relationships to get our needs met; we're really built to get through life together."
"We need important relationships to get our needs met; we're really built to get through life together."
Given how fast and loose the digital realm has played with millennia of entrenched behavior, Jablonski expanded a course she'd been teaching on human attachment and bonding to include what amounts to ongoing seismic changes in relating. Now in its fourth year, "Virtually Yours" has been a wild success. In its first year alone, 80 people interviewed for the yearlong, 15-student course. The curriculum consists of a mix of readings and experiential activity, such as visits to SLC's Early Childhood Center and to Wartburg, a center for older adults in Mount Vernon, New York. The course is in constant flux due to how differently each wave of students has experienced technology. Jablonski's newest students, for example, don't live the same digital lives as the students she taught when she began at Sarah Lawrence in 2013. "They have never been without a way to immediately connect to anyone," she says.
Experts largely understand the demands of face-to-face relationships. "Down to the neuropsychological level, making eye contact with someone takes more of our energy than not making eye contact," Jablonski says. "Falling in love and heartbreak take up a lot of headspace and have a lot of physiological demands."
But Jablonski believes the digital world has pushed us past what we can grasp right now. It's not unusual for her students to describe some digital relationships as more meaningful than others they've had in the real world. "We're suddenly finding ourselves in this space where we have an almost unlimited expanse of our reach," she says. "How is it that we understand we're part of a relationship? Could connections come through YouTube stars? Or AI?"
"Virtually Yours" has spun off a radio show on WSLC, thanks to some incredibly engaged students. Thomas Greenstein '19, who took the course last year, says he and his classmates would routinely try to extend the classroom conversation beyond the allotted time. "Once we got in the studio, it just came together," Greenstein says. "This was a passion project."
Coming full circle, the show's Instagram bio charmingly reveals the students' attachment to Jablonski: "Just some SLC millennials trying to make our way thru the digital age and into Meghan's heart."
Web Extra
You know a course is really successful when it triggers such deep discussions that students don't want class to end.
"We would often stay until the next class would ask us to leave because they needed the room," says Thomas Greenstein '19 about Meghan Jablonski's "Virtually Yours: Relating and Reality in the Digital Age," which he took in spring 2019. "We felt there was always more to say."
The course inspires such passionate discourse, says Greenstein, because "everything it touches upon is very deeply linked to everyone's experience." With classes routinely running overtime, Jablonski suggested the students find a way to continue their conversations and bring them to a wider audience.
The result is "Virtually Yours Radio," a student-driven effort launched in spring 2019 that allows participants to delve more deeply into topics addressed in Jablonski's class, such as navigating social media, finding community in digital spaces, dating through apps and in real life, and experiences across cultures and generations.
"The goal of the show," she explains, "is to bring an integrated grounding in academic research and theory to the larger conversation regarding how individuals experience themselves and their relationships—to each other, the world at large, and to the devices themselves—in the digital age."
On the show, students discuss the latest technology trends and developments through the lens of psychology, says Greenstein, a self-described "techie" who focused on computer science at SLC but, like all the students who created the show, had no radio experience.
Beginning with the fall 2019 semester, "Virtually Yours Radio" is now offered as a four-credit course (two credits per semester), with Jablonski as adviser and "energetic backstage force," as Greenstein describes her. Eight episodes are created per semester, each based on background research in psychology and related fields along with research needed to contextualize the device or platform under discussion. The shows include perspectives from areas such as the arts, music, video games, and students' own reflections. 
"Social media and technology are a part of everyone's life," says Nora Della Fera '20, who took part in creating the show and is continuing with it through her senior year. "The show is really about managing that in the day to day, and looking at how technology is changing our lives for the better and for the worse." The program covers a broad range of topics, she notes, "because everything is related to technology now in some way, shape, or form. I find it to be very universal in that way."
Della Fera, whose studies focus on writing, psychology, and photography, says the show was a bit of a "free for all" during its first year: highly collaborative but with little structure. It is now being run in a more professional manner, with two designated hosts, two producers, a post-production editor, an outreach and social media manager, a graphic designer to help with branding, and a music composer.
Each original episode of "Virtually Yours" will stream live on WSLC (via the app, Live 365) on Mondays, 9-10 p.m. The podcast version will be posted to Spotify and iTunes the following week, and listeners can keep up to date with the show on Instagram: @virtuallyyoursradio.
"I came into the class thinking about technology and how it affects us really negatively, and I had this notion that 'Oh my God, technology is ruining our lives, and making us disconnected,'" says Della Fera. "There is some truth to that, but through this class I've discovered that it also brings us together in many ways."
Jablonski is unabashedly proud of the students' work. "It has been so exciting to see their ideas unfold on the show," she says, "and I feel so lucky to be a part of it!"