Marking its 30th anniversary at Sarah Lawrence, the identity group UNIDAD offers Latinx students a supportive and empowering community.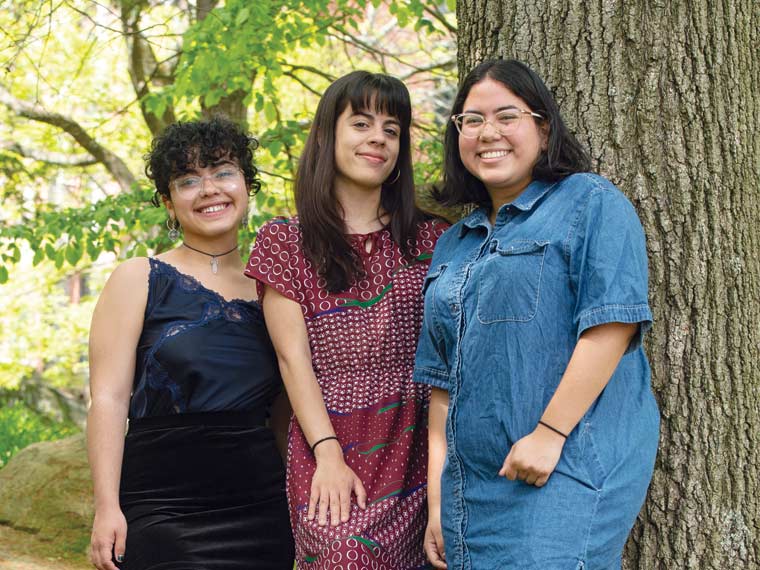 UNIDAD leaders (left to right) Andrea Estrada '22, Madeline "Maddie" Aleman '19, and Sharon Arana '20
Sharon Arana '20 felt like a fish out of water when she arrived at Sarah Lawrence. As a sophomore transfer student, she found it difficult to connect with classmates who had started college together a year earlier. Her don recommended she seek out an identity group, so Arana joined the student organization created 30 years ago to foster solidarity in the Latinx community.
UNIDAD has seen membership rise and fall over the ebb and flow of its three decades on campus. "When I started going to meetings, there were around three other people in the room," Arana says. "But I loved it."
The small-but-devoted team rallied, inviting guest speakers, planning off-campus trips, encouraging activism on campus—and spreading the word on social media. In a year, membership went from three to 36, and Arana emerged as a co-leader with Madeline "Maddie" Aleman '19. "Being able to carry UNIDAD's legacy forward," Aleman says, "was the most rewarding leadership experience I had at Sarah Lawrence."
UNIDAD ensures that Latinx students have a safe space to unwind and just be themselves. Among the events the group organized in 2018–19 was #brujahour, a discussion with mental health advocate Emilia Ortiz about accessible mental health advocacy and self-care.
Andrea Estrada '22, a co-leader for 2019–20, says the support UNIDAD provides helps empower Latinx students. "I have so much appreciation for the many people who create a space for healing and cultivating community," she says.
As a low-income, first-generation college student, Arana says she had "impostor syndrome" when she arrived at Sarah Lawrence. UNIDAD changed that. "I loved finding people from similar backgrounds who wouldn't immediately judge me for my skin tone," she says.