Health care providers are required by law to treat everyone with respect— and not to discriminate based on gender identity. In practice? Transgender people experience daunting barriers to access, and not all nurses and doctors are sensitive to trans issues. A visit to a doctor's waiting room might mean being outed by the nurse who calls your given name instead of your chosen name. Maybe a doctor feels so uncomfortable with your identity that they leave the room.
Connected by their shared support of the trans community, Sarah Lawrence alumni are challenging colleagues to ask better questions, care more deeply, and create radical change for people who are often in the complicated, wondrous process of becoming their real selves.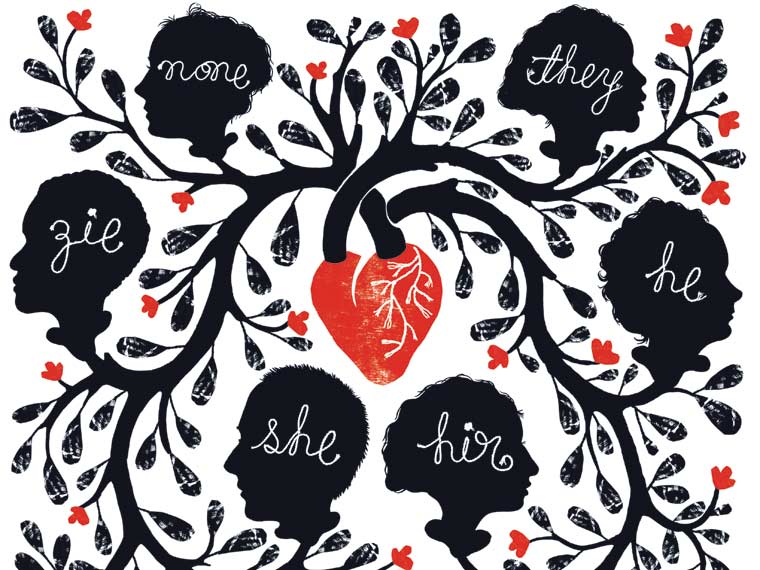 LGBTQ Outreach and Engagement Director, Harvard Medical School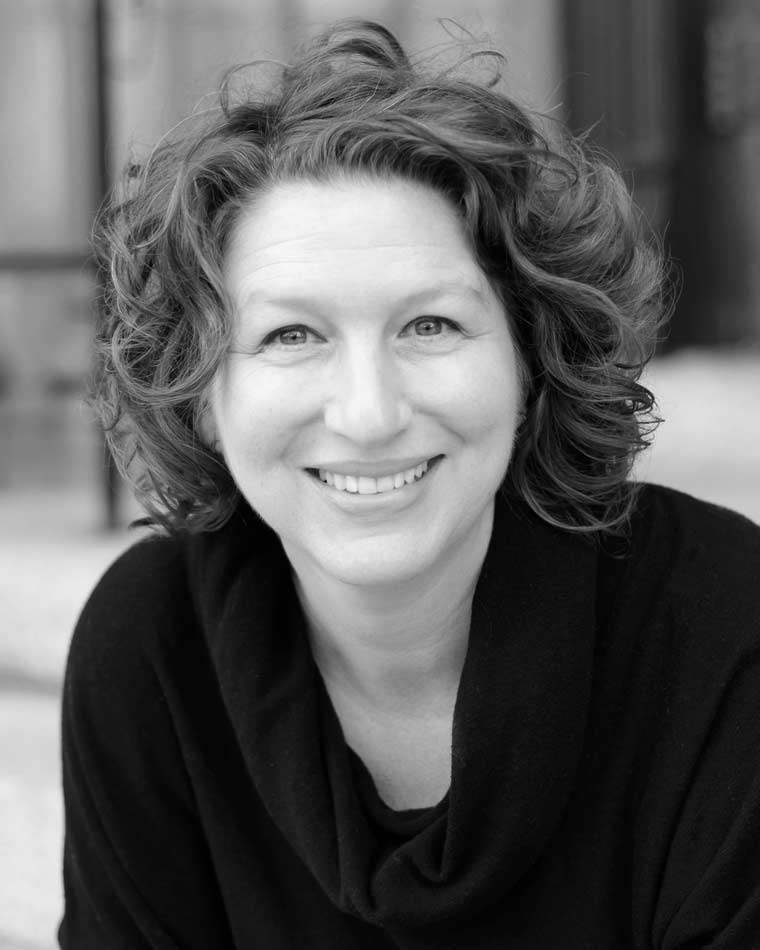 Jessica Halem '94 (pronouns she, her, hers) was a preteen when she joined her first Take Back the Night event, marching alongside women who wore pillowcases over their heads to protect their identities from abusive partners. "It was an incredible experience to be shoulder to shoulder with people who were so brave," Halem shares.
Transformed by her early activism—which included spending Saturdays during college at a women's health clinic, protecting patients seeking abortions as they entered and exited—Halem went on to build a career around protesting injustice and giving voice to those on the margins. Today, as founding LGBTQ outreach and engagement director at Harvard Medical School, she advocates for transgender patients and soon-to-be doctors who are LGBTQIA+ identified. "My lifetime activism is about the devastating effects of the patriarchy," she says, "and trans people are on the frontlines of those devastating effects."
Her work ranges from fielding phone calls from queer-identified prospective students to educating medical faculty about health disparities and barriers that trans patients face. Halem is also a nationally sought-out speaker on issues of workplace diversity and inclusion. Past clients have referred to her as "super hilarious," her humor no doubt informed by 15 years as a comedian, two of which she spent training in Chicago under Tina Fey and Amy Poehler in the early 1990s at The Second City.
Since 2014, the first-year class at Harvard Medical School has grown from 4 percent to 15 percent LGBTQIA+ under Halem's leadership, and the faculty and resident OutList (a resource promoting visibility for students, residents, and faculty) has quadrupled in size.
"I dream that when a trans person shares their story, hopes, and dreams with a nurse or PA or MD," Halem says, "that health care provider becomes their biggest advocate in their health care journey."
Psychotherapist and Board Chair, Callen-Lorde Community Health Center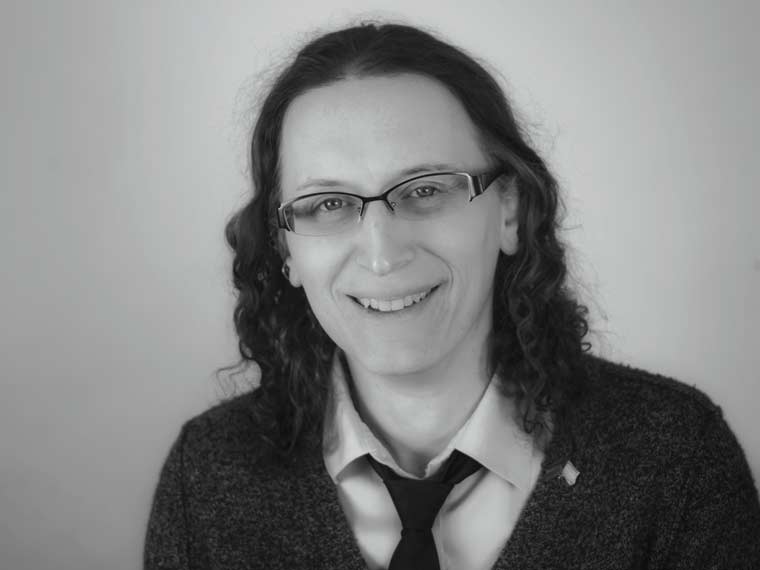 Laura A. Jacobs '05 (pronouns she, he, they, none) experienced the true meaning of "full circle" when they became board chair of Callen-Lorde Community Health Center in 2016—the first trans- and genderqueer- identified chair in the organization's history. Based in New York City, Callen-Lorde provides comprehensive health care to the LGBTQIA+ population, regardless of ability to pay. Jacobs was a student at Sarah Lawrence (returning to college in 2001 after first enrolling at a college in upstate New York in 1987) when they set up their first appointment at the center. "I had to call three times," Jacobs recalls. "The first two times I hung up, because I was so scared."
That call meant everything was about to change—Jacobs was pursuing medical intervention and deciding to transition. "It means a great deal to be at the top of an organization where I walked in one day still terrified, and to have made my way up from there."
When not providing financial oversight or strategic planning for Callen-Lorde, Jacobs is a practicing psychotherapist, with clients in Manhattan and Westchester County. "As a queer community, we can't thrive unless we're healthy," emphasizes Jacobs, who also delivers dozens of talks and lectures annually on issues of gender and sexuality.
In June, the American Association of Sexuality Educators, Counselors, and Therapists recognized Jacobs' many contributions with its Professional Standard of Excellence Award. Jacobs, who still considers their life "in progress," was surprised by the honor. "My identity and how I understand myself, my gender, and even my sexuality—it's all a process of creation." Fittingly, Jacobs' e-mail signature ends with a George Bernard Shaw quote echoing that perspective: "Life isn't about finding yourself. Life is about creating yourself."
Pediatric and Adolescent Gynecologist, Boston Children's Hospital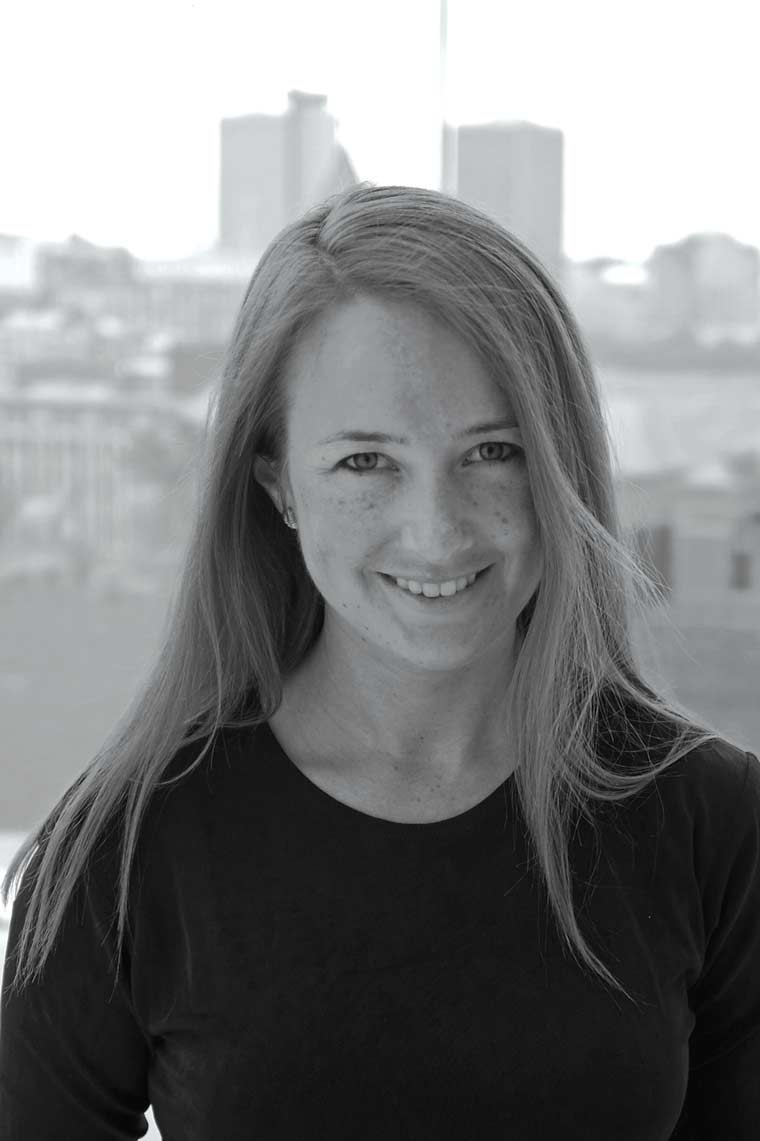 Frances Grimstad '08, MD, MS (pronouns she, her, hers) started a transgender clinic at KC CARE Health Center in Kansas City, Missouri. Yet when a colleague suggested that it be named after her, Dr. Grimstad says, she politely but firmly declined. "The clinic should be reflective of the trans people who fought and died for this work," she explains.
Born and raised in San Francisco, Dr. Grimstad came out as queer when she was 12. As a cisgender white teen, she recognized her privilege in the LGBTQ community; her trans friends faced numerous harder obstacles, especially related to health care. In high school, she declared that she would go into trans health to help dismantle these disparities.
Nearly 20 years later, Dr. Grimstad continues to honor that commitment. After medical school, she helped expand transgender services at her residency program. Then, during her fellowship, she launched the clinic at KC CARE to serve the most marginalized trans patients. Dr. Grimstad made herself available pro bono for two hours a night, expecting to see two to four patients. She ended up booked out for six months, seeing up to eight patients each evening. Today, the clinic services she founded are integrated into KC CARE's whole system, with five other doctors continuing her work.
In July 2019, Dr. Grimstad joined the faculty at Boston Children's Hospital as a pediatric and adolescent gynecologist with focuses on transgender and intersex care. Her ultimate goal: to work herself out of a job. "Eradicating the disparities in this field means the people leading this work are trans-identified," she says. "My cis voice should not be the one you're hearing."
Program Manager, Psychotherapy Center for Gender and Sexuality at the Institute for Contemporary Psychotherapy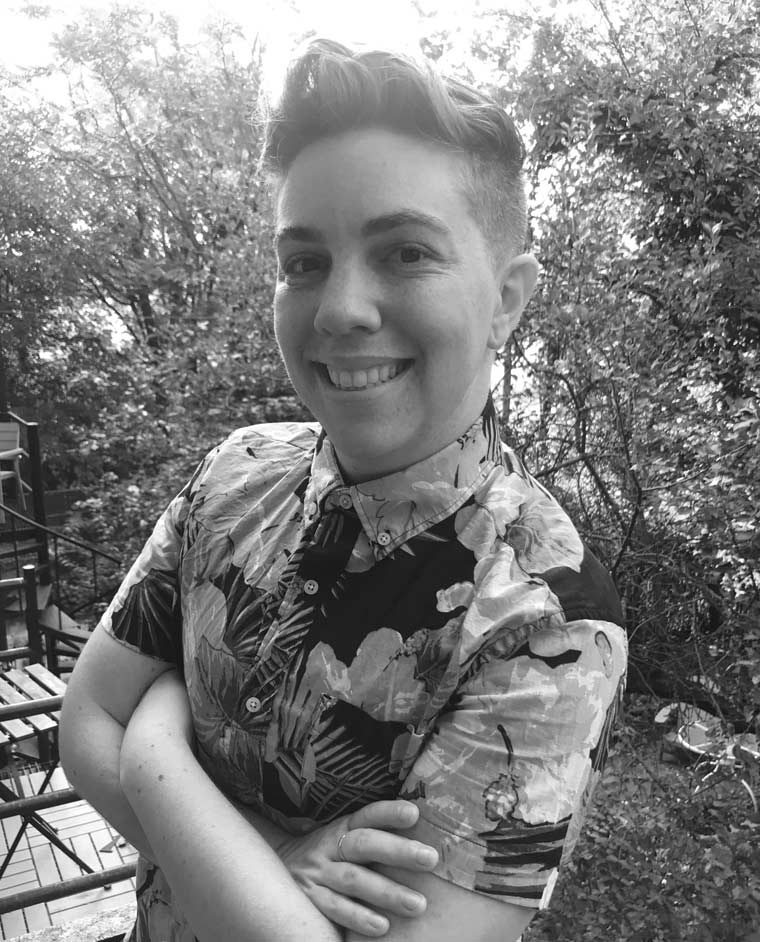 Tobin Berliner '08 (pronouns: he, him, his) arrived at Sarah Lawrence in 2004, a time when gender-neutral restrooms on college campuses were nearly nonexistent. Berliner was involved with the Queer Voice Coalition and ACT UP, and with a few friends (Jacklyn Lacey '10, Stuart Waterman '09, and Kit Golan '08, MA '09), he started TransAction, an organization for transgender and gender-variant people and their allies.
One of TransAction's first orders of business? Writing a proposal to the administration to install gender-neutral restrooms. When the group completed its presentation, Berliner recalls, "There was a moment of silence. Then they said, 'Yes, of course.' It was unanimous, and we were shocked."
Berliner's activism (which he learned from his radical Jewish grandfather) prepared him well for his first job after graduation at Callen-Lorde Community Health Center. "I worked with some of the most incredible medical providers," he says, "but I could see that the system was hampering them from doing the most good."
Berliner earned a master's degree in public health from Columbia University in 2013, specializing in queer sexual health, in the interest of tackling macro issues in trans health. He now runs the Psychotherapy Center for Gender and Sexuality at the Institute for Contemporary Psychotherapy, managing a team of 40 therapists. He also directs the Surgery Assessment Program he created in 2015 to help people pursuing gender-affirming surgery. Berliner also organizes a prominent biannual conference focused on trans issues.
"We're at a turning point," he notes. "Our cis allies have been running things. But there need to be more of us trans folks who are doing the work, who value ourselves and see ourselves as worthy of getting an education and taking these jobs. Come join the fight."
Poet and David and Ruth Gottesman Chair in English, Stern College for Women, Yeshiva University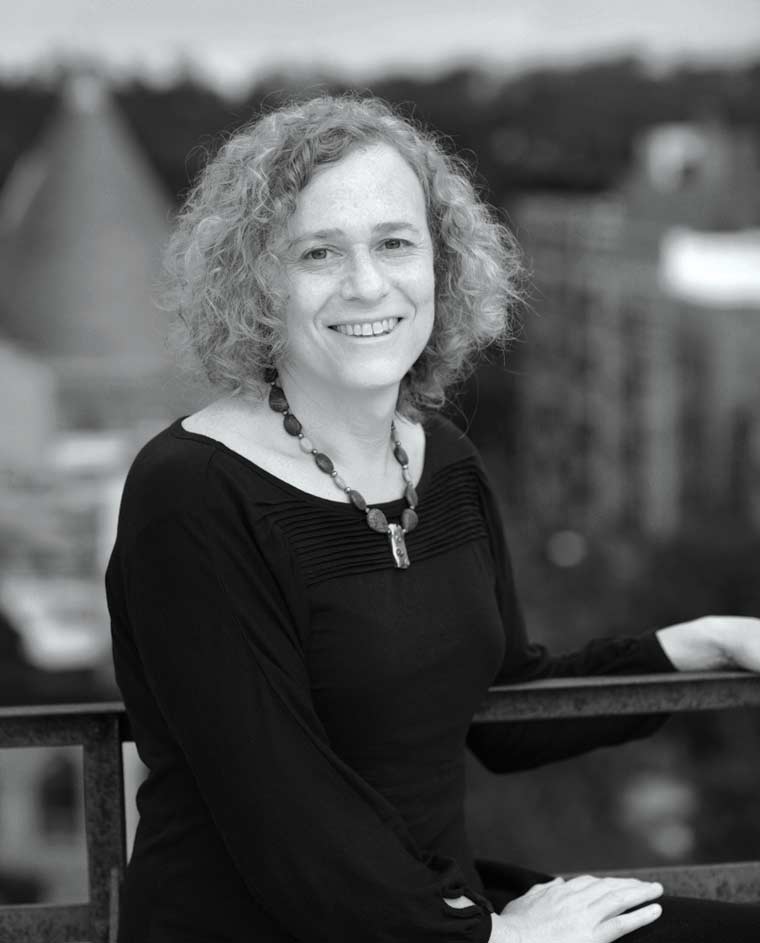 Joy Ladin '82 (pronouns she, her, hers) was in the process of her transition from Jay to Joy at the age of 46 when her therapist told her to write an autobiography. Ladin laughed. "To write an autobiography," she replied, "you have to have a self and a life, and I have neither." Nonetheless, she started writing. "It was an act of survival," Ladin explains. "When you write in the past tense, you split yourself into your past self and a future self who has survived what has happened. It was like my future self was being created as I was telling these stories." The resulting book, Through the Door of Life: A Jewish Journey Between Genders, was a finalist for a 2012 National Jewish Book Award.
Now the first openly transgender employee of an Orthodox Jewish institution and the author of nine books of poetry and The Soul of the Stranger, a book about reading the Bible from a transgender perspective, Ladin sees her work as feeding trans wellness—a broader definition of health that encompasses one's spirituality and humanity. "It's not healthy to grow up in hiding and not be able to live who you are," she says, adding that one of the greatest thrills of living as herself was that for the first time in her life, she could finally tell the truth.
Ladin believes that trans people too often are forced to define and defend their identities—reducing their selves into ill-fitting boxes. "Sarah Lawrence encouraged me not to separate things into boxes," she notes. "You can tailor yourself to fit a category, or you can say, 'I am what I am,' and expand the category to fit your humanity."