Tiffany-LaTrice Williams MA '14 believes black women artists need the same sort of support network that traditionally boosts their white colleagues. So she founded one.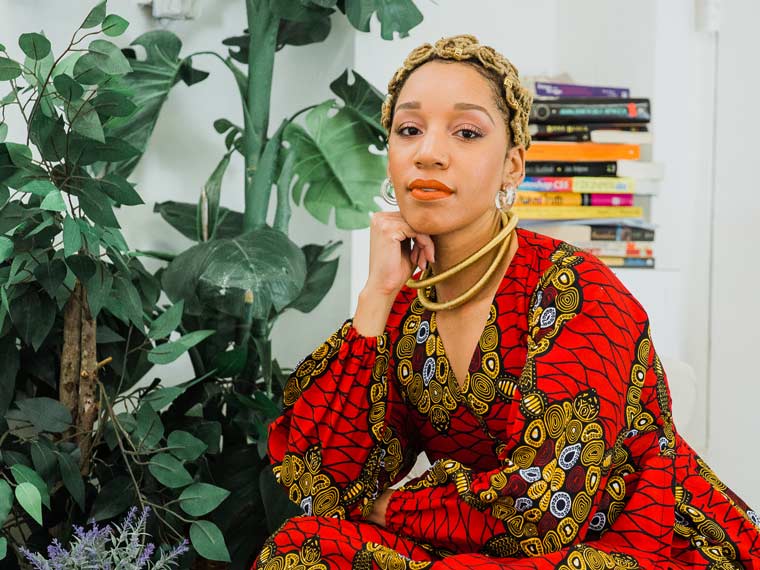 As a child growing up in Chattanooga, Tiffany-LaTrice Williams MA '14 knew there was more to being an artist than creating art. "Artists thrive when they have a space to create, opportunities to exhibit, and a network that supports their endeavors," Williams says.
Three years ago, in Atlanta, she set out to establish that space, those opportunities, and a supportive network with TILA, a groundbreaking collective for black women artists—for whom, Williams believes, relationships with one another are crucial. Of 18 major museums nationwide, 85 percent of artwork in their collections was done by white artists and 87 percent by men, but only 4 percent by black women, according to a 2019 study by statisticians and art historians at Williams College. The numbers reflect a difficult path to success for black women artists, who often lack sufficient connections, insider knowledge, and resources.
The concept for TILA—a mashup of Tiffany and LaTrice—came to Williams in middle school, when she took part in a program for girls who aspired to entrepreneurship. Her idea for a visual arts center won first place. "I was creative," she remembers, "but I've also always been curious about people and how they interact and build relationships."
"I've always been curious about people and how they interact and build relationships."
The importance of those relationships was affirmed for Williams years later, when she quit her recruiting job at NBC Universal and moved to rural Georgia to immerse herself in producing art, a lifelong passion. When her work began to sell, she applied to Yale and other programs with the goal of earning her MFA and furthering her career. "I was looking at the women artists I admired and encountered at exhibitions," she says. "They went to art school and got a residency and a studio practice. I thought, This is how you're successful."
When her applications were rejected, and many galleries showed no interest, she was deeply discouraged. But she also began to recognize that for white women artists, the course to success began earlier in life, with a network of support and shared opportunities, while black women artists were often left to chart their course alone. "Most of the artists in TILA have never been to art school," Williams says. "They're self-taught or came to art as an act of resistance or self-discovery."
She credits Sarah Lawrence with empowering her to find and pursue her mission. After graduating from the University of Southern California, Williams earned her master's degree at Sarah Lawrence in the Women's History Program, where graduate students are encouraged to search for women's untold stories. Williams focused on 19th-century artist Meta Warrick Fuller, whose friendships with other black women nurtured her career. "The way the program is crafted is for you to always have a revisionist approach to history and storytelling, to ask, Where are the holes, who is not at the table, and how do we get them to the table?" she recounts. "TILA was in my thesis, and my relationships at Sarah Lawrence birthed who I am today."
Williams says the most gratifying part of her TILA experience has been seeing artists gain the kind of self-assurance that can be a given for white artists. "Getting the confidence to know that we are valued is a big step," she says. "I remember one woman who cried after she exhibited her work and sold it. She said, 'I didn't think anyone wanted it. I didn't know anyone saw worth in my art.' Just getting them to see that people will pay ignites something in them."