In collaboration with like-minded colleagues, Jana de Peyer '70 has led a revolution in the animal protection movement.
As she tells her improbable story, Jana de Peyer '70 is looking out on Angel Canyon, in southern Utah, where she's lived roughly half her life. The white cliffs that ring the canyon comprise the first steps in the Grand Staircase, a 150-mile expanse of striated sedimentary rock deposited, over a period of 275 million years, in what was once a warm, shallow ocean. De Peyer has only been here for three and a half decades, but in that span— minuscule in geologic terms—she and a determined group of fellow animal lovers have moved mountains.
De Peyer, née Leonore Feldman, is one of the founders of Best Friends Animal Society®, the national rescue organization that, for more than 30 years, has been the flagship of the no-kill movement. The group's motto is "Save Them All," referring to the 5 million-plus companion animals—mostly dogs, cats, and rabbits, but also farm and wild animals—that find their way into the nation's shelters each year, and its stated mission is "No More Homeless Pets." When Best Friends was founded in the late 1980s, an estimated 17 million animals were being euthanized in US shelters annually. Today, thanks largely to the efforts of de Peyer and her colleagues, that number has dwindled to fewer than 800,000. "At the core of Best Friends' work," says de Peyer, "is the dream that one day animals will no longer be killed in the nation's shelters."
De Peyer's career choice would have seemed unlikely at best when she was growing up in a New York City apartment. She loved animals as a young girl, but her apartment building enforced a no-pets policy. "I was desperate to get a dog or a cat," de Peyer says, "but couldn't until I'd left home and started gathering up animals for my own."
Gathering is an apt term coming from someone who would end up living among thousands of animals. Yet, as an undergrad at Sarah Lawrence, de Peyer never contemplated a career in animal welfare. She focused on painting, then filmmaking and psychophysiology, the study of the physical basis of psychological processes. "She could've done anything," says Best Friends CEO Julie Castle. "Instead, she's devoted her life to making the world a better place for companion animals." And as de Peyer notes, her experiences at Sarah Lawrence proved to be ideal preparation for a life that would require collaboration, the shaping of a shared vision, and the creativity to build something new—not just to her, but also to the entire field of animal rescue.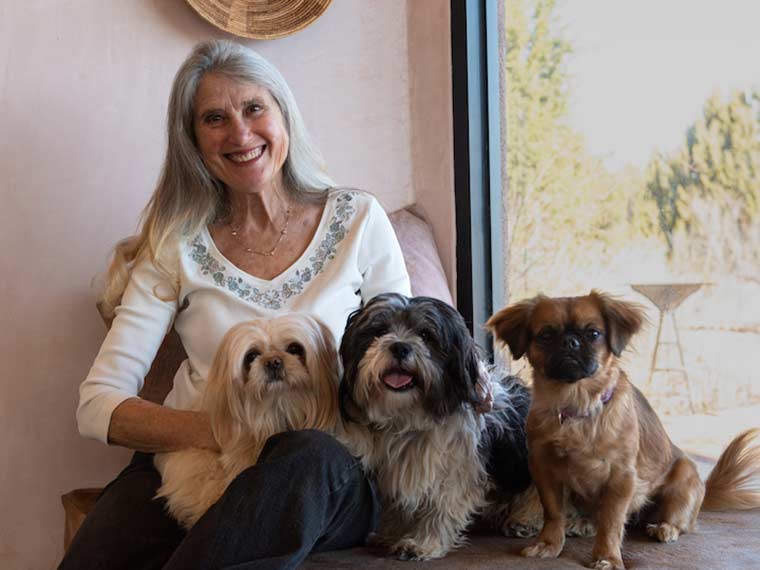 Her unexpected journey began in 1970, when she met many of the people who would become co-founders of Best Friends at a coffee shop in London, where she was attending film school. They were, she says, "spiritual seekers," and they impressed her so deeply that she decided to drop out of film school and join them. Kindness to animals was one of the animating principles of their spiritual philosophy, so when someone suggested getting a tract of land where they could live together and take in animals, it seemed like a perfectly natural idea.
They started at a ranch in Arizona, where they offered shelter to stray dogs, retired Grand Canyon burros, and other homeless animals. When the site proved too small, they sold it and purchased 3,300 acres near Zion National Park, leasing 30,000 more acres from the US Bureau of Land Management (today, the lease covers 17,000 acres). There was only one stumbling block: The land was completely wild, without buildings or utilities, and among de Peyer's collaborators there was not a carpenter, electrician, or plumber. (Fortunately, there were three architects.) Their dearth of experience with animal rescue actually worked in their favor, as it did the creatures in their care. "We just did the things that made sense to us," de Peyer says, "and killing animals to save them made no sense at all."
"We just did the things that made sense to us, and killing animals to save them made no sense at all."
At the time, euthanasia was considered a sad but inevitable recourse for the millions of shelter animals that couldn't be adopted, and many in the animal rescue community dismissed the no-kill approach as unrealistic. "They told me I was crazy," de Peyer says, "and that it was wrong to bring false hope to people that it could be possible." In proving otherwise, Best Friends changed a long-accepted paradigm. The organization broke from the crowd in other crucial ways: consistently broadcasting an optimistic message and using positive images in promotional literature rather than trying to guilt supporters into contributing with photographs of suffering animals. And it launched campaigns to spay and neuter feral cats and to end legal discrimination against breeds like pit bulls.
Changing the course, and the mindset, of an entire movement was a major challenge requiring creative solutions. Luckily, at Sarah Lawrence de Peyer learned how to build something virtually out of nothing save the ingenuity of other creative souls. (Want to study neurophysiology and the psychology of thought and watch a film about the nervous system? Do as de Peyer did, with the help of another student and three professors: Create the course and make the film.) She took on the job of fundraising for Best Friends with equal aplomb, in spite of her utter lack of experience, founding the organization's first major gifts program with nothing more under her belt than a single workshop and a long conversation at her 35th Sarah Lawrence reunion with a member of the advancement staff. "It was definitely seat-of-the-pants stuff," de Peyer says.
Her knack for improvisational invention has served her well. Faith Maloney, a co-founder, teaches a workshop with de Peyer called How to Start and Run an Animal Sanctuary. When they were creating it, Maloney was astonished by her colleague's ability to figure out how to convey a vast amount of information in a very short time. "She can see angles that other people just don't," Maloney says. And, she adds, de Peyer is a natural at building relationships, an ability that helped her attract long-term donors.
Today, Best Friends brings in more than $100 million annually, shelters some 1,600 animals at the original Utah site, and rescues thousands more in Salt Lake City, Atlanta, Los Angeles, and New York City. The organization partners with more than 2,700 animal welfare groups nationwide to rescue and advocate for animals and promote its goal of a no-kill nation by 2025. But de Peyer considers Best Friends' biggest achievement to be "changing people's views on how animals should be treated and the millions of lives that have been saved because of that."
"When people can group together with similar mind and heart and intention, then things change."
She has no plans to leave the canyon, or the community, where 20 of the 27 original founding members still live (12 of them remain active in the organization). Her first husband, a co-founder, died in 2003, and she now lives with her second husband, Tim Clarke, the organization's senior manager of capital projects, along with three small rescue dogs. In fact, community is, and always has been, at the heart of what makes Best Friends work. "When people can group together with similar mind and heart and intention," de Peyer says, "then things change."
What hasn't changed is what she describes as the "moral compass" that inspired the founding of Best Friends and the spiritual calling she responded to so many years ago. "I believe a life of service is the only thing that's meaningful," she says. She's unlikely to stop serving anytime soon. "As long as there are animals still dying needlessly in shelters," she says, "I'm not going to be finished, and neither is Best Friends."
For more information, visit: bestfriends.org.