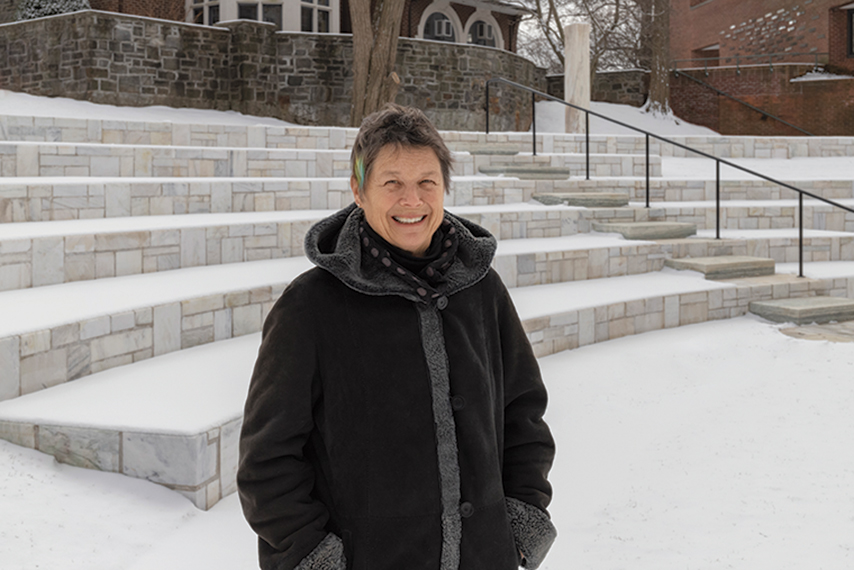 In October 2017, Josephine "Josie" Merck '69 heard distressing news. New owners of the beloved, open-air O'Neil Amphitheater in Cos Cob, Connecticut, had decided to demolish it by the end of the year.
Listed on the Connecticut State Register of Historic Places, the hybrid Greek-Celtic style amphitheater was built by hand in the 1930s by architect and sculptor Horton O'Neil in honor of his poet father, David. Originally designed as a place to entertain family and friends, the elegant venue soon became a treasured gathering space for performances by the Greenwich Academy, the José Limón Dance Company, and the Moving Arts Collaborative, an improvisational dance group co-founded by Jane Milliken-Roberts '59. A young Jane Fonda once did a reading there.
To locals like Merck, who consider the structure a work of art, the prospect of this magical place being razed was unthinkable. Merck and her late husband, James Stevenson, shared fond memories of watching costumed second-graders enacting Greek mythology on the stage. "Imagine the luck of living near such a place," Merck says.
Soon after learning the cultural artifact was in peril, an idea sparked: Sarah Lawrence would be the perfect home for the amphitheater. Little did Merck realize then just how perfect: Five members of the O'Neil family had attended Sarah Lawrence.
Inspired, Merck made a generous donation to cover relocation, restoration, and reconstruction, and in early 2018 the company that restored the Temple of Dendur at the Metropolitan Museum of Art began removing, cataloguing, and cleaning approximately 2,000 pieces of marble. The artisans at A. Ottavino Corporation then transported the stones to campus for reassembly, completing their meticulous work in December. (View construction photos)
Merck is thrilled by the excitement with which the College community and local residents have welcomed the amphitheater, now renamed The Remy Theatre. "They appreciate this labor of love," Merck says. "It's exactly what I'd hoped for."