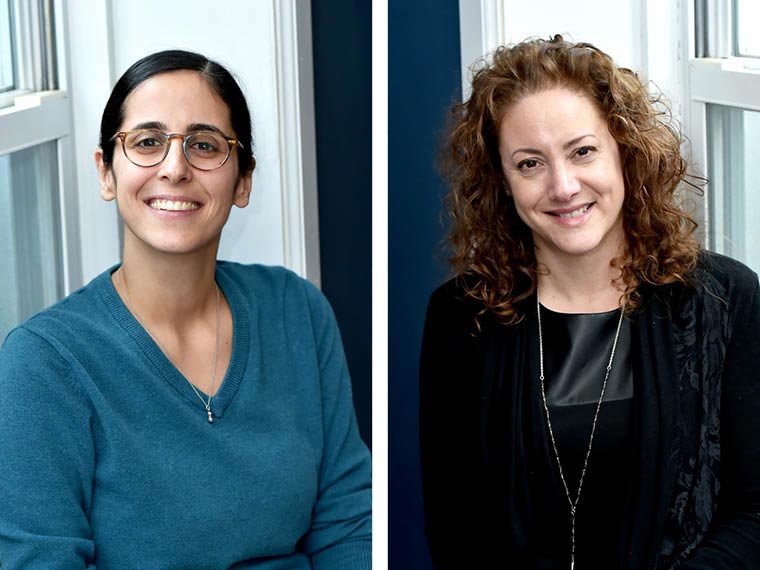 Patricia Goldman, the College's new vice president for advancement and external affairs (above, right), sits down with Dania Abu-Shaheen '04, director of alumni relations (above, left), to discuss the "Sarah Lawrence story" and how best to tell it.
Dania: You're thinking a lot about ways to communicate the essence of Sarah Lawrence. Now that you've met many of our students, alumni, parents, faculty, and staff, what insights about our community really stand out for you?
Patty: In talking with people over the past few months, I've heard a common thread about the Sarah Lawrence experience—that it's transformative. A lot of alumni I've spoken with have reflected on what the pedagogy did for them, what the depth of knowledge they gained here has done for them. And how relationships with their mentors here really carry through their adult and professional lives.
Dania: Sarah Lawrence alumni can pick out a fellow alum in any room, anywhere. Why do you think that is?
Patty: I think alumni spot the other person in the room who's thinking on a deeper level, who's prepared, and who's done the work to be able to have an intellectual discourse on a subject. I think there's also a sense of openness and a willingness to engage with people who may or may not be different. Often, there's also that "surprise" about someone that is so common among Sarah Lawrence people. Someone will be talking about what they do professionally, and then add in, "I also have a rare frog collection," or "I also sing in a cabaret," or "I'm also a Victorian literature expert." Those "alsos" are so Sarah Lawrence.
Being inquisitive, eager to go deep into a subject, and able to formulate intelligent questions … That's "so Sarah Lawrence."

—Patricia

 Goldman, Vice President, Advancement and External Affairs
Dania: "That's so Sarah Lawrence" is something we hear a lot in the SLC community. What does that mean to you?
Patty: I love that phrase, because it reflects the fact that we know who we are—creative thinkers, lifelong learners, innovative doers. From a pedagogical perspective, there's something very specific about "being" Sarah Lawrence; we all know what that is. Then there's that element of surprise we just talked about. Most of all, there's the way multiple interests and passions intersect in Sarah Lawrence people. Because you have the opportunity to explore here, and you don't get pigeonholed into a very specific area, you're allowed to be an athlete and a poet, or a mathematician and a dancer. That, to me, is what it means to be SO Sarah Lawrence. Having extraordinary yet accessible faculty is also so Sarah Lawrence. It's an experience, not just a place. That's something understood by our internal community, and something I'd like the rest of the world to understand too. It's my job to tell that story to as many people as possible.
Dania: What can alumni do to help tell our story?
Patty: The best thing alumni can do is be evangelists—tell the Sarah Lawrence story in the context of their own biographies. Talk to younger people about the College and share what an SLC education did for them. Continue to be part of the Sarah Lawrence community and be engaged with the College. Participate in events and support fellow alums. Pull up the next generation of graduates with internships, mentoring, or networking. Of course, donating is incredibly helpful, because it helps us fund scholarships for students and support faculty work. More than anything, just continue to participate in the life of the College and convey passion for Sarah Lawrence to the rest of the world.