Dance by the Numbers
Mathematics faculty member Philip Ording's First-Year Studies course enables students such as Jace Weyant '22 to connect their interdisciplinary passions—in Weyant's case, dance and mathematics.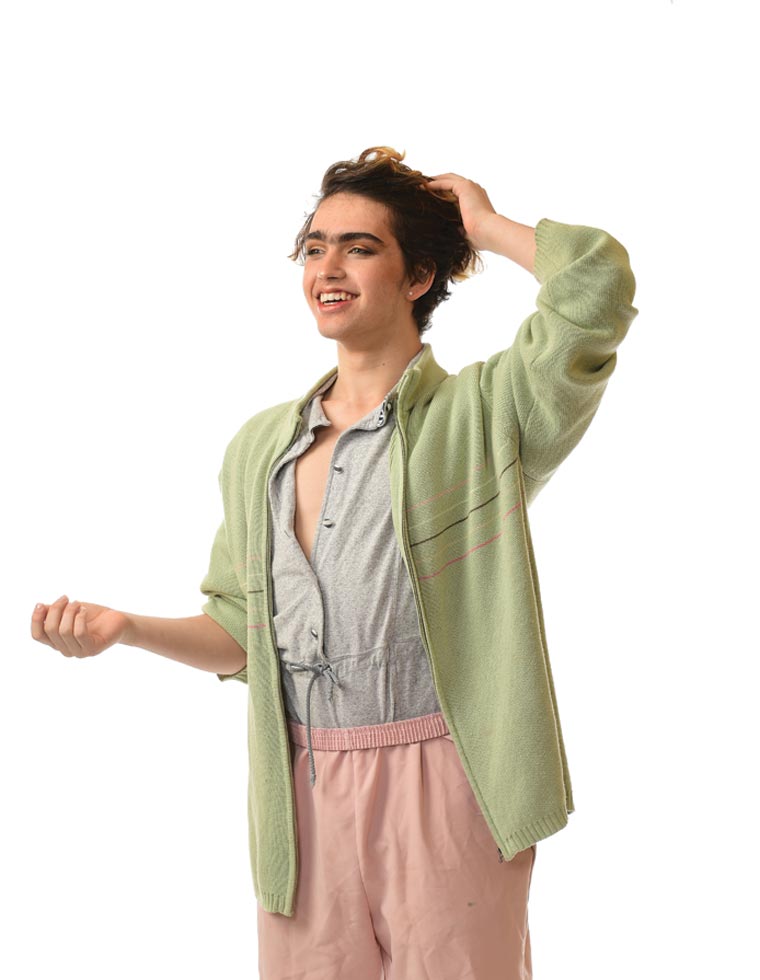 If Jace Weyant '22 had envisioned the perfect college class, an interdisciplinary course called "The New Elements: Mathematics and the Arts," in which he could explore seemingly opposite interests, might have been just what he pictured.
Before he arrived at Sarah Lawrence last fall from North Carolina, Weyant had already used calculus, trigonometry, and non-Euclidian geometry to choreograph a four-person dance—and captured the whole process in an eight-minute video he submitted with his college application. He'd also e-mailed Philip Ording (mathematics), the seminar's creator, who suggested a list of readings. And as a National YoungArts Presidential Scholar in choreography, he had met, danced for, and admired John Jasperse '85, director of the Sarah Lawrence dance program—a key factor in his decision to enroll at SLC.
So when Weyant began his first college year, he signed up for the seminar—in fact, he planned the rest of his schedule around it—and Ording became his don.
Math and dance have long been Weyant's passions. But at first, he says, "I wasn't quite sure how I wanted to connect the two. After being in Philip's class, I wouldn't be able to not think about structure and pattern and form in dance."
The First-Year Studies course includes readings, discussions, art museum field trips, visits by guest mathematicians, and, of course, a conference project. Ording's seminar has exposed Weyant to a wide sphere of artists—including visual artists, such as Sol LeWitt and Piet Mondrian, who used mathematics in their work—and the choreographer Trisha Brown, who once created a piece in which the dancer moves within an imaginary but geometrically precise cube. Letters—also imaginary—are assigned to points on the cube, and the dancer's gestures spell out words.
"It's very hard to remove any idea of math from dance," Weyant notes. Dancers, he explains, are always pondering pattern, structure, and order. "It doesn't have to do with numbers, but it's math."
For his conference project, Weyant is studying contemporary ballet choreographer William Forsythe and Improvisation Technologies, an online series Forsythe created that demonstrates his geometry-based approach to movement. "Without thinking about mathematics, you're relying on your instinct while dancing," Weyant says. "When you start to think about pattern and form and an internal structure—that's choreography."
Last year Weyant was one of only four students nationwide to be nominated as both a Presidential Scholar and a Presidential Scholar in the Arts. As part of the arts program, he collaborated on a multimedia project he and the other students performed at the Kennedy Center in Washington, DC.
After four years at an arts conservatory, Weyant looked to Sarah Lawrence to give him the broader liberal arts education he was eager for—as well as a rich, "non-traditional" dance experience. In addition to dance and the first-year seminar, he's taken a physics course, a subject that also reflected his interdisciplinary interests: For his conference topic, he chose to pursue an "experimental analysis of momentum conservation in a grand pirouette."