Sahra Motalebi's artistic output encompasses disciplines from sculpture to vocal composition to scenographic installation (and lots more). Her newest work? An "open-form opera" about online communications with her Iranian half-sister.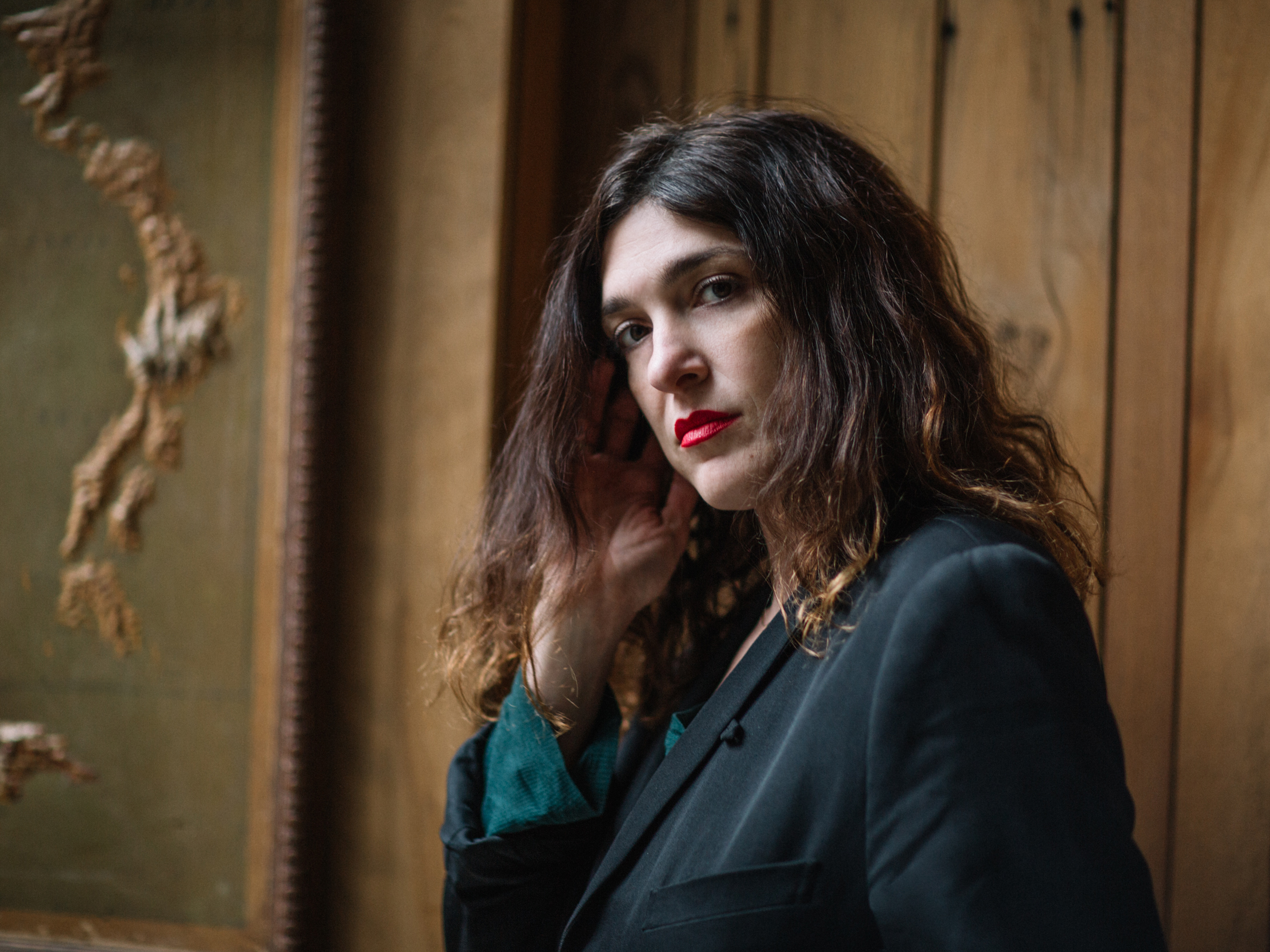 Sahra Motalebi '99 is a Swiss Army knife of artistic virtuosity. A visual artist, composer, vocalist, writer, and producer, she taps the full breadth of her formidable skillset in her performance-exhibition work, a rich mix of avant-garde opera, scenographic installation, vocal composition, recordings, painting, sculpture, photography, video, and text.
You can see how all these disparate elements come together and inform one another in a work like Sounds from Untitled Skies. The 40-minute series of one-acts debuted at the Crowley Theater in Marfa, Texas (a video of that performance is posted on YouTube), then moved to Hydra, Greece, before coming to The Kitchen in New York City. In the final scene, titled "Diorama," Motalebi stands at a microphone on the darkened stage, dressed in black. The geometric shapes projected on the screen behind her resemble towers or tents. The musical component features a poem by Quinn Latimer '00, "Diorama" (from her book of poems, Rumored Animals), and a recording of a cello that has been digitally distorted. The libretto uses no rhyming or chorus.
Inside my chest

an animal pawing relentlessly

not the heaviness

but the terrible accuracy

of its hooves
With multidisciplinary art, the whole is meant to be greater than the sum of its parts, which is a tall order for someone whose voice is as unusually ethereal as Motalebi's. Powerful, penetrating, and at times primordial, it has a way of jangling things loose deep inside you. "There's something about the way she uses her voice that transcends language," says performance artist and longtime friend Seung-Min Lee. Yet as works like Untitled Skies demonstrate, Motalebi's voice is just one of many brushes in her crowded water jar.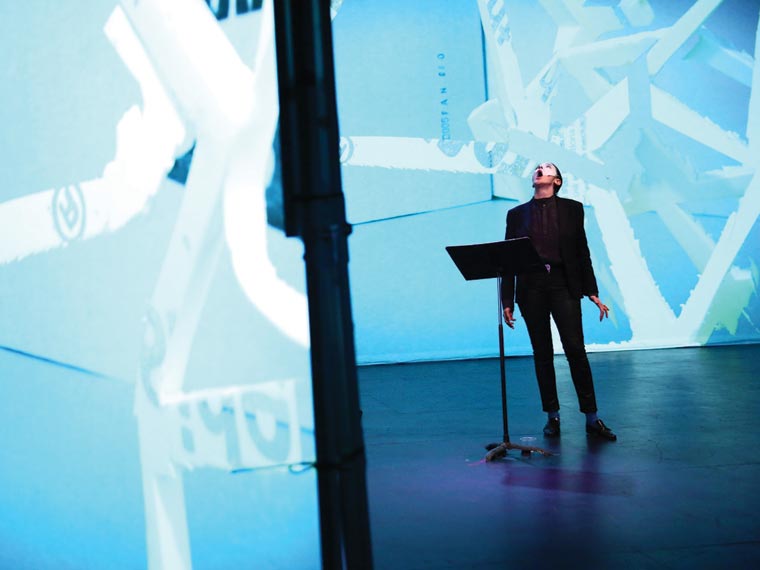 "She can do anything," marvels Lee, who hastens to add that Motalebi is also the person her friends go to when they need car advice, financial guidance, or someone to edit their manuscripts. (It's so handy to have a Renaissance woman on speed dial!) "She's one of the most impressively ambitious and accomplished people I've ever known."
Raised by her mother, a software engineer, in a suburb of Dallas, Motalebi (whose father lives in Iran) took classical voice lessons starting in middle school and sang in a prestigious girls' chorus. As a teen, she idolized genuine divas like Jessye Norman, as opposed to the Mariah Carey types who were all the rage in the early '90s. But she knew at a young age that a conventional singing career was not for her.
"I was really artistically inclined, and there was never any question I would be doing something with that," Motalebi says in a phone interview from her home in upstate New York, a 19th-century eyesore she bought a few years ago and is now (you guessed it) renovating herself.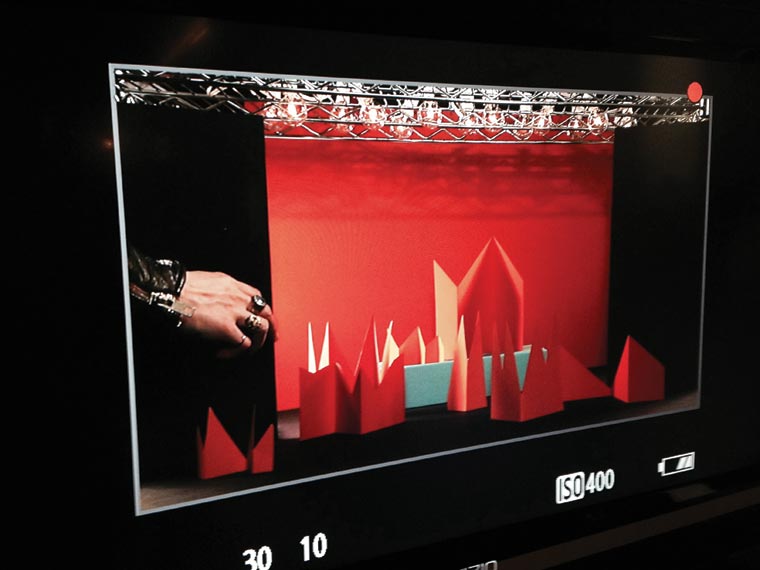 The question was, what would that "something" be? Motalebi took her time figuring that out, believing that if she kept pursuing her passions, all these artistic and intellectual threads of hers would eventually weave themselves together. "I was always like, 'I'm going to explore everything, even different disciplines, and cultivate multiple proficiencies in an extreme way," she explained in an interview with The Creative Independent website last year, "because I don't need to follow anyone's idea of what makes a great artist, and because I can.'"
"I'm going to explore everything, even different disciplines, and cultivate multiple proficiencies in an extreme way."
At Sarah Lawrence, Motalebi found a college that champions such independent-mindedness. She studied classical vocal performance, architecture, and art, and scored a studio on the top floor of Bates where she liked to paint. "I think Sarah Lawrence gave me that curiosity, but also the room and space to sort of develop those disciplines independently of one another," she says. "It encouraged interdisciplinarity."
After graduating, Motalebi enrolled in the Master of Architecture program at Columbia University. (Her interest in architecture is rooted in her love of opera. Specifically, she wanted to explore how staging and the physical design of the theatre itself shape the performance.) At Columbia, the basis of her artistic work began to coalesce around an exploration of how architecture, music, and performance interrelate with one another. In fact, her early work—scenographic paintings and drawings based on fantastical opera sets and albums of art songs—drew enough interest from New York galleries and performance spaces that she decided to withdraw from Columbia to focus on her art career. "I didn't see myself sitting in an office in Tribeca designing skyscrapers," she says.
As a teenager, Motalebi was often asked what she hoped to do with her vocal talent. "I want to create pictures with sound," she'd say, and that's exactly what she's wound up doing, using music, poetry, prose, and abstract art to construct elaborate sensory spaces that envelop her audiences in sound and imagery. "For whatever reason," she told The Creative Independent, "within conventional notions of creativity, success seems to be measured by degree of specialization. There's this skepticism around the idea of, 'Can this dancer also be a sculptor?'"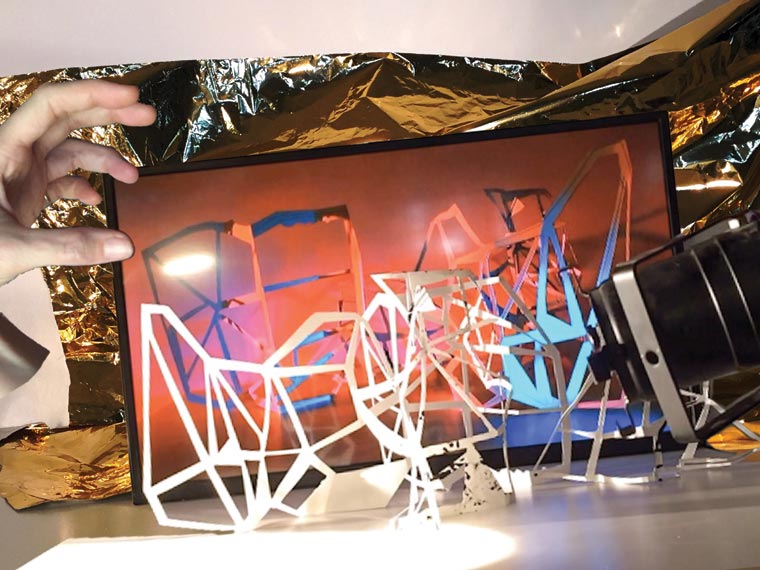 Motalebi often performs in the round, blurring the boundary between artist and viewer, allowing her audiences, she says, "to step inside of a performance." For Motalebi, the effect of using multimedia provides multiple entry points for her audience—and comes closer to the way we experience life and interact online.
The irony is that while she relies heavily on digital technology, she sees a very "analog" aspect to her work. The architectural stage sets she creates, for example, frequently start as handmade small-scale models, or maquettes. They often consist of abstract sculptures she fashions from bits of paper, plastic foam, glitter, sugar, salt, cardboard, kitty litter, and other ephemera, a technique she says speaks to "the poetics of disposability." Motalebi photographs or films these sets, then projects those images onto a screen during her performances, making them appear more substantial than they really are.
There's no telling where Motalebi's next idea will come from. It might be a melody, a turn of phrase, an image she comes across online, or an idea from the historical fiction she enjoys reading that prompts her to start jotting down her thoughts on a yellow legal pad. "My eyes and ears are always open," she says.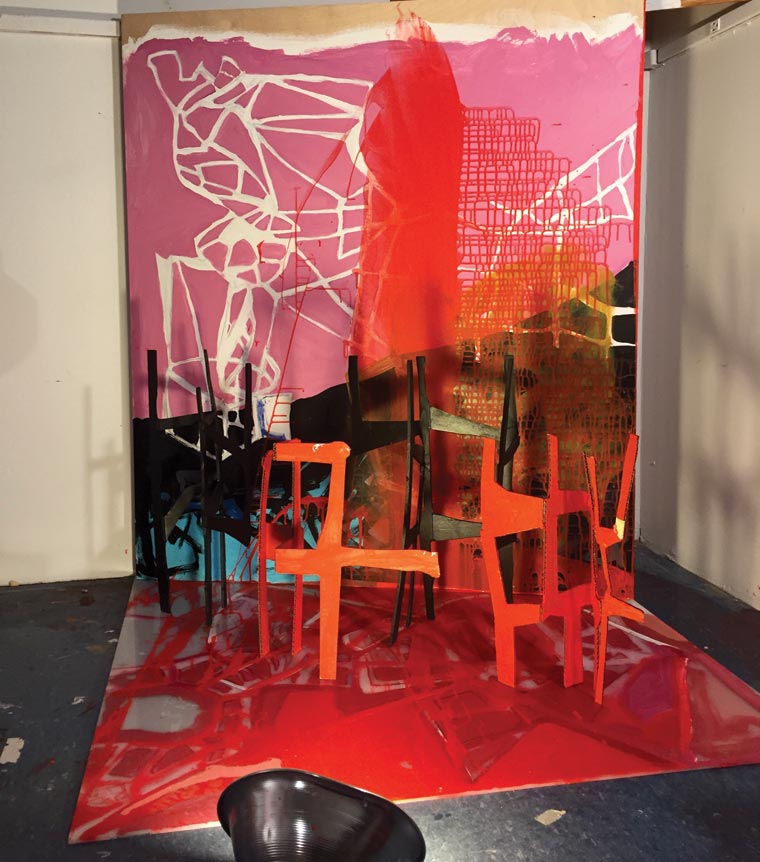 This is what happened in 2015 when Motalebi's younger half-sister, a conservative Muslim English teacher in Iran, reached out to her, out of the blue, through Instagram. At the time, Motalebi had been mulling the idea of exploring the relationship between two sisters. With her half-sister's knowledge, their online exchanges became the basis for perhaps Motalebi's most ambitious work yet, titled Directory of Portrayals (from Rending What Remains), which Motalebi describes as an evolving, multiyear "open-form opera." Motalebi plays herself, her half-sister, an interrupting stage director, and the opera's chorus.
In the interview with The Creative Independent, Motalebi explained that Directory has become a storehouse for "dramaturgical imperatives, texts, and all these things that would normally feel very disparate: a book, paintings, drawings, schema, models. But while the architecture of it was constantly shifting, the premise has stayed the same, which was that I was having this online relationship with a family member I've never met who lives in a decidedly different place."
Motalebi is currently working on the piece's eighth and, she says, final iteration, which will draw from the experience of meeting her half-sister face to face in 2018 in Istanbul. Rest assured it will be complex, surprising, unconventional, and unapologetically impossible to label, pigeonhole, or even adequately describe in a few words. Just like its creator.