As an actor, Gabrielle Carteris '83 took a star turn before she hit 30. But in the years since, she's employed a multitude of other skills to emerge as Hollywood's most high-profile labor leader.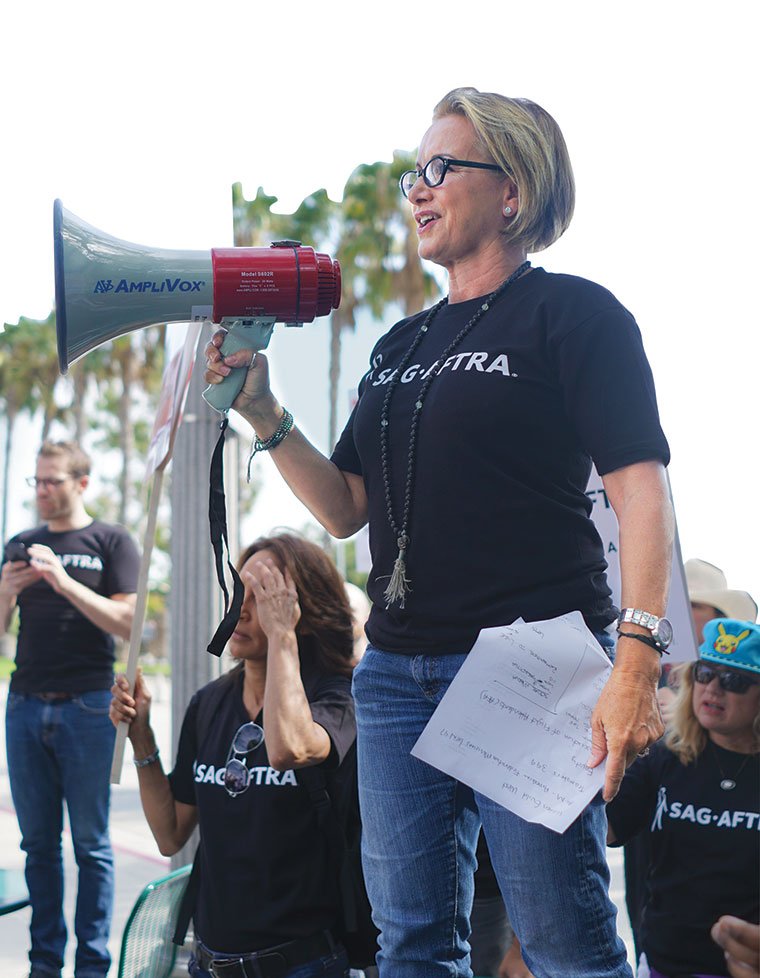 When Gabrielle Carteris '83 was a senior at Sarah Lawrence, a professor asked her the kind of question meant to help wary yet hopeful students navigate the uncharted territory that lurks on the other side of commencement: Where do you see yourself in a year?
Carteris had studied ballet while growing up in Northern California—until her teacher told her she would never be tall enough to be a ballerina—and had traveled through Europe with a mime troupe while in high school. But what she wanted to be more than anything else was an actor. She had enrolled at Sarah Lawrence, the only school she applied to, because of its highly regarded theatre program and its proximity to New York; had spent her junior year in London at the Royal Academy of Dramatic Art; and had just played Hermia in a campus production of Shakespeare's A Midsummer Night's Dream.
So when asked about career plans, Carteris didn't hesitate. "I want to have a TV series," she told her skeptical professor.
It took more than a year, but by 1990—after scrambling her way through a variety of jobs in the entertainment industry—Carteris had become Andrea Zuckerman, the smart girl with glasses who edited the school newspaper in the hit TV show Beverly Hills, 90210. The role made her famous and opened up other roles in TV and films, until a workplace accident inspired her to take on a new role that paralleled her acting career: union activist. Today Carteris is the president of the Screen Actors Guild-American Federation of Television and Radio Artists (SAG-AFTRA), the union that represents 160,000 people who work in every branch of media—film actors, recording artists, broadcasters, video game voiceover artists. Essentially, anyone in front of a camera or behind a mic.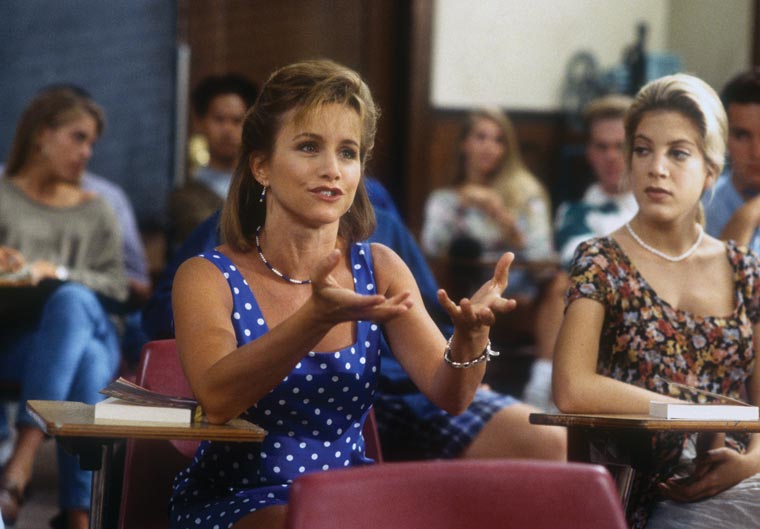 It has been a twisty, sometimes bumpy road, from theatre student to TV star to union leader, and as she steered her way she drew on some lessons she learned at Sarah Lawrence about how to chart your own course. "I always say to people that I try to live in the world of yes," she emphasizes. "I think that everything is an opportunity, and it's worthwhile to explore it even though it might not be the destination I want to go toward."
Early opportunities weren't glamorous: receptionist at a casting agency; production assistant; food stylist for photo shoots. Some agents even belittled her looks, but a wise one took her on as a client. She landed a TV commercial (Dawn dishwashing liquid) and a spot as an extra on a soap opera (Another World) that turned into a recurring role. "I've always been pretty open. 'Sure, I'll try that, I'll do this.' I think that has worked well for me," she says. "I always made sure I had a job, that I was making money, so that I was never desperate. And I would try to do jobs that reflected parts of the industry I wanted to learn about."
Carteris also did regional theatre and tried to crack Los Angeles, sleeping on a friend's floor during the casting season for TV pilots. She was offered nothing, so she returned to New York and more regional theatre, then went back to LA for another pilot season. The big door finally opened: At 29, she was cast as a teenager in one of the signature TV shows of the 1990s. It was a dizzying ride, as she told Sarah Lawrence seniors at a preprofessional conference last fall: "I ate with royalty; I flew on private jets; I was mobbed in every country we visited."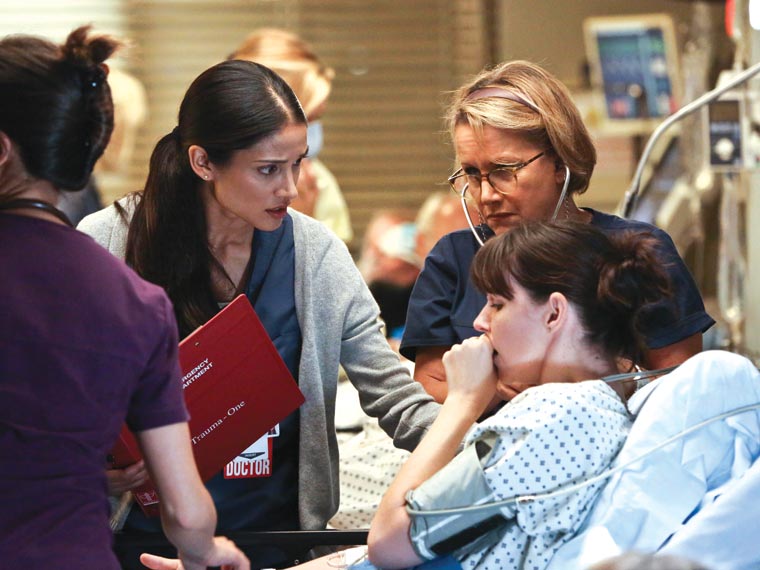 Yet Carteris left Beverly Hills, 90210 halfway through its 10-year run, opting to trade all that glitter and glam for her own TV talk show, Gabrielle. After the show ended, she worked steadily in television and films until she was sidelined in 2006 by an injury incurred on a movie shoot in Vancouver. At just under 5-foot-1, Carteris was rehearsing a fight scene with a 6-foot-5 man who held her in a chokehold, repeatedly dragging her down stairs. She felt something go very wrong, and discovered her face was partially paralyzed. With nerve damage, she was now subject to face and neck spasms. Unable to work for several years, she gained a new appreciation for something she hadn't much thought about before: the support, insurance, and protection provided by her union.
"That was a pivotal moment for me," she says. "It became clear to me that there is always strength in numbers."
When Carteris returned to acting, she volunteered with the union, too, and rose up its leadership ranks. A national board member of both SAG and AFTRA, she was elected executive vice president of the new union after the organizations merged in 2012. She was in New York in 2016, negotiating an industry-wide contract for performers in commercials, when she got a call that the union president—Ken Howard, who had been her ally in pressing for the merger—had died. She was elected to succeed him as president two weeks later.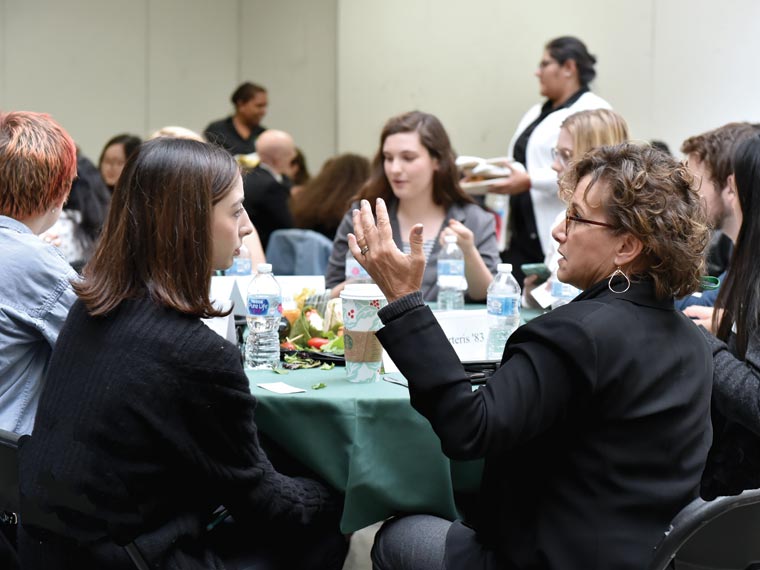 In her role as union leader, Carteris has not exactly played the part of Shrinking Violet. In January she led a rally of nearly 1,000 union members against a West Hollywood ad agency that SAG-AFTRA claims had reneged on a union contract. (The union has been on strike against the agency since September.) Carteris has walked picket lines, called on policymakers in Washington, and testified before the California State Senate in support of what is known as the "IMDb law," which is aimed at curbing age discrimination in the entertainment industry by requiring the removal of birthdates from IMDb records upon request. "IMDb didn't exist when I auditioned for 90210," Carteris says about the ubiquitous industry database. "I never would have gotten the role, I never would have even been let in the room, if they knew my age was 29. It's not the stars who are worried. It's the people who are just trying to have the opportunity to work."
During her tenure, the union has organized workers at the Spanish-language TV network Telemundo and responded to the #MeToo movement with new guidelines and contract language designed to prevent the kind of behavior that sparked such outcry. She is also serving on a commission chaired by Anita Hill that was formed to address sexual harassment in the entertainment industry.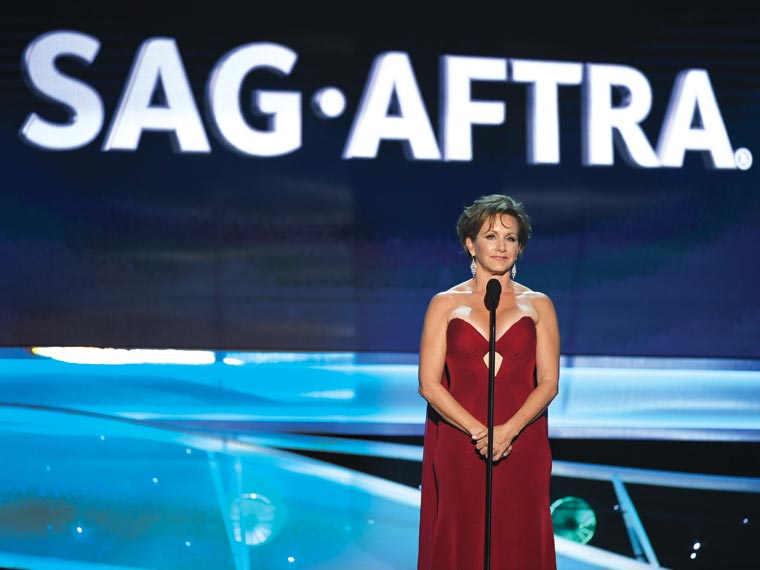 "We can and we must create an environment in which discrimination, harassment, and abuse are no longer tolerated," Carteris said in her speech at the 2018 Screen Actors Guild Awards ceremony, where all the presenters were women. "Make no mistake, this is not a moment in time. This is a movement, and our strength comes in our unity."
That sense of solidarity, she believes, bodes well for unions in general. "I think young people are more prepared for unions to come back full throttle in a way we haven't seen in a long time. I think part of that is that they understand the need for collectives," she says. "They don't want to have people telling them what to do. They want to feel that they're supported and that they're not in isolation."
Recognizing that, as she says, "we have to change all the time," Carteris is also exploring ways that new technology—from artificial intelligence to new media platforms—will affect union members. "One of the best things for me that came out of Sarah Lawrence was the idea that we have some self-determination in what we do and that we can be creative," she says. "When I was there, I could present something I wanted to study and then work with my teacher to design it. If you can imagine it and you can structure it, you can actually create it."
It is a lesson she has tried to instill in her two daughters, who are now in their 20s. "They always say, 'Mom, everything is a learning moment for you,' but I think that's true," she says. "What is it you really want? There are a thousand paths to take you there. Make sure you enjoy the journey, because the destination could change."