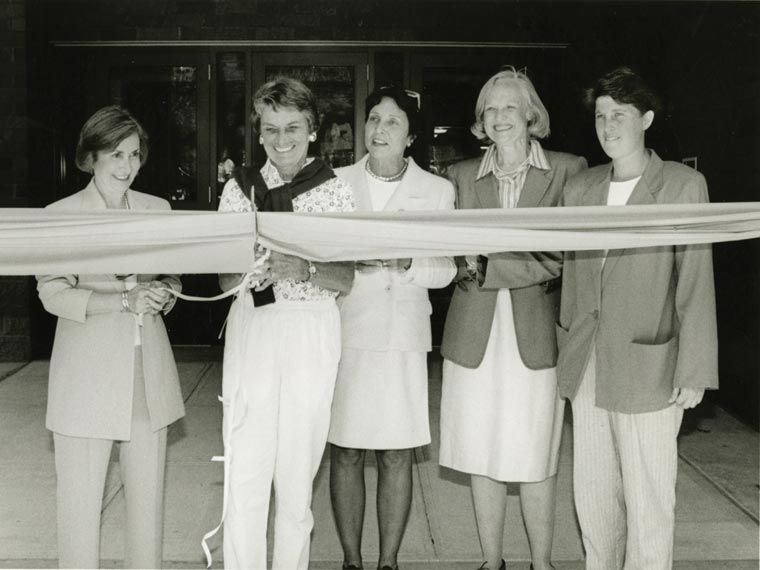 For years, Sarah Lawrence's "gym," located upstairs in Bates, consisted of two stationary bicycles and strength-training equipment that worked on hydraulic pumps.
Enter Mary LeVine, who came to the College in 1985 as director of physical education and athletics. She soon realized the meager sports facilities were discouraging to prospective students and made the case that athletics could complement academics. "Poets want to swim," she said. "Writers want to shoot hoops."
Margot Bogert '75, then chair of the Board of Trustees, understood the potential and pledged $5 million to construct the Campbell Sports Center. Named for her parents, William D. Campbell and Beatrice Hawn Campbell, the 48,000-square-foot building was to be the largest on campus, offering weights and cardio machines, basketball/volleyball courts, an elevated jogging track, a swimming pool, squash courts, rowing tanks, and a multipurpose dance studio.
In preparation for the center's opening, LeVine tasked a committee of staff, faculty, and students with choosing a mascot for the College. At a meeting in the office of Micheal Rengers '78, then director of operations and facilities, one of the committee members spotted two gargoyles out the window and asked, "Is that a gryphon?"
Learning that the mythical creature symbolizes intelligence and strength, the committee added the gryphon to a list of potential mascots. The College community voted on three finalists: the Raven, the Spark, and the Gryphon.
For Bogert, the opening of the sports center in 1998 was the realization of a long-held dream. "I was very pleased to be able to make a difference," she remembers fondly.
Associate Dean of Studies Beverly Fox, a member of the planning committee, says the center has become "one of the best additions to the College, where students, faculty, and staff come together and feel good about being in community with one another."