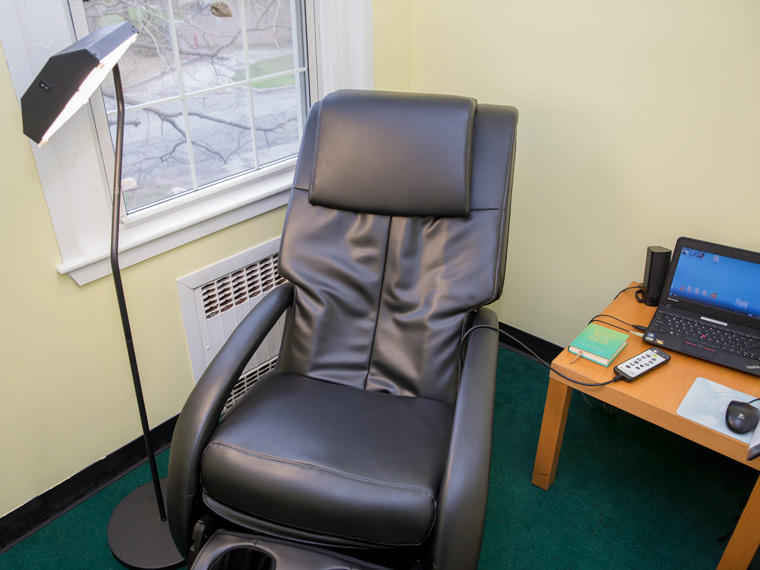 Wellness Room: Our Wellness Room, located on the 2nd floor of the Health & Wellness Center, provides students, faculty, and staff with an opportunity to recharge and relax through the use of mindfulness recordings, full-spectrum light therapy and massage chair sessions.
Campus Programming: We also offer regular Destress with Pets and Ask a Nurse programs as opportunities for campus community members to engage with wellness activities outside of the Health & Wellness Center. Our Fall Health Fair and Winter Wellness Fair are also excellent opportunities to engage in healthy activities, including free chair massage, healthy snacks and free flu shots!
Wellness Classes: Health & Wellness partners with the Sarah Lawrence Fitness Center in offering Mindfulness and Positive Psychology classes each quarter for Physical Education credit. To learn more about Mindfulness, Positive Psychology and other PE classes, click here.
Smoking Cessation: For students who are interested in smoking cessation, the Health & Wellness Center offers the American Lung Association FreshStart program, including free nicotine replacement therapy and one-on-one nursing support.
Nutritional Information: Students interested in nutritional information and advice can find a wealth of information on the AVI Fresh Wellness page
Peer Health Educator Program: Our Certified Peer Health Educator program is available for all students who are interested in partnering with the Health & Wellness Center around health programming and educational events.