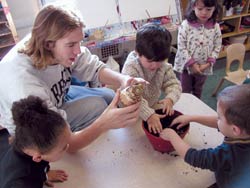 The Early Childhood Center (ECC) is one of the longest existing college laboratory schools, founded in 1937 by well-known developmental psychologist Lois Barclay Murphy, with a grant from the Macy Foundation. But what about the ECC makes it a laboratory school?
It is a living laboratory of child development.
College undergraduate and graduate students serve as assistants and participant observers in the ongoing life of the classroom.
Students may carry out observational or interview studies on various aspects of child development. These projects are developed with their course teachers, approved by the ECC director and psychology consultant, and presented to the children as part of their daily activities.
Student project activities might involve play; drawing; talking about what it means to be a friend; or memory, perception or language tasks. They are always developmentally appropriate and usually quite interesting to the children.
Student presence means a high adult-to-child ratio, which helps the lead teachers provide an enriched physical and social environment for the children's exploratory learning activities.
It is a setting for faculty research.
The ECC was founded to study the normal development of personality in young children.
Psychology faculty members may carry out research projects at the ECC. In the recent past, psychology faculty have studied pretend play, language development, and children's artwork.
It is a model of educational practice.
The ECC is a fieldwork site for Sarah Lawrence students in undergraduate psychology classes, graduate students in the Art of Teaching, Child Development and Dance Movement Therapy master's programs, and students in Early Childhood Education at Westchester Community College.
Other professionals also visit and observe at the ECC to see how the school implements a progressive early childhood educational philosophy.
Children are never identified in any observations; should photos or footage of children ever be considered for other than in-house educational use, your permission would be requested.
Attending a lab school is an enriching experience for children in many ways, including the fact that they get to know a range of students of different ages, interests, and backgrounds—making it a living laboratory for the children's ongoing "research" in the world!