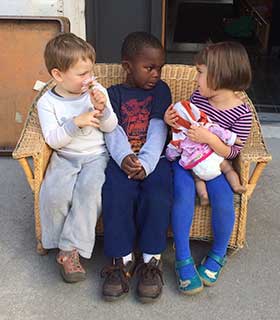 The Early Childhood Center (ECC) was founded on the ideals of progressive education, which is based on the centrality of direct experience in learning; the view of the child as the center of the educational experience; and the making of meaning and construction of knowledge through experience and reflection, as both the goal and the means of education.
Class Structure
Each class is taught by a lead teacher, a graduate assistant teacher, and several student assistants.
The teachers and the Director are available for conversation and consultation throughout the year. Fall and spring parent-teacher conferences are also formally scheduled.
A member of each family (usually a parent) stays at the ECC when the child first attends school, leaving gradually when parent and teacher decide the time has come for separation. The ECC recognizes that separation is difficult and work hard to make the best decisions for each individual child.
2023-2024 Class Schedules & Tuition
The ECC provides a variety of morning classes. Preschool classes are in session from early September to mid-May,  in accordance with the College calendar. The Five/Sixes class extends into early June. Please note that the ECC is closed during College breaks. 
Limited financial aid is available. To learn more, please reach out to our office.
Twos and Parents Program
The Twos and Parent Program is designed, in part, to facilitate a child's separation from the parent and builds gradually to two hours, twice a week. A parent's attendance is required with the child for the entire school year; caregivers cannot attend in place of the parent. Parents begin in the classroom and gradually transition into an adjoining room, where parenting discussions occur, often facilitated by the lead teacher.  Regretfully, infant siblings cannot accompany the parent.
Tuesdays/Thursdays
9:30 – 11:30 a.m. 
$4,700
Threes Morning Class (Two Days)
Tuesdays/Thursdays
9:00 – 11:30 a.m.
$4,800
Threes Morning Class (Three Days)
Mondays/Wednesdays/Fridays
9:00 – 11:30 a.m.
$5,850
Threes Morning Class (Five Days)
Families who prefer a five-day 3s option enroll in both the M/W/F and T/Th classes and are charged a reduced rate.
Monday through Friday
9:00 – 11:30 a.m.
$8,675
Fours Morning Class
Monday through Friday
9:00 - 11:55 a.m.
$8,675
Fours/Fives Morning Class
Monday through Friday
9:00 – 11:55 a.m.
$8,675
Fives/Sixes Class (Kindergarten)
Monday through Friday
9:00 a.m. - 2:00 p.m.
$12,600
School year will extend into June
2023-2024 Calendar
Monday, September 11th

First First day of school
Monday, October 16th
& Tuesday, October 17th
No school- SLC closed for October Study Days
Wednesday, November 22nd
through Friday, November 24th
No School- Thanksgiving break
Friday, December 15th
through Monday, January 15th
No school-Winter break
Tuesday, January 16th
School resumes
Monday, February 19th
No school-Presidents Day
Monday, March 11th
through Friday, March 15th
No school-Spring break
Tuesday, May 7th        
Last day of school for 2s-4/5s
Thursday, May 9th
& Friday, May 10
No school for 5/6s-SLC Graduation days
Monday May 27th
No school for 5/6s-Memorial Day
Friday May 31st
Last day of school for 5/6s
"It's truly amazing to see his face light up with excitement and pride at the mention of his school. In addition to providing a beautiful space for children to discover and learn, the ECC allows children to be fearless in their quest for knowledge. We feel very lucky and proud to be a part of the ECC community of friends." —Eira and Gino Flores, ECC Parents