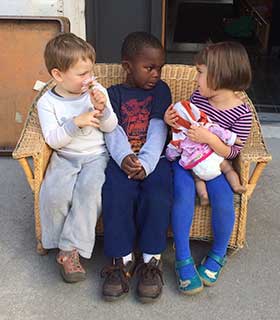 The Early Childhood Center (ECC) was founded on the ideals of progressive education, which is based on the centrality of direct experience in learning; the view of the child as the center of the educational experience; and the making of meaning and construction of knowledge through experience and reflection, as both the goal and the means of education.
Class Curriculum
The curriculum emphasizes language and arts, and evolves according to the children's interests.
Children work with blocks, art materials, sand, water, puzzles, and dramatic play material.
There are opportunities daily to work alone, in small groups, and as members of the whole group.
Class Structure
Each class is taught by a lead teacher, a graduate assistant teacher, and several student assistants.
The teachers, the director, and a psychology consultant are available for conversation and consultation throughout the year. Fall and spring parent-teacher conferences are also formally scheduled.
A member of each family (usually a parent) stays at the ECC when the child first attends school, leaving gradually when parent and teacher decide the time has come for separation. The ECC recognizes that separation is difficult and work hard to make the best decisions for each individual child.
2021-2022 Class Schedules & Tuition
The ECC provides a varied pattern of morning and afternoon classes. Younger children attend two or three half-days per week, and older children attend five times per week.
Preschool classes are in session from early September to mid-May,  in accordance with the College calendar. The Five/Sixes class extends into early June. The ECC is closed during College breaks. Learn more about how to apply