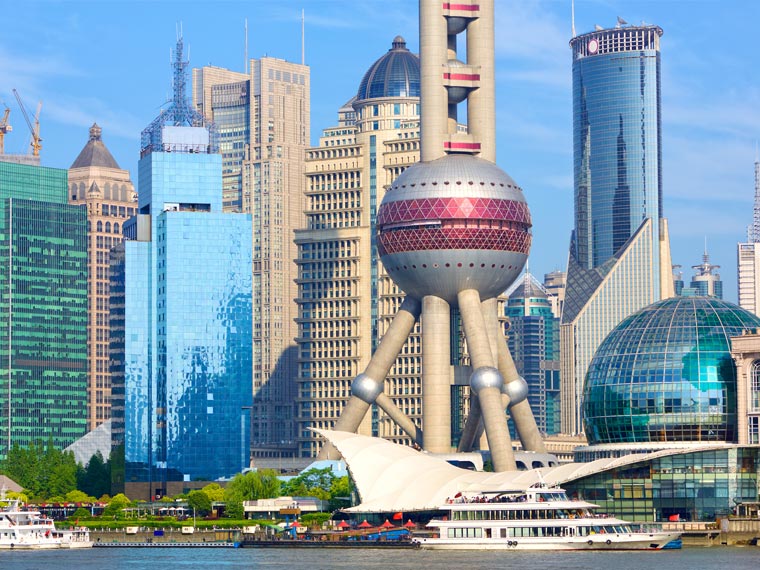 Sarah Lawrence College's Shanghai program provides opportunities for an in depth experience of Chinese culture and language. Students enrolling in the CET Shanghai Program will have the opportunity to engage in an internship each semester. These study abroad opportunities are open to Sarah Lawrence College students only.
This study abroad opportunity is open to Sarah Lawrence College students only.
Academics
Students will enroll in the following courses:
Chinese Language
2 elective courses taught in English
Internship plus an internship course (or a third elective if not pursuing an internship)
Curriculum
Chinese Language (6 credits)
Students are assessed upon arrival and placed in the appropriate Chinese Levels (beginning through advanced). This is a required course.
Elective courses (3 credits each)
You choose two of these courses (or three if you decide to opt out of an internship).
The Chinese Consumer: Remaking the World Economy
The increasing economic power of 1.4 billion Chinese consumers, combined with that of 1.2 billion Indians and the third of the world living in middle-income countries, is remaking the patterns of world consumption and national economies. This multidisciplinary course examines the role of the consumer and consumption in the context of the rise of new economies, with close attention to China and other emerging countries. It analyzes diverse aspects of how Chinese consumption is impacting the global economy and will continue to in the coming decades. Class materials reflect multiple perspectives including cultural studies, ethnography, and marketing psychology. Themes shaping the course include the role of nationalism, little emperors, how ethics shape consumption, regional integration, copycat China, and the influence of consumer tribes.
The Chinese Economy
This course is meant to provide an overview of Chinese economy and its impact on the rest of the world. The first part of the course gives a brief historical overview of China's economy, from Mao to Deng's reforms, and on to the 21st century challenges of transitioning from a manufacturing-based economy to a system more incorporated into the global framework. The second part focuses on China's role in globalization and regional economic integration including the topics of uneven growth and development in China's western regions and China's rise from economic isolation. A special emphasis on US-China trade relations helps students evaluate and understand the economic pursuit of these two superpowers in East Asia. The third section of the course considers the unique challenges for multinational corporations to compete in the Chinese market. Students are exposed to the Chinese consumer–their culture and buying behavior.
Chinese Literature Today: Cannibals, Consumption, and Global Capitalism
This is a survey of contemporary Chinese literature introducing important works of fiction by authors writing during the last three decades. It also examines the contemporary relevance of works by several early twentieth-century authors who remain influential in Chinese literature and culture today. Motifs of cannibals, consumption, and global capitalism connect the writings. The course also explores the role of popular genres such as science fiction and martial arts fiction in contemporary Chinese culture and in comparison to the mainstream authors we read. Other themes include ideas about what constitutes popular versus high literature and how authors closely associated with Shanghai portray their city.
Contemporary Chinese Cinema
This course offers insights into the political, social, and cultural changes in contemporary China—and the impact of modernization and globalization on its cultural redefinition and identity reforming—through film. Using a selection of films directed by internationally-acclaimed Chinese Fifth and Sixth Generation directors, the course invites students to exercise their critical thinking skills in appraising the cultural narratives of each selected film and the aesthetic presentation produced by each film director.
Globalization and the Chinese City
How are Shanghai and other Chinese cities changing under the forces of globalization, urbanization, marketization, and political decentralization? How does urban life differ for city residents and the migrant population? This course examines these topics and the dynamics of China's urban transformation and contemporary city life. Using interdisciplinary and comparative perspectives, it explores the distinctive characteristics of China's urban development in the context of globalization. The course also addresses the issue of whether the concepts and theories born out of the post-industrial Western urban experience are applicable to urban China. It finally identifies and explains the opportunities and challenges that Chinese cities face, given their current urban development strategies and trajectories. The course includes at least two field-based classes to explore how Shanghai is reshaping its past and designing its future. 
International Economics
This course is intended for students who are interested in economics from a global perspective. It first introduces the emergence of international commerce in history and the establishment of modern capitalism. Theories of international trade and finance are included, and the emphasis is on the analyses of examples, cases, and latest events around the world. The course applies analytical tools including comparative advantage, global competition and technological change, balance of payments, and trade deficits. Finally, a special enquiry into the rise of the Chinese economy and its relations with the rest of the world is also provided.
The Making of Modern East Asia
This course surveys East Asian cultural, social, and political institutions with the goal of achieving a broad understanding of the modern historical development of China, Korea, Japan, and Vietnam. Students first study the pre-modern legacies that shaped each of these civilizations and intertwined their societies. Then the course will turn to the crises of the eighteenth and nineteenth centuries, the quests for resolution, and the pursuit of national identities in a rapidly emerging and often violent modern world order. Sources for study are fiction, primary historical sources, and memoirs along with academic readings.
Historical themes include imperial domination and revolutionary resistance, nationalism, communism, democracy, feminism, and the wars of the 20th century (WWI, WWII, and the Cold War). In addition, students analyze the role of historical memory in relation to topics such as comfort women, Nanjing, and Hiroshima. One field study class allows students to interpret a class topic within the local context. This survey course uses a blend of approaches from the humanities and social sciences to introduce the histories, societies, and cultures of East Asia. It requires no prior knowledge of East Asia and is intended to provide a base for further study.
Politics and Governance
This course begins with a historical survey of imperial China (before 1912) and Republican China (1912- 1949). After providing some historical background, the course then focuses on the politics of the People's Republic of China, including the Mao era (1949-1978) and the reform era (after 1978). Special attention is paid to "Mao Zedong Thought," Deng Xiaoping's contributions and legacies, the organizational structure and operational dynamics of the current political system, modern state building, and the Communist Party's strategies for survival. When examining these issues, students engage in some of the current debates of the field, mainly those over the features of China's politico-economic transition and the prospect of democracy in China.
Shanghai: Key to Modern China
The city of Shanghai has had multiple and changing reputations and representations. It has been simultaneously blamed as the source of all that was and is wrong in China and praised as the beacon of an advanced national future. Historically, the city has been China's cotton capital, leading colonial port, the location of its urban modernity, a national center of things from finance to fashion, and the home of radical politics. The objective of this course is to use the social, political, cultural, and economic history of Shanghai to analyze if and how the history of Shanghai provides a key to understanding the making of modern China. After a critical examination of the concepts of tradition and modernity and approaches for studying Shanghai history, we will explore the late imperial, Republican, and People's Republic periods. The course will end with the Reform and Opening period of the 1980s and the subsequent return of Shanghai to preeminence. Themes will include modernity, commercialism, the role of city's colonial past in shaping its history, and whether Shanghai is somehow unique or representative of what we know as "modern China." As part of this course, we will take advantage of our location to visit significant historical sites and exhibits.
Internship (3 credits)
If you choose to participate in an internship, you'll work at your internship placement for at least 10 hours/week and enroll in the following internship course:
Internship: Bridging Theory & Practice
Internships offer the potential to bring together the best of academic and experiential learning abroad. Though immersion in a professional context and hands-on engagement with the work of an organization, students are able to test out the theories they have learned in the classroom, tease out the complexities of those ideas, and gain a more nuanced, sophisticated understanding of the local, regional, and global context in which they are studying and working.
This program is known for its hundreds of internship opportunities, and these are just some of the sites where you might intern. The projects you complete at work are determined by your host.
Ernst & Young
Niu Technologies
Shanghai Academy of Social Sciences
Habitat for Humanity China
Han Kun Law Offices
Shanghai Propaganda Poster Art Center
PricewaterhouseCoopers
Shanghai Symphony Orchestra
Stepping Stones International
TimeOut Shanghai
Tongji Biomimetic Design Lab
Living in Shanghai
All students live on campus at Donghua University and are paired with Chinese roommates from Donghua University. Your roommate is carefully selected and has some English ability. However, we encourage you to have as much of your conversation in Chinese as possible!
---
Admission
The program is open to Sarah Lawrence College juniors and seniors for the fall, spring, or academic year. Contact the Office of Global Education for more information.
Tuition & Fees
Students are charged the cost of Sarah Lawrence tuition each semester.
Suggested costs to cover meals, airfare, and personal expenses are available here.
Financial Aid
Sarah Lawrence College students who normally receive financial aid may apply their awards to any College-sponsored program abroad.
This study abroad opportunities are open to Sarah Lawrence College students only. Students are charged Sarah Lawrence tuition fees and will pay all applicable room and board fees directly to the respective program.