Dr. Emily Bloom, a Sarah Lawrence College Public Humanities Fellow and faculty member, is collaborating with the Wartburg Adult Care Community in Mount Vernon, New York, to connect undergraduates and seniors in a series of conversations about objects, memories, and the things that matter to us all.​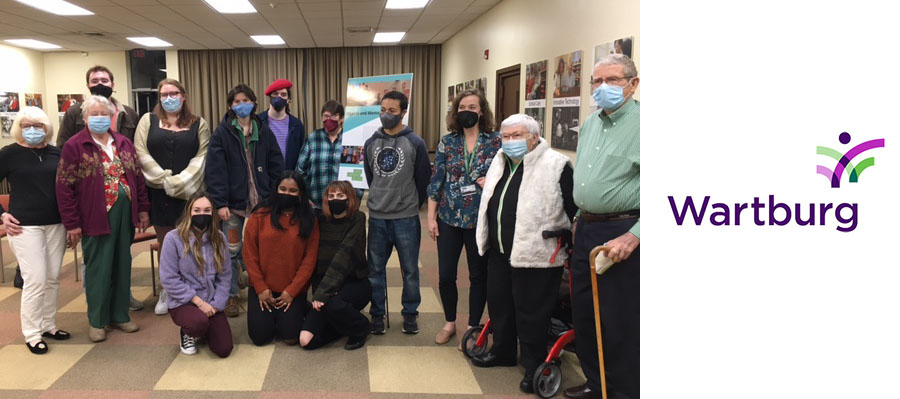 Starting in the fall 2021 semester, Bloom launched an oral history project that uses objects—whether historical, aesthetic, or personal—to help Wartburg residents share their stories with Sarah Lawrence students, family members, fellow residents, and Wartburg staff. The project focuses on identifying evocative objects that can allow us to tap into memories, ideas, and beliefs and to communicate them with each other. As part of this project, there are opportunities for lifelong learning alongside college students, a recurring podcast featuring Wartburg residents' stories produced by Sarah Lawrence students, and an "object-of-the month" series of discussions, talks, and activities. Read the Object Lessons newsletter from December 2021
Students engaged in the Wartburg oral history project with Bloom come from her two seminar classes for the 2021-22 academic year: Care Work and Objects and Memory.
---
"Senior Prom" by Sarah Lawrence student Kaia Goudreau
A prom is a rite of passage that marks the end of adolescence, but not everyone gets to attend a prom and, as Sarah Lawrence student Kaia Goudreau observes in her documentary "Senior Prom," a generation of students like her were not able to celebrate during the Covid-19 pandemic. In October 2022, Kaia and her classmates attended a "senior" prom at Wartburg's Adult Day Care Center. The documentary focuses on a different part of the lifecycle from that which we usually associate with proms and meditates on the importance of new experiences and discoveries as we age.
---
Musical Memories Podcast Series
---
Objects and Memory Podcast Series
---