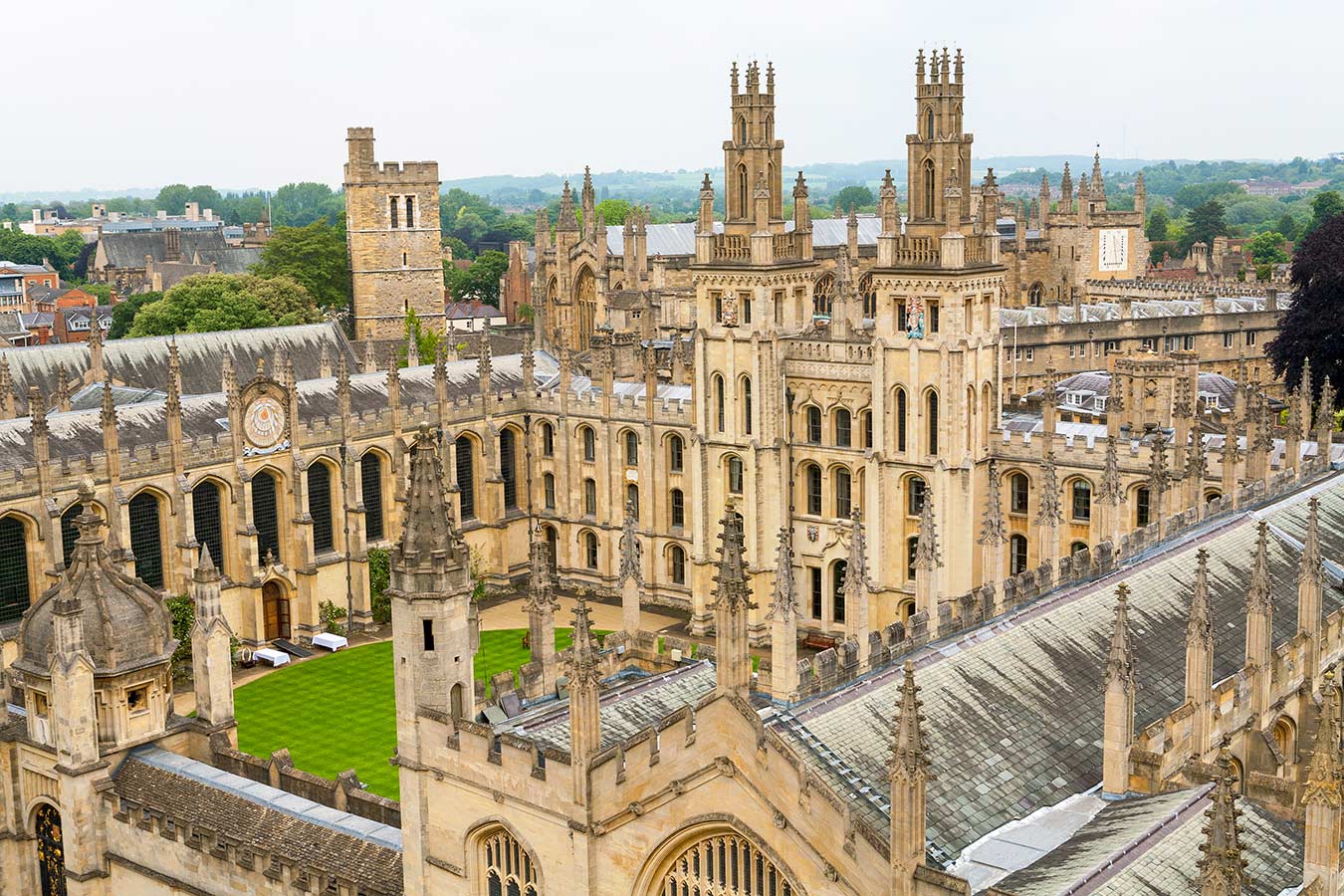 Study one-on-one with leading scholars at Oxford, one of the oldest and most respected universities in the world.
Oxford provides an unparalleled system of education: the pursuit of individual interests in tutorial work supervised by exceptional faculty, complemented by a broad core curriculum. 
Then there's the location—known as the City of Dreaming Spires, Oxford has been home to students and scholars who have gone on to shape the world. It's a city that blends English past and international present, natural beauty, and urban energy. To study at Oxford is to join one of the world's most culturally vibrant and intellectually stimulating communities.
Program Director
George Southcombe, History and Literature

BA, Mst, DPhil, University of Oxford. Fellow of the Royal Historical Society. Special interests in nonconformist religion, early modern literature, Restoration England, satire and laughter. Author of, among other works, The Culture of Dissent in Restoration England: 'The Wonders of the Lord' and co-author of Restoration Politics Religion and Culture: Britain and Ireland, 1660-1714; editor of English Nonconformist Poetry, 1660-1700. Director of the Oxford program. SLC, 2014-
Academics
Sarah Lawrence is affiliated with Wadham College, one of the 39 undergraduate colleges that constitute the University of Oxford. Admitted students have access to an educational experience comparable to that of Oxford undergraduates.
The academic year runs September through June and is divided into three eight-week terms. Each term, students take two tutorials for a total of 10 credits. Students also participate in the Core Program, an opportunity to partake in lectures, events, and field trips. The Sarah Lawrence Program at Wadham provides an unparalleled opportunity for engaging in the academic and social life at Oxford.
"I wonder anybody does anything at Oxford but dream and remember, the place is so beautiful. One almost expects the people to sing instead of speaking. It is all like an opera." —William Butler Yeats
Tutorials
Tutorials are the centerpiece of Oxford's educational experience, fostering dialogue, commitment, and engagement.  
Tutorials are similar to conferences at Sarah Lawrence College: they are unique opportunities for students to work one-on-one with experts in a field of study. They require students to choose a broadly defined course, study a separate topic within it, and produce a paper each week. 
Through concentrated reading and writing, along with participation in lectures, field trips, and events, students engage in a selected course of study that takes advantage of Oxford's wealth of academic resources and furthers the interdisciplinary aspects of a Sarah Lawrence education.
Tutorial course work should align with each student's major or minor field of study. Students should review Oxford's course offerings as a guide when choosing tutorial subjects. Staff members from Oxford and Sarah Lawrence College work with students to ensure the appropriate first-term tutorials are chosen.
Oxford faculty members, referred to as tutors, are assigned to teach tutorials based on their respective backgrounds and experiences, as well as the student's level of interest and expertise in the subject matter. 
Tutorials taken by past students of the Oxford program include:
Anthropology
Introduction to Anthropological Theory
Theories of Knowledge Production in Anthropology
The Anthropology of Child Development
Archaeology
World Archaeology
The Nature of Archaeological Enquiry
Archaeology of the Greeks and the Mediterranean World
Art History
History of Traditional Chinese Art
Exploring Visual Language in the Arts
Study of British Modern and Contemporary Painting
Chemistry
Organic Chemistry with Lab
Organic Chemistry
Economics
History of Economic Thought
Economics of Developing Countries
International Political Economy
Film History
French Cinema
Italian Cinema
History
Conquest and Colonization: Span and America in the Sixteenth Century
Witchcraft and Witch-hunting in Early Modern Europe
19th- and 20th-Century History of the Middle East
Languages
Literature
Gender in Shakespeare
Feminist Theory and Women's Literature
The Victorian Novel
Mathematics
An Introduction to Statistical Methods and Analysis
Philosophy of Mathematics
Geometry
Music
Composition
Counterpoint and Analysis
The Rise of Opera
Philosophy
Hellenistic Philosophy
Philosophy of Science and Mind
Political Philosophy
Politics and Policy
History of Modern Political Thought
Political Theory
Contemporary Political Philosophy
Psychology
Sensory Processes and Perception
Psychobiology
Social Psychology, Individual Differences, and Psychological Disorders
Religion
Issues in the Abrahamic Faiths
Islam in the Modern World
Buddhism in History and Society
Sociology
Studies in Development and Political Ecology
The Sociology of Race and Identity
Social Network Analysis
Writing
Creative Writing
Scriptwriting
Modern British Poetry and Poetry Writing
Core Program
The Sarah Lawrence Core Program is a series of lectures and events that introduces students to British history and culture, exposes them to events in the Oxford community, and allows them to engage with leading scholars on topics of broad interest.
Past program events have included theater workshops with members of the Royal Shakespeare Company; trips to excavated Roman ruins off the English coast; and a visit to Winston Churchill's private bunker in the Cabinet War Rooms.
Living in Oxford
Students experience the independence of city life, but also have the security and accommodation of program-sponsored housing.
University Housing
Study abroad students live in flats in Merifield, in Wadham College student housing. Each student has a private room and shares a common area that includes a kitchen, living room, and two bathrooms.
One on-campus dinner per week is included in the program fees. For the remaining meals, students typically prepare meals together, dine in Wadham's cafeteria-style lunchroom, or visit a nearby pub.
Students have access to Wadham's gym and weight room, and access to rowing facilities in the boathouse.
Extracurriculars
Freshers' Weeks are held during the 10-day orientation before classes begin and expose new students to a wide range of clubs and societies open to their membership.
Clubs and societies range from those that are academically focused to those focused on social awareness and activism, creative expression, cultural activities, sport, or pure entertainment.
Students may compete on Wadham's teams in football, rugby, hockey, squash, and cricket, among others./
All Sarah Lawrence program students are members of the Oxford Union, a world-famous debating society and a center for student activities such as film nights, themed balls, and guest lectures.
The City of Oxford
Oxford is a rich commercial center, drawing diverse cultures to its growing population of 150,000.
The city is world-renowned for its publishing industry and is home to the international development organization Oxfam, as well as many bioscience and high-tech businesses.
Each year, 4 million tourists visit Oxford's museums, restaurants, pubs, shops, theatres, bookstores, festivals, and art festivals.
Admission
The Sarah Lawrence in Oxford program is open to students from all undergraduate institutions and is limited to 30 students annually.
A minimum grade point average of 3.7 is required of all applicants. Students must demonstrate consistent work at a high level, with particular strength in writing. Contact the Office of Global Education for more information.
Applications & Deadlines
All applications and supporting materials are due:  February 15.
Tuition & Fees
Academic Year 2023-2024
Tuition (per year) $63,128
Room (per year) $13,000
Please note: If there are damages to the room, you will be charged accordingly
Study abroad medical insurance (estimate):  Rate TBD
Students still need to have their own coverage or coverage through the Sarah Lawrence plan to ensure they are covered before they leave the US and upon their return
Tier 4 Visa Fee and NHS Healthcare Fees $477(visa)   £470.00 (NHS mandatory fee)
---
Estimated Expenses
Round trip airfare $900- $1200
Meals and expenses $250 per week ( £200 per week)
Books $145 per term ( £115 per term)
(Above cost reflects the purchase of all books for tutorials)
---
Travel expenses before or after the term, and any trips taken during the mid-term break, are not included in this estimate.
**Our Visiting Student status has reduced this cost considerably. Since we now have complete access to all libraries, most students are choosing not to purchase books each term.
Please note: Wadham now gives students £50 towards books on a card to be used in a (very good) local bookstore.
Financial Aid
Sarah Lawrence College students who normally receive financial aid may apply their awards to any College-sponsored program abroad.
Sarah Lawrence College offers limited financial assistance to guest students on this program. Students should consult their home school's financial aid office for guidance on other financial aid resources.
For more information about Sarah Lawrence financial aid options, e-mail the Office of Global Education.
Academic Calendar
Oxford terms run for eight weeks ('full term'). The weeks either side of full term are known as Noughth and Ninth Weeks. Noughth Week is used to set up the term's work, and Ninth Week is used for completing the term's tasks and for consultations about the following term. We also run Programme events in Ninth Week in all three terms.

Students are expected to be in College for Noughth Week, We strongly recommend that students also remain in College for Ninth Week.
Student arrive, orientation begins Wednesday, 27 September 2023
Michaelmas Term begins Sunday, 1 October (beginning 1st Week)
Michaelmas Term ends Saturday, 2 December (end 8th Week)
9th Week you are expected to be in College
Winter Break starts Sunday 3 December 2023
Students return by Sunday 7 January 2024 (0th Week)
Hilary Term begins Sunday, 7 January 2024 (beginning 1st Week)
Hilary Term ends Saturday, 9 March 2024 (end 8th Week)
9th Week you are expected to be in College – we will have our overnight trip in this week.
Spring Break starts Sunday, 14 March 2024
Students return by Sunday 14 April 2024 (0th Week)
Trinity Term begins Sunday, 14 April 2024(beginning 1st Week)
Trinity Term ends Saturday, 15 June 2024 (end 8th Week)
Farewell Party Wednesday 19 June 2024
Students must vacate rooms by Sunday, June 23 , 2024, in the morning
Students may not arrive before opening day, Wednesday, 27 September 2023, because housing cannot be prepared before that date. You should arrive and collect your keys from Merifield between 9:00 am and 4:00 pm on Wednesday, 27 September 2023. If you are unable to arrive in Oxford at this time, you must email the SLP Office at Oxford in advance.

Personal effects may be shipped to arrive at Merifield on 27 September 2023 or after. Mail for you may be sent to Wadham College to arrive after 27 September 2023 and throughout the year. Parcels and packages should be sent to:
Merifield,
Ferry Pool Road,
Summertown,
Oxford, OX2 7DU,
United Kingdom
Students are charged Sarah Lawrence tuition and fees.