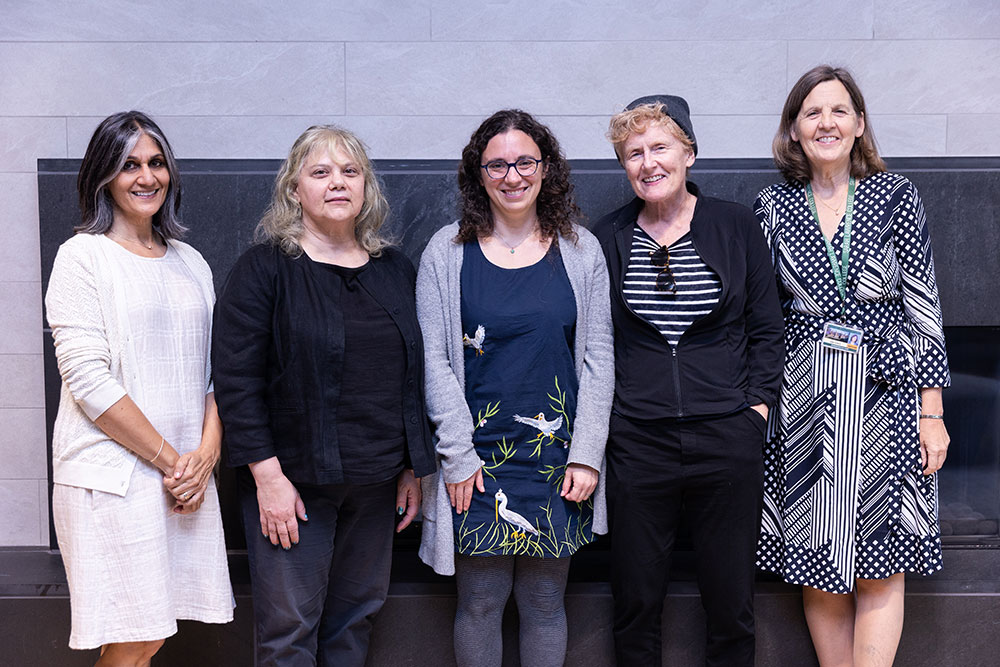 In an annual event held on Monday, October 2, President Cristle Collins Judd joined with Provost and Dean of Faculty Kanwal Singh and members of the College's Advisory Committee on Faculty Appointments to celebrate new faculty chairs and this year's recipient of the Lipkin Family Prize for Inspirational Teaching. 
"This is a moment to pause and honor our colleagues for their work in the classroom, their scholarly and artistic work, and their work for the broader good of the College," said Singh in remarks during the event, adding: "I think I can speak for my colleagues on Advisory Committee and say that this is one of the most fun parts of serving on that committee, as we get to think and talk through all the wonderful contributions that our colleagues make to the vibrancy of Sarah Lawrence in so many different ways."
This year's new faculty chairs, as selected by the Advisory Committee on Appointments, are:
Angela Ferraiolo (Visual and Studio Arts)
The Mary Griggs Burke Chair in Art and Art History
This endowed chair was created in 2007 by alumna and patron of the arts Mary Griggs Burke '38 to honor art historians as well as practicing artists who teach at Sarah Lawrence College.
Suzanne Gardinier (Writing)
Anita Stafford Chair in Community Engagement
Established to support a faculty member committed to teaching in ways that involve Sarah Lawrence students in meaningful engagement with our surrounding communities.
Kevin Landdeck (Asian Studies, History)
The Merle Rosenblatt Goldman Chair in Asian Studies
This endowed chair was established in 2010 by Marshall Goldman and Merle Rosenblatt Goldman '53. The chair is a tenure-track position in modern Chinese history.
This year's recipient of the 2023 Lipkin Family Prize for Inspirational Teaching is Michelle Hersh (Biology). The annual award recognizes a teacher—selected by the president and the Advisory Committee on Faculty Appointments with input from faculty—whose generosity of time and talent draws from students both high performance and a lifelong love of learning.​
"This is one of my favorite events at the College," said President Judd. "The Sarah Lawrence faculty is deservedly celebrated for their extraordinary dedication to our students and to their success. I find the appointment of faculty chairs and the bestowal of the Lipkin Prize especially meaningful because faculty are recommended for these honors by faculty colleagues." 
---