Dear Sarah Lawrence Community,
As I begin my second semester at SLC, I want to take a moment to share with the community an update on our ongoing work around diversity, equity, and inclusion and some exciting things that have happened since I arrived to campus.
Last semester, members of the Diversity, Equity, and Inclusion team connected with members of the SLC community through numerous student focus groups and wide-ranging conversations with staff and faculty. With the support of the Committee on Diversity (current members: Amada Sandoval, Ronnie Benion, William Shullenberger, Jason Earle, Aurora Donzelli, Tara James, Crystal Greene, Polly Waldman, Jennifer Melendez, Melissa Frazier, Nicholas Salinas, Jennifer Gayles, Jessie Shiner, Olivya Conner, and Fatiah Touray), on February 2 we will launch a Diversity, Equity, and Inclusion Campus Climate survey. This survey will help us assess how students, faculty, and staff experience the living, learning, and working environment at SLC with respect to inclusion, equity, diversity, and belonging across multiple dimensions, such as race, gender, disability status, sexual orientation, religion, and other markers of identity. You will be hearing more from me and the Committee on Diversity about this survey, so stay tuned.
Upcoming Events
I am excited that we will mark the start of Black History Month by welcoming Melissa Harris-Perry, professor, author, and political commentator, to campus as part of the College's E Pluribus Unum event series on Friday, February 7, at 5:30 p.m. in the BWCC. Dr. Harris-Perry will deliver a talk entitled Centering African Americans in the American Story, followed by an audience question and answer session. Don't miss this opportunity to engage in dialogue on a variety of intersectional themes related to social justice, identity, and belonging.
On Tuesday, February 4, I hope you'll attend The Right To Write: A Conversation on the Intersections of Education & Incarceration, featuring Kathy Boudin, co-director and co-founder of the Center for Justice at Columbia; Rachel Bernard '13, director of strategic initiatives at Hudson Link; Eldredge Blalock, development manager at Hudson Link; and Anjette Rostock, former Right to Write coordinator. This panel will be moderated by writing faculty member Suzanne Gardinier.
Recent Events and Accomplishments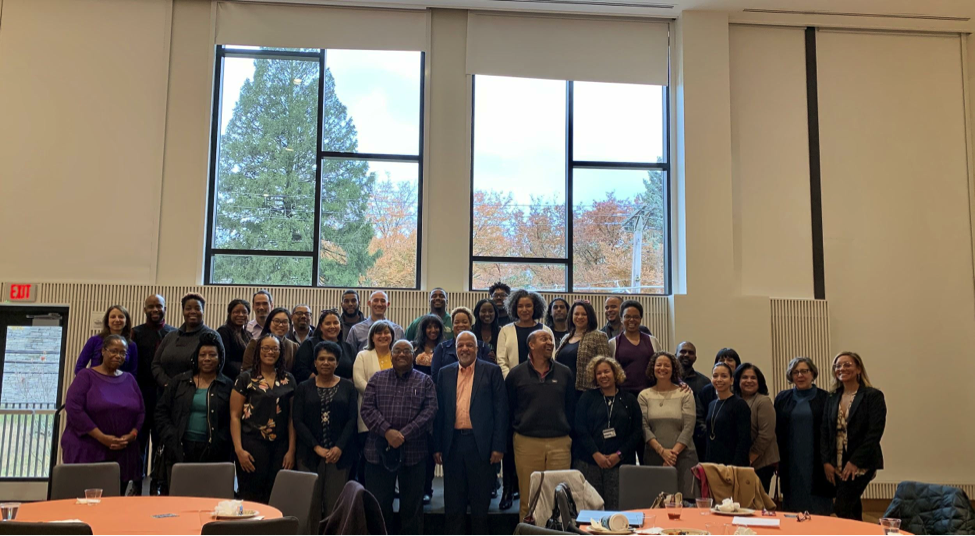 Faculty and Staff of Color Luncheon: On November 19, we hosted our inaugural Faculty and Staff of Color Luncheon. The purpose of the forum was threefold: to provide a mutually supportive social and cultural environment for faculty and staff of color; to expand and strengthen the relationship and involvement of faculty and staff of color within and across the wider SLC community; and to connect people across common interests. More than 50 faculty and staff attended the luncheon, and I look forward to similar events and an even greater turnout in the future. A special thank you to the planning committee: Amada Sandoval, Ronnie Benion, Kat Boodoo, Jennifer Melendez, Jennifer Gayles, Ingrid Loveras, and Kimberly Winston.
C3 New Scholars Series: The psychology group recently received a grant through the C3 New Scholar Series in Clinical Childhood Psychology. C3 seeks to address the challenges of diversity in higher education by building capacity, investing in talented graduate students and faculty from underrepresented groups, and creating and nurturing connections between partners interested in institutional change. The C3 New Scholars series is a new mechanism to introduce junior scholars (graduate students and recent PhDs) from underrepresented groups to liberal arts colleges and to facilitate the diversification of candidate pools at affiliate liberal arts colleges.
Diversity Committee: Ongoing Work
All-Gender Restrooms Map and Signage: The Diversity Committee has been working with Jennifer Melendez in Operations and the Communications staff to update current signage for the all-gender restrooms on campus, and to create a map with the locations of all-gender restrooms on campus. This map will be posted on MySLC and on the Diversity, Equity, and Inclusion website.
Preferred Names and MySLC: We have been working with Tom Blum, Sean Jameson, Polly Waldman, and Daniel Licht to advance the College's efforts to allow for a change of name across various portions of MySLC, including roster and discussion boards. We are currently testing out the system with some students, and anticipate rolling it out later this year.
Religious Observance Days: Last October, the Office of the Provost and Dean of Faculty initiated the annual practice of notifying the SLC community of upcoming religious holidays, and articulated our policies that allow for religious observance for students, staff, and faculty.
Accessing Library and Course Materials and Related Socioeconomic Concerns: We are partnering with the library to support a student book swap. At the end of this semester students are encouraged to bring to the library any books they no longer need so they can be used by another student. In the early weeks of the fall semester, students can go to the library to take the books they need from those donated. This new practice is in addition to the library's popular annual book giveaway.
Committee on Diversity and Communication to the College Community: We are discussing ways to make our work more public—this includes a website, letters to the community each semester (like this one!), open meetings, and possibly visiting SLC standing committees, offices, and groups.
Lastly, I would like to leave you with the following reading by the late Katherine Phillips on "How Diversity Makes Us Smarter."
I am excited to be at Sarah Lawrence College and I look forward to the ongoing work that we will engage in to foster a culture of belonging at SLC.
Best,
Fatiah Touray, Esq.
Vice President for Diversity, Equity & Inclusion and Special Assistant to the President
---