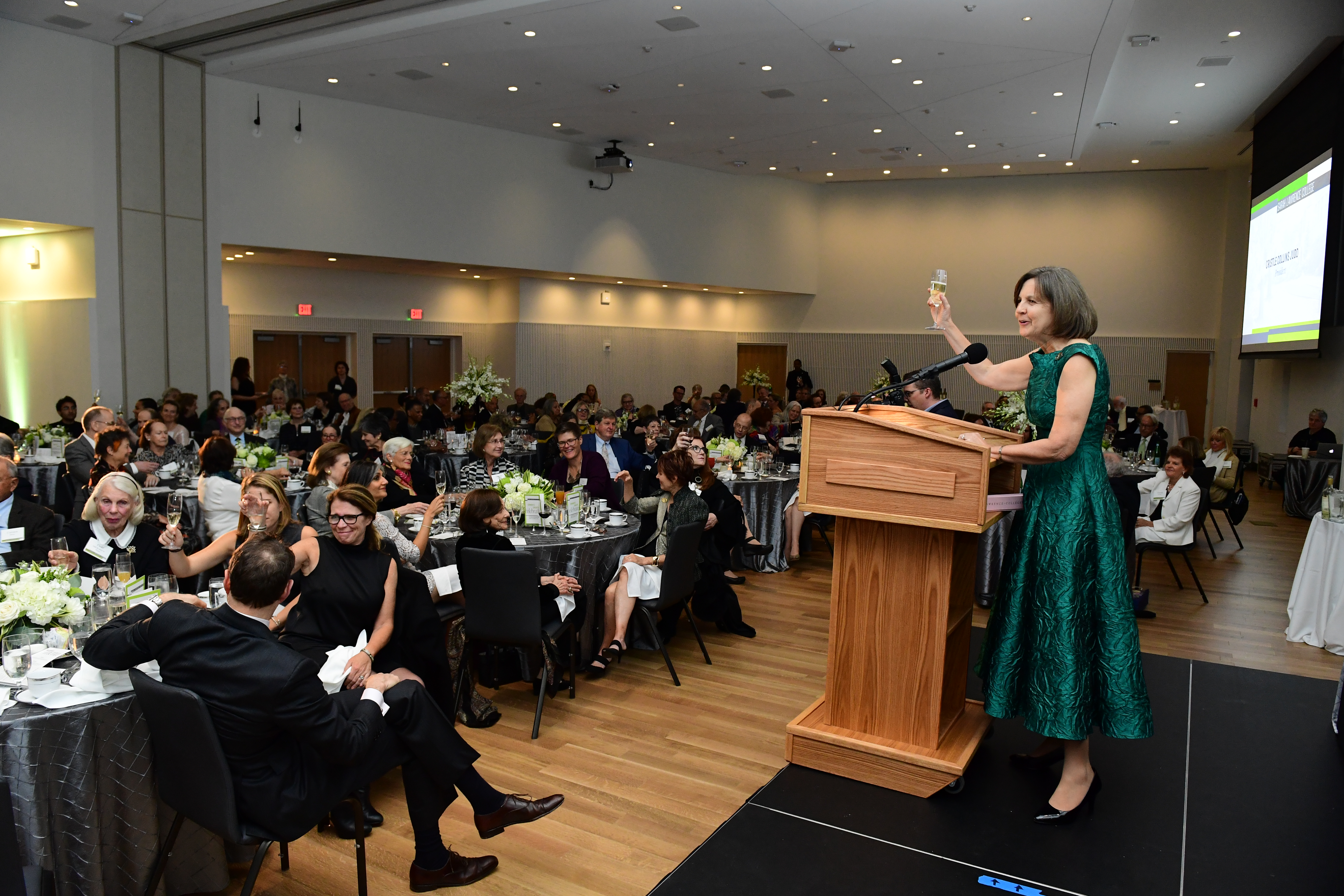 Sarah Lawrence College met the end of October with overwhelming excitement and activity — the College welcomed families of students for Family Weekend and Celebrate Sarah Lawrence, held Alumni and Parents Council convenings, hosted its Board of Trustees meeting, invited its neighbors to an open house for the Barbara Walters Campus Center, and celebrated the successful completion of the Campaign for Sarah Lawrence, the largest fundraising endeavor in school history.
The Campaign and its ambition to raise $200 million centered around the goal to sustain and advance the College's distinctive role as a center of learning that values rigor, creativity, intellectual risk-taking, critical thinking, and boundless academic pursuit. In Sarah Lawrence fashion, it's approach was multidisciplinary and sought to bolster support for students, faculty, and the College's physical campus.
The Campaign's success, which surpassed the $200 million goal, was rooted in the Sarah Lawrence community's love and adoration for the College. School pride was palpable at a celebratory gala that brought together members of the community who dedicated their time and resources to this initiative. "Alumni and friends considered all of the College's needs," said President Cristle Collins Judd in remarks at a donor appreciation event. "And out of love, understanding, and commitment for Sarah Lawrence, sought the best ways to meet them." 
Student Support
Of the more than $200 million raised, $51 million will go directly toward endowed scholarships and financial aid. Already, more than 200 students have benefitted from these new endowed scholarships, which have empowered the College to continue to recruit elite students who will benefit from a Sarah Lawrence education, regardless of their economic background. In addition, new funds were created to support the College's premier program in Human Genetics and to establish recurring scholarships for students in Sarah Lawrence's renowned MFA in Writing program.
In addition to attracting and enrolling the most talented students, Sarah Lawrence is committed to providing them with exceptional learning experiences that foster social engagement, collaboration, and student community. The College is preparing students to become tomorrow's leaders by creating and funding initiatives and programs that will help students launch meaningful and successful careers after graduation. Donors recognized the importance of the College's Career Services office and a number of gifts were made to provide students with salaries or stipends for internships and externships, making it possible for them to participate in what are often transformative work experiences. 
Advancing Faculty and Scholarship
Complementing investment in financial aid, the Campaign highlighted the critical role Sarah Lawrence's exceptional faculty play in providing the College's distinctive academic approach. To advance faculty teaching and scholarship, $17 million was raised to endow faculty chairs and professorships; fund research, initiatives, and development; and ensure academic programs continue to flourish. Endowed professorships and chairs were created in environmental studies, writing, history, economics, religion, and environmental architecture and sustainable design, as well as a visiting professorship in environmental writing. 
To complement faculty research, the community made strategic gifts to advance the College's initiatives across many disciplines and to establish and support exciting programs that provide students with opportunities to propel their studies and develop exceptional creative and research skills. 
Gifts made in support of academic initiatives were diverse and carefully considered. They ranged from an endowed music fund to provide lessons for students who are not pursuing a "music third," to gifts for the Center for the Urban River at Beczak (CURB) — an alliance of Sarah Lawrence and the Beczak Environmental Education Center, a regional hub for research and monitoring focused on the Hudson River estuary and urban watershed issues. Other endowment gifts support the Child Development Institute and the 10-week Summer Science Undergraduate Research Program. 
Transforming the Campus
A theme that emerged for the Campaign was "transformation" — the endeavor was marked by thoughtful details and careful consideration. "When I speak with alumni about their time at SLC, 'transformational' is a term I hear often," President Judd said in her event keynote. "And now I get to return the favor. This Campaign — this community's generosity over the last eight years — has been transformational to this College." 
Indeed, the Sarah Lawrence campus has preserved its history — its beauty and fit with the surrounding area — but also reimagined the context for new and old infrastructure, reinvigorating the campus to meet the needs of today's students.
The newest addition to campus is the Barbara Walters Campus Center, Sarah Lawrence's first new building in 15 years. Completed in August, 2019, the Campus Center opened during move-in weekend and quickly became an intellectual and cultural hub for students and the school's front door. The building features dining services, large and small event and student spaces, and, simply, offers a place for people to come together and appreciate the company of the community. 
The Remy Theatre is another new addition. Situated on Sampson Field between the Performing Arts Center, Westlands, and Rothschild, the Remy is a partial reconstruction of a 1930s open-air theatre with a storied history in Cos Cob, Connecticut. Set to be demolished by new property owners, alumna Josie Merck's quick-thinking and generosity allowed the College to move the marble theatre stone by stone to campus, officially opening in June, 2019. Already, the theatre has hosted performances and readings, outdoor film screenings, and has fit seamlessly into the campus' footprint.
While not a new building, trustee and alumna Vicki Ford and her husband Si spearheaded a project that transformed an aging residence hall into OSilas, renewing a piece of Sarah Lawrence history and reimagining it for the College's second century of existence.
These physical examples, paired with robust investment in student and faculty support, stand as metaphors for the Campaign for Sarah Lawrence as a whole. The College's motivation throughout this endeavor was to affirm its core values, build on its key strengths, embrace new opportunities, and to position the institution so that it continues to be a leader in higher education. 
"We are a place for lifelong learning, whether on campus or around the globe," said President Judd. "The reason this campaign was so successful – why more than 80% of the money received came from alumni – is that the people who know Sarah Lawrence best know what the rest of the world is just now beginning to understand: Our model of education, with its emphasis on close student-faculty work, interdisciplinary exploration, critical thinking, and intellectual flexibility, is what's needed for today and for tomorrow."
As Sarah Lawrence approaches its 100th birthday, the Campaign has carved out a path for the College that builds on its excellence and considerable strengths, increases support for students, faculty, and campus, and propels it toward a second century where it continues to set the standard for inclusive excellence. 
---