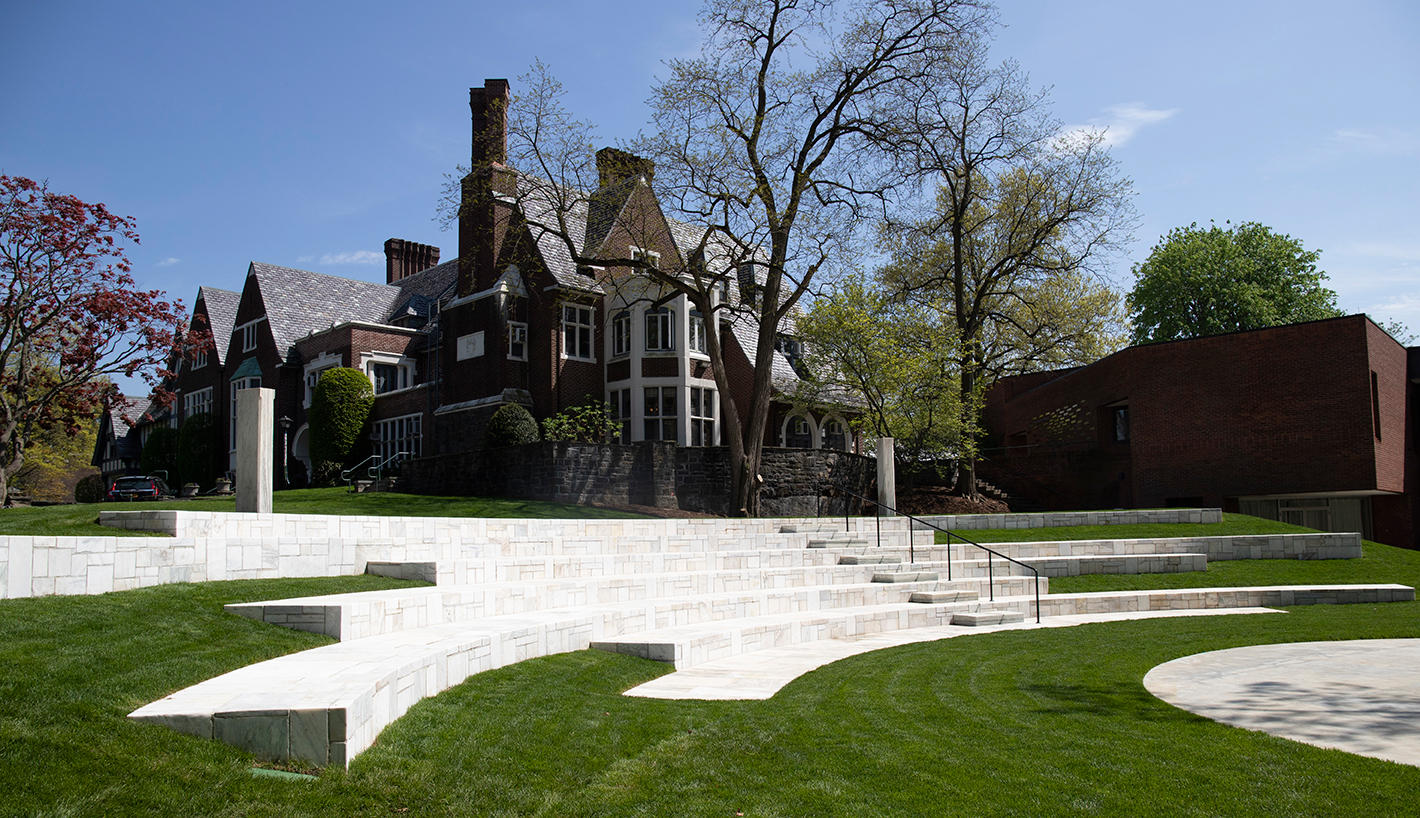 Situated on Sampson Field between the Performing Arts Center, Westlands, and Rothschild, The Remy Theatre is a partial reconstruction of a 1930s open-air theatre with a storied history in Cos Cob, Connecticut. This exciting project was made possible by the vision and generosity of alumna Josie Merck.
The Remy's History
Built in 1934-1936, the original Greek-style theatre was built by architect-sculptor Horton O'Neil in Cos Cob, Connecticut. The space that the O'Neils intended for entertaining family and friends soon became a stage for performances by dancers from the Greenwich Academy, plays by the Cos Cob elementary school, concerts by the Norwalk Symphony Orchestra, and even a performance by a young Jane Fonda.
When the O'Neil estate was sold after the death of Horton O'Neil's widow, the Connecticut Trust for Historic Preservation sought a new home for the valuable artifact. Sarah Lawrence alumna Josie Merck heard of the search and immediately thought of her alma mater. Coincidentally, five members of the O'Neil family attended Sarah Lawrence, including Horton O'Neil's sister and daughter, which makes Merck's donation nothing short of perfect.
"This reclamation of the O'Neil theatre is adaptive reuse at its finest: preserving the past in a way that moves it into the future." –President Cristle Collins Judd
The Remy Today
Prior to construction beginning in June 2018, the marble that makes up The Remy was carefully dismantled, cleaned, and each stone inventoried. Completed and dedicated in the spring of 2019, the 200 seat theatre now proudly serves as a unique venue for outdoor theatre, literary, and music performances, a gathering space for the Sarah Lawrence community, and a spot where the College can host and engage with residents of neighboring communities.
Related Reading
The following articles provide a glimpse into the history of the original O'Neil theatre and its transformation into The Remy Theatre at Sarah Lawrence: