A studio that offers art therapy services, a legendary consumer protection organization, a small city government's communications office, an internationally renowned ballet company, the nation's premier defender of civil rights, and several film production companies all had one thing in common in summer 2019: an intern from Sarah Lawrence College. 
A rite of passage for most Sarah Lawrence students, summer internships are coveted for the valuable on-site learning experience they provide, as well as the opportunity to develop a greater sense of how interests and studies can evolve into careers.  
With placement help from the College's Office of Career Services, Sarah Lawrence students interned with an impressive array of both for-profit and non-profit companies and organizations of all sizes and stripes, including some of national or international renown.
While hundreds of Sarah Lawrence students interned over the summer of 2019, the capsule profiles below reflect a representative sample and highlight the diverse and illuminating experiences that are realized by these essential work experiences.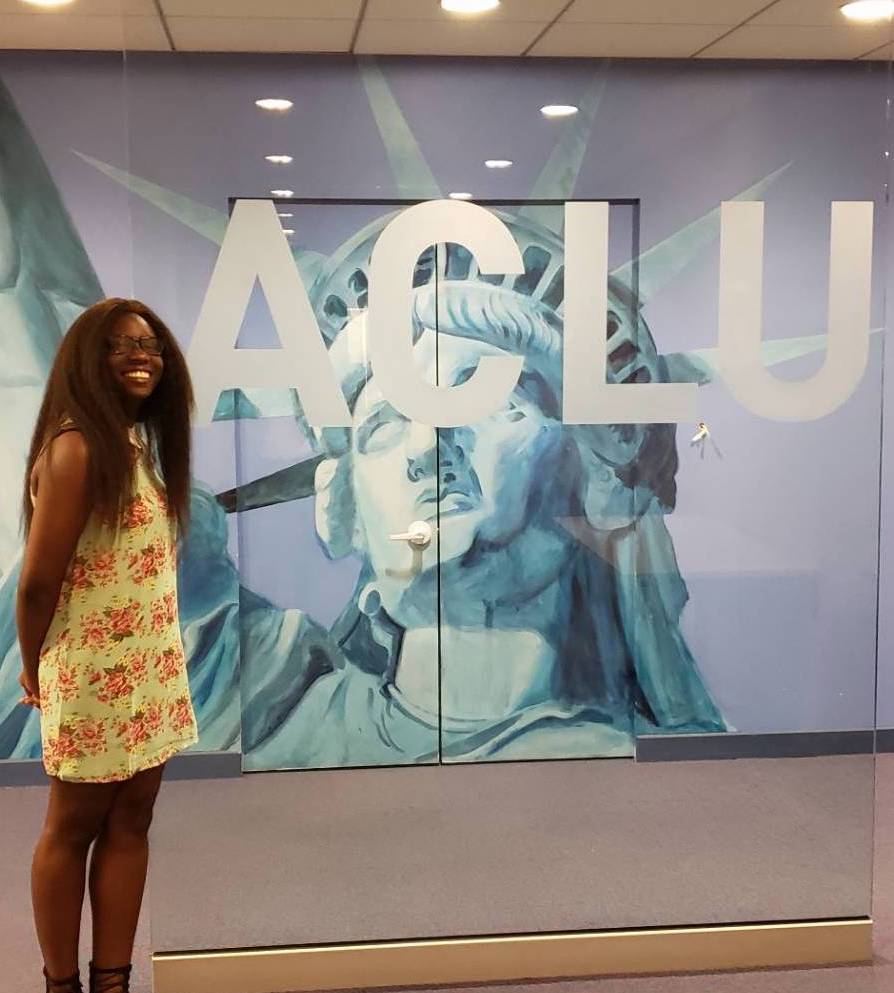 OMELEBELE EDEOGA '20
Internship: ACLU 
Thanks to the Redleaf Internship Fund, Edeoga, a native of Jos, Nigeria, was placed in  the New York office of the American Civil Liberties Union (ACLU) working in the human resources office. Her duties included coordinating the onboarding and offboarding of more than 90 interns across four national offices, creating and managing new job postings, and working to integrate new hiring software. She was impressed at how much work and effort goes on behind the scenes in an organization. With studies focused on political economics and Chinese, and a strong interest in social justice issues, Edeoga said she learned "how that looks" in the context of a non-profit that works to defend and preserve individual rights and liberties. "I was exposed to many different people in different career fields, yet everyone was working with a common goal and purpose: to further civil liberties. It was amazing seeing all that in action, and to be able to talk with everyone about their work and their path to the ACLU."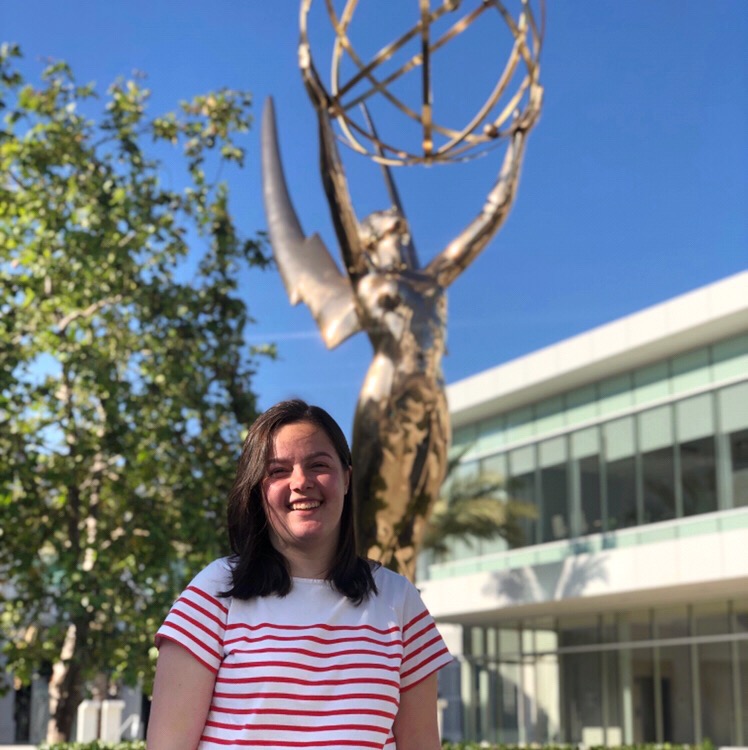 EMMA GARCIA '20
Internship: Campanario Entertainment
Garcia, from Stockton, CA, was one of only 50 students nationally to be admitted to the Academy of Television Arts & Sciences Foundation's Internship Program, which provides in-depth exposure to professional television production during eight weeks in Los Angeles; it  comes with a $4,500 stipend. The filmmaking and writing major was assigned to assist in the writers' room of Selena: The Series, a new show being developed for Netflix about the Mexican-American pop star. Garcia's duties included note-taking during pitch sessions and research. "I gained invaluable experience in script-writing, an understanding of how a television show is created, and real experience in a writers' room that will give me the skills I need to start my career."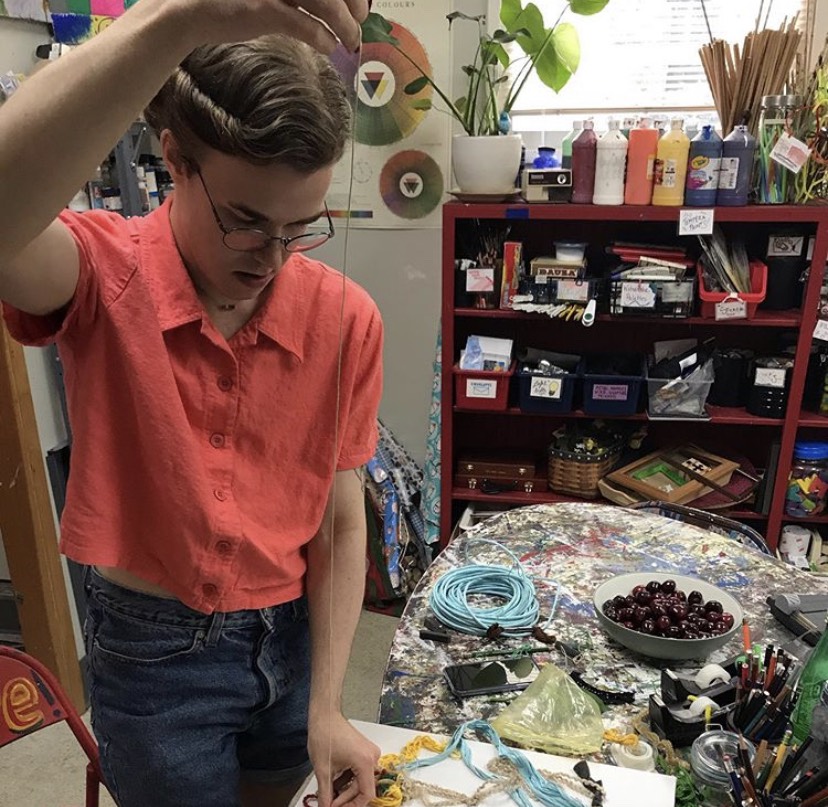 MYLES LOWRIE-OTTER '21
Internship: 100th Monkey Art Studio
Located in Lowrie-Otter's hometown of Portland, OR, 100th Monkey Art Studio offers art-making space, lessons, and art therapy services. A Gryphon Grant recipient, Lowrie-Otter was charged with facilitating weekly workshops, installing artworks for a gallery show, and helping to reorganize the studio space. But perhaps most significant was his twice weekly support to a local organization that provides artmaking workshops to adults with intellectual and developmental disabilities, which, he said "taught me a lot about my own biases and assumptions regarding disabilities, the creativity and artist in us all, and how everyone has a right to be heard and seen." With a focus on psychology, history, and gender sexuality studies at SLC, Lowrie-Otter is now more firmly interested in pursuing a master's degree in social work at Portland State University, specifically their concentration in Leadership with Communities and Organizations. "I've learned to worry less about my own story and care more deeply about the stories of others," he said.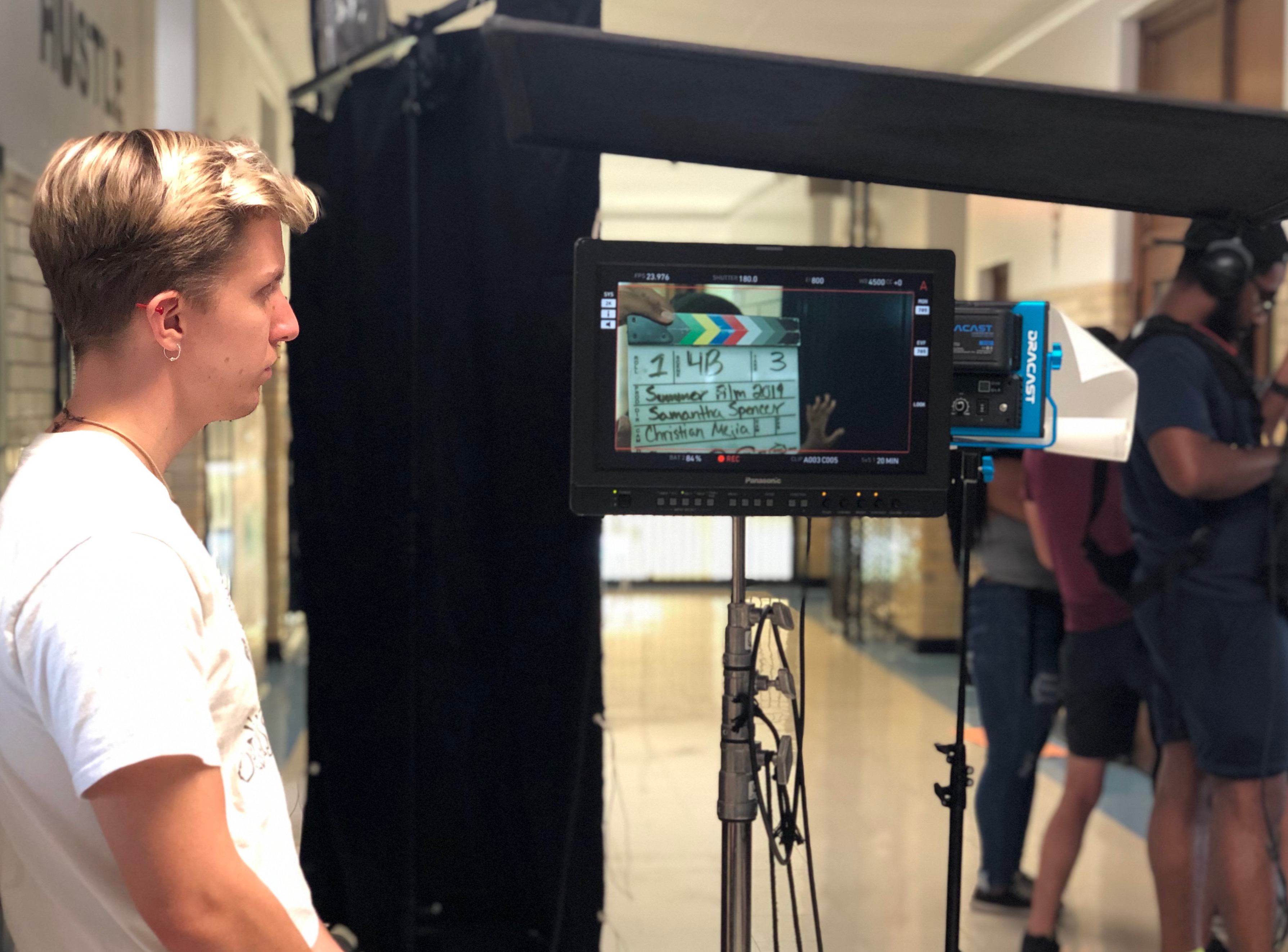 WILLIAM MORAN '21
Internships: Facets Media and Whatever Spectrum
A filmmaking and film studies major from Chicago, Moran received a Gryphon Grant to work two internships in his hometown. For Facets, which presents the Chicago International Children's Film Festival, he watched and annotated films, noting learning opportunities, moments of violence or mature content, major themes, etc. He also worked with kids during Facet's filmmaking summer camps, to help them pitch, write, and shoot original short films. At Whatever Spectrum, he acted as a production manager, creating strip boards and prop lists, assisting in production design, organizing sets and props, overseeing food deliveries, and acting as a team leader to a group of local high schoolers who were involved as both cast and crew. "These experiences improved my working knowledge of what it takes to create independent films, and taught me the endurance and diligence required to do this," said Moran. "I think the most valuable thing I obtained from these internships was a greater sense of confidence. The film industry can seem like a very daunting place, but I learned that I can rely on myself to get the job done, and also that I can let other people rely on me."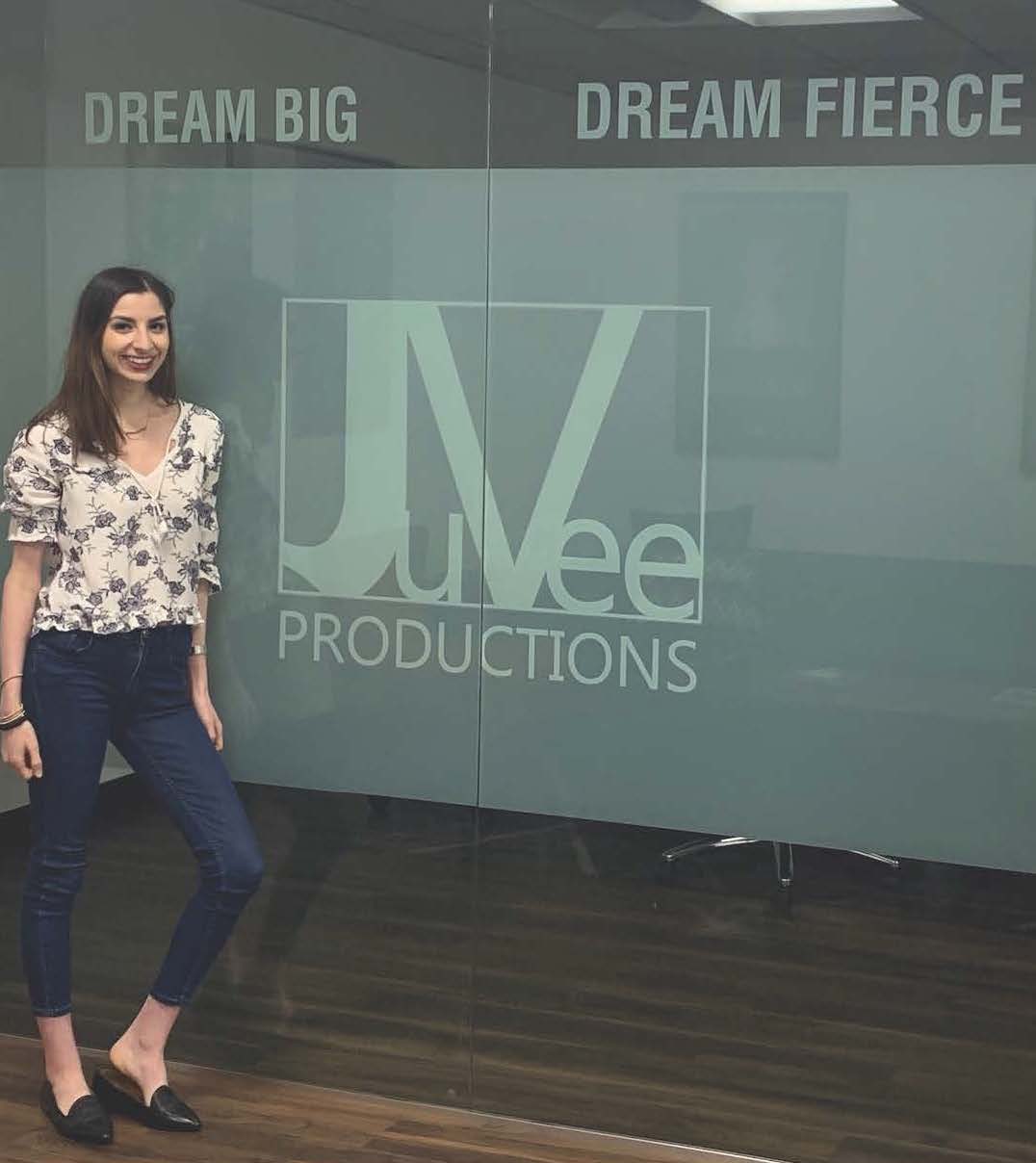 EMMA TYNAN '20
Internship: JuVee Productions
In her hometown of Los Angeles, Tynan landed an internship with the film production company of the Tony, Emmy, and Academy Award-winning actress Viola Davis and her husband Julius Tennon. Reporting to the senior vice president of theatrical motion pictures, Tynan's assignments included reading incoming scripts, completing script "coverage" (a report on the script), researching stories for potential development, and the fun task of creating cast wish lists for upcoming  projects. With a focus on filmmaking, art history, and literature at Sarah Lawrence, Tynan studied film production with Heather Winters in the spring semester, a great springboard for her internship. "I was gifted with the opportunity to intern in a busy and highly respected production company—I felt like the proverbial kid in a candy store, as I was able to apply my classroom knowledge to my work and now return to school with hands on pre-production and production knowledge and experience. I had the privilege of being witness to the entire creative process from beginning to end." 
Many of the 2019 SLC summer interns were supported by grants or housing provided by the College, made possible by generous donor gifts. Recipients of these funds uniformly agree that they would not have been able to intern otherwise; the funds provided essential support for housing, transportation, food, and other living expenses. 
Internship funding opportunities include Gryphon Grants, providing up to $4,500 in salaries and/or housing stipends for students receiving need-based financial aid who are participating in unpaid or low paid summer internships; SLC's Summer in the City Program, which allows interns working in the New York tri-state area to live on campus for free throughout the summer months; Redleaf Internship Fund, which offers $4,000 stipends to as many as 10 students who intern with social action non-profits; the Annette Cravens Fund for Visual Arts, which provides $3,500 grants to students interning in the visual arts; stipends of $2,000 from the Beth Block Foundation, for internships in fine art and/or documentary photography; and Summer Science Externships at major laboratories, hospitals, educational and research institutions, supported by by $4,000 stipends. 
---