Good afternoon Madam President, faculty, staff, family, friends, and graduating students, today is a wonderful day. Here are the graduates from the Art of Teaching; Child's Development; Dance; Dance/Movement Therapy; Health Advocacy; Human Genetics; Social Work & Child Development; Women's History & Law; and the Writing Programs. In this gathering, also are our staunchest advocates, our professors, Sarah Lawrence community, families, friends, without whom this achievement would not be as delicious, so we thank you for your part in our accomplishments.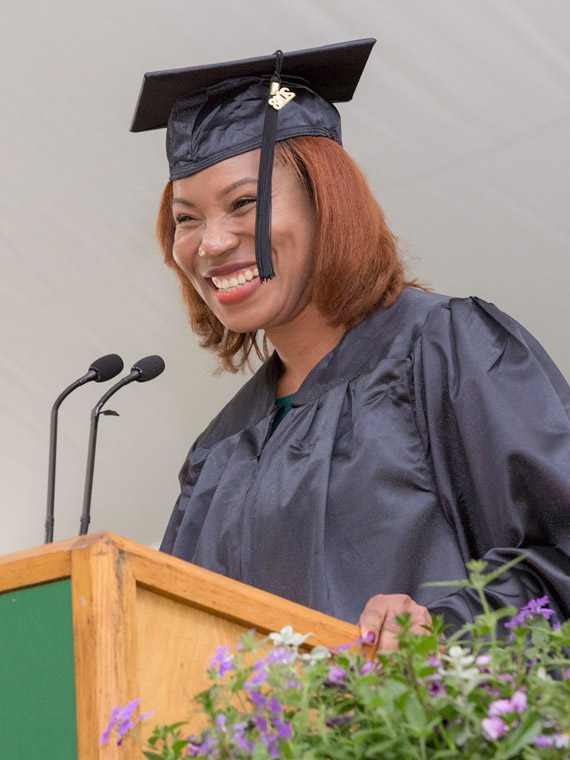 As Vice President of the Graduate Student Senate, I have had the honor of communicating one-on-one with many in this room and I can say, unequivocally, that I have met some of the most diverse, awe-inspiring, and loving people in this class. Everyday has been a learning experience and I am a much better writer and person by being in their company. So, thank you.
Recently, Childish Gambino's This is America was all over the news. I clicked on a link and, without finishing the video, called my friend and demanded that she stop right in the middle of her workday and watch it. It was excellent, explicit, and subversive in its talent, message, and execution. I have seen that level of excellence and the attainable possibility of exceeding it in the performances, readings, and overheard conversations of students here at Sarah Lawrence.
What I believe is the question for me and my fellow graduates in this season is the flaw perceived in This is America: how do we remain excellent, truthful, and resolute while handling issues that are affecting humanity with sensitivity and care? I believe that that answer lies in loving each other past divisions of race, country, colour, gender, class, belief, and whatever else. Here is what I know of love: love is patient, love is kind, it does not envy, it does not boast. It is not proud. It does not dishonor others, it is not self-seeking, it is not easily angered, it keeps no record of wrongs. Love does not delight in evil but rejoices in truth. It always protects, it always trusts, it always hopes, it always perseveres. Love never fails.
So, let us take the culture of respect and appreciation that has been emphasized here at Sarah Lawrence into the spaces we are to occupy. We have survived the constant hikes up and down Kimball Avenue, the relentless struggle for great parking, the ups and downs of coffee at the pub, and thesis, to make it here.
Congratulations Class of 2018, we did it!
Remarks as prepared for delivery