The way I see it, all of the best commencement speeches follow a pretty basic formula. Now I'm not saying this is going to be one of the best commencement speeches you've ever heard—because, give me a break, there's only so much I can do in three to five minutes—but I will say this: all great speeches have one thing in common. Every one of them is intended to inspire you to take up the charge of using the tools you've been endowed with by attending this institution and going forth to make the world a better place. My very dear friend Cody—whom I will be eternally thankful to Sarah Lawrence for bringing into my life—once told me that this begins with gratitude. And by making gratitude a daily practice.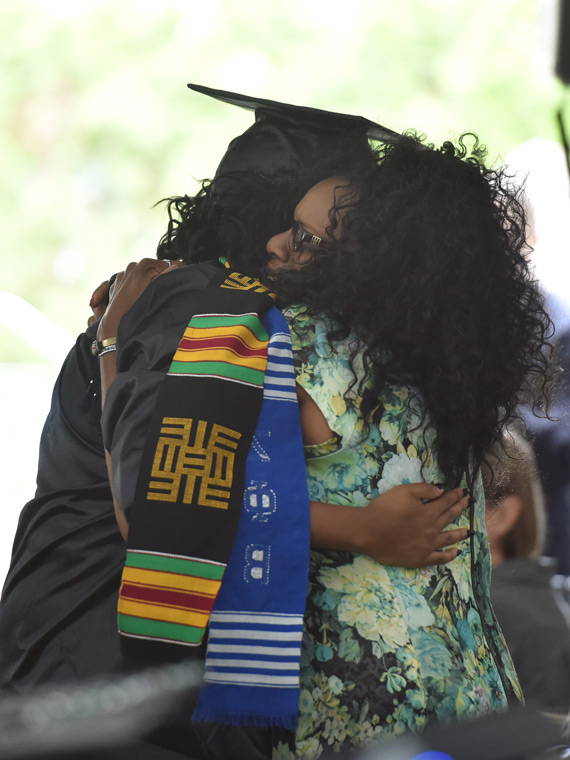 The formulaic thing to do right now would be to give you all an anecdote about gratitude. So here's mine: my mother, who is in the audience right now, also received her master's degree five days ago and became, despite a world that told her that she shouldn't, that she couldn't, the first person in my family to ever do so (just barely, by the way, and I can't say I'm not a little salty about that). So I am grateful for her commitment to service, to community, to constantly pushing me to be better today than I was yesterday.
This practice of gratitude may look different for you. For me that looks like this, right now, thanking God for the privilege of having gotten this education from Sarah Lawrence, for the village that raised me and got me here and for this microphone so that y'all couldn't ignore me even if you tried. But in your life it may just mean closing your eyes right now and grounding yourself in this moment. Taking a deep breath and reveling in this incredible thing you've managed to achieve. Or even marveling at the hugely impressive dirt mounds behind us that will one day become a new student building.
But past gratitude, even, setting about making change relies on practice.
We're in the midst of a national divide, the likes of which many of us would have liked to believe was bridged generations ago. We're experiencing hate for the most marginalized among us, that was once shameful, made public. As we sit here, another victim of sexual assault will have been shamed into silence and another woman will have been denied her right to choose. Another black person will have been brutalized by the police and another asylum-seeker rejected from finding refuge on American soil. So I can't help but believe that these hoods are more than just cute additions to our CVs and our Instagram feeds: they're a challenge.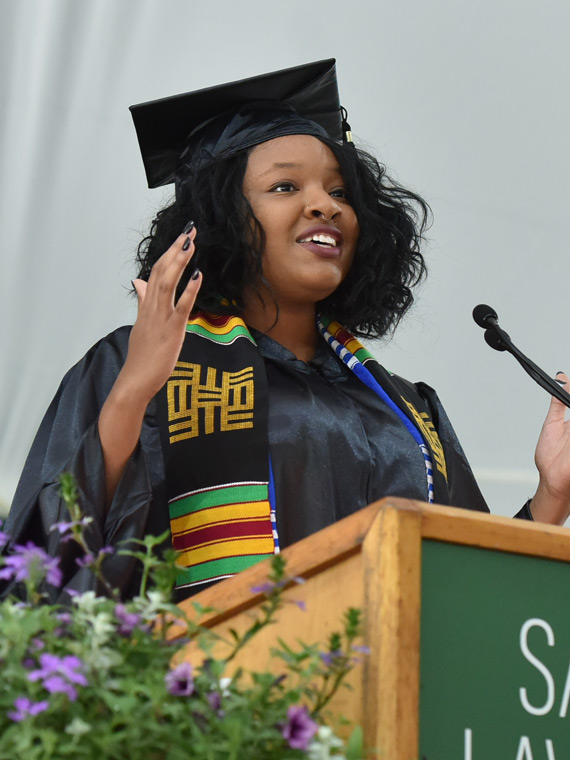 A challenge to walk boldly into the tradition of world-changers that Sarah Lawrence has produced. A challenge to use the tools Sarah Lawrence has given you, me, us, to make our corners of the world better. To make our writing more intersectional, our teaching more equitable, our advocacy more empathetic, and so forth. It's a challenge for us to thank the people and the things that got us here, to do it regularly, and to honor them by putting in the work.
According to the aforementioned formula, at this point, this particular type of speech calls for an inspirational quote from a social justice icon. So James Baldwin once said, "The place in which I'll fit will not exist until I make it." Or better yet, as public intellectual and social media influencer Belcalis Almanzar (more commonly referred to as Cardi B) so aptly put it, "Straight stuntin', can't tell me nothin', bossed up and I changed the game."
So here's to the places we'll create, Class of 2018.
Boss up and change the game.
Remarks as prepared for delivery