A home is defined as "the place where one lives permanently." As it relates to the law, a domicile is defined as "the place at which a person has been physically present and that the person regards as home; a person's true, fixed, principal, and permanent home, to which that person intends to return and remain even though currently residing elsewhere."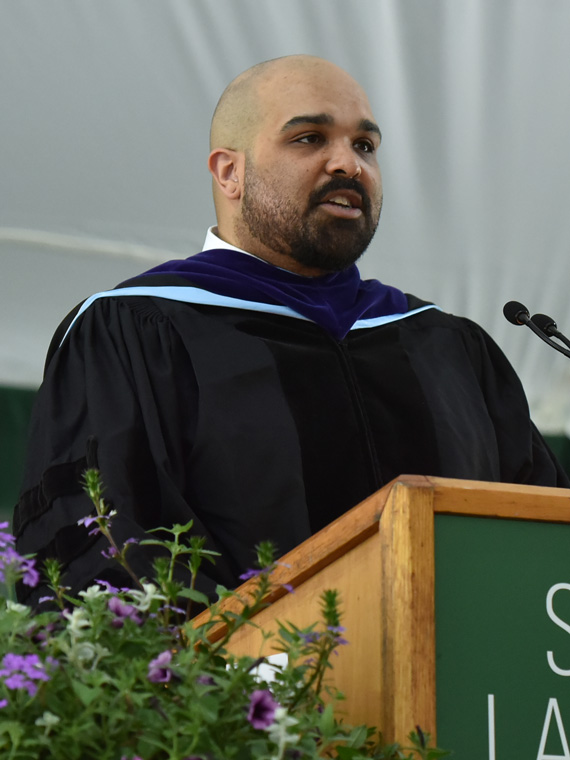 Today, as you reflect on the time you have been present here as a student, honing your craft and habits of mind, I hope you will regard Sarah Lawrence College as your home, a home of intellectual, social, and perhaps spiritual dimension. As you remake yourself from student to teacher and begin to chart your course as a citizen of the world, I hope you will always return to Sarah Lawrence, even though you may reside elsewhere. For this is your intellectual home, a place where, I think we can all agree, a part of you will always remain.
Whether often, or intermittent, I look forward to you visiting home. Doing so is an opportunity to embrace this place for all that is invaluable about its culture of learning. It is also an opportunity to lovingly ask more from it. We do so not out of disappointment or spite, but to ensure a home for future generations of uniquely talented young people who value, like we do, intellectual rigor, freedom of thought, and ethical engagement in our learning. So now, as you prepare to graduate today, it is my honor to extend to you an open-ended invitation to return home.
On behalf of the Alumni Committee on Community and Inclusion and the Alumni Association Board, I offer a heartfelt congratulations to the Class of 2018. Today we celebrate you!
Remarks as prepared for delivery